Andrew Pollard
JCVI
[He has the look of a useful idiot rather than a sociopath]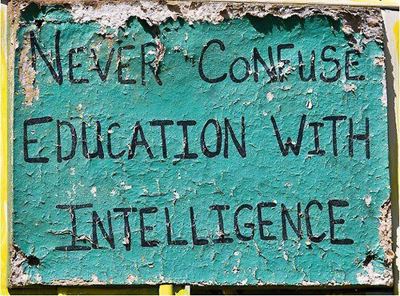 [2017 June] The British Government, the Murdochs, Prof Pollard and the GSK Takeover in Italy
[2016 March] Prof Pollard Again: Oxford University Hosts British Government Vaccine Committee By John Stone
[2016 Feb] Urgent Questions: Men B Vaccine and the United Kingdom Joint Committee on Vaccination and Immunisation by John Stone The JCVI now comes under the aegis of Public Health England which often works with the pharmaceutical industry and with Oxford Vaccine Group [10] (which also works with the pharmaceutical industry) and both are no doubt agencies of National Health Service. But the result is that JCVI is not fit to represent the public interest.
[2015 Dec] GSK Document Appears to Show Vaccine Committee Chair Used Position to Favour Own Product
[2015 Dec. Book] Vaccination Policy and the U.K. Government: The Untold Truth by Christina A. England & Lucija Tomljenovic PhD
[2015 Dec] Angus Files and John Stone Speak at Public Petitions Committee - Scottish Parliament
[2015 Sept] Is HPV vaccine safe? Hainault mum says daughter's chronic fatigue is linked to cancer drug Figures from the government body that monitors vaccine safety, the Medicines and Healthcare Products Regulatory Agency (MHRA), show 8,228 adverse drug reaction reports since the HPV jab was introduced, or one in 1,000 vaccinated girls. Seven relate to girls in Redbridge. Of the total reports, 2,587 are classified as "serious" by the nurse or doctor logging it........Prof Andrew Pollard, chairman of the government's Joint Committee on Vaccination and Immunisation (JCVI), said: "We have no evidence of a safety signal with the vaccine.
[2015 Sept] Did HPV cervical cancer vaccine cause life-changing illnesses in Kent teenagers?
[2014 May] Rearranging the Deck Chairs on the Deck of the MHRA (UK FDA) By Martin Walker
As to Andrew Pollard as recently as 2009 when advocating the introduction of Hep B vaccine on to the infant schedule (which mercifully until now our children have been spared) he disclosed in BMJ as his competing interests:
"Competing interests: AJP conducts clinical trials on behalf of Oxford University, sponsored by GlaxoSmithKline Vaccines, Novartis Vaccines, Sanofi Pasteur, Sanofi Pasteur MSD, and Wyeth Vaccines and has received funds from vaccine manufacturers to attend scientific meetings. The University of Oxford has received unrestricted grants for educational meetings organised by AJP. Industry sourced honorariums for lecturing or writing are paid directly to an independent charity or an educational/administrative fund held by the department of paediatrics, University of Oxford."
http://www.bmj.com/cgi/content/full/335/7627/950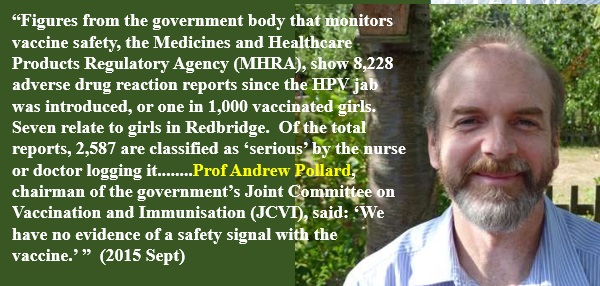 [2015 Sept] Is HPV vaccine safe? Hainault mum says daughter's chronic fatigue is linked to cancer drug