Dr. Rashid A. Buttar
Persecuted doctors
[2010 April] Doctor Accuses PBS Frontline of Selling Out on Vaccine Concern
Medical Board Drops All Original Charges and Allegations Against World-Renowned Doctor After A Five-Year Fight
Charlotte, NC (PRWEB) April 5, 2010 -- In what could be a watershed moment for the practice of integrative medicine across the country, Dr. Rashid A. Buttar – a prominent physician in the field – has weathered an investigation by the North Carolina Medical Board (NCMB) which began in 2005 with formal charges filed in 2007 and has emerged victorious, according to the Carolinians for Health Care Access (CHCA), a patient advocacy group in North Carolina (http://www.caroliniansforhealthcareaccess.org). The President of CHCA, Ray Fisher, stated "This is a victory for every patient in the country who has ever used an integrative physician or wanted access to one".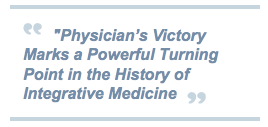 The NCMB's case against Dr. Buttar focused on complaints by various parties. Charges included patient exploitation, overcharging, providing treatments with no effectiveness, unprofessional conduct, and a litany of additional allegations serious enough to warrant permanent loss of the doctor's medical license.
Yet – according to the redacted medical records of the patients from Dr. Buttar's office and subpoenaed by the NCMB–six of the eight patients in question actually improved under Dr. Buttar's care (http://www.drbuttartruth.org/charges.php).
"When charges were eventually filed against me in 2007, I publicly stated if I was guilty of ANY of these false allegations, it was the NCMB's obligation and responsibility to immediately remove my license to protect the public," Dr. Buttar said. "Yet I continued to practice medicine unrestricted for another 3 years before the NCMB finally dropped all charges against me."
The first four complaints filed in 2005 and charged in 2007 centered on four adults diagnosed with terminal cancer before coming to Dr. Buttar, but the charges were NOT initiated by the patients. Months to years after the patients died after outliving their prognosis, family members opposed to the treatment their loved ones had chosen to pursue, filed complaints with the NCMB (http://www.drbuttartruth.org/documents/Notice%20of%20Charges%20and%20Allegations%20-%20Nov%2021,%202007.pdf).
The first hearing took place in April 2008. Despite testimony on his behalf by terminal cancer patients who were given just months to live but who instead defied the odds – and are now still alive 5 or more years after Dr. Buttar's treatments – the NCMB still sought to fine Dr. Buttar $100,000.00 and suspend Dr. Buttar's license to practice medicine as per the findings of the NCMB panel that presided over the hearing. But the first hearing was declared a mistrial (http://www.drbuttartruth.org/charges.php#exparte2).
A new trial was granted (http://glsuite.ncmedboard.org/DataTier/Documents/Repository/0/0/4/3/137bd527-56ef-4503-b9e6-52c82990c926.pdf). However, Dr. Buttar sought a trial where a "real judge" would hear the case instead of the President of the NCMB, according to the Petition for Judicial Review and Injunctive Release filed (http://www.drbuttartruth.org/documents/buttarmotiontostayandresponse.pdf) by Dr. Buttar in Superior Court in March, 2009.
"How can you have the judge, the jury and the executioner all be the same entity?" said Dr. Buttar.
According to records, the Petition for Judicial Review and Injunctive Release which was ammended on May 19, 2009 with an Affidavit by Dr. Buttar (http://www.drbuttartruth.org/documents/61012ced-46b4-4d04-8ee7-f9fa215b7888.pdf), was never heard before Superior Court, reportedly since the NCMB conceded to all the demands and agreed to have an administrative law judge hear the case just 2 days prior to the scheduled hearing before a Superior Court Judge in early August 2009.
The NCMB responded on September 9th, 2009 by filing four additional charges against Dr. Buttar (http://www.drbuttartruth.org/documents/Notice_of_Charges_2.pdf) regarding an autistic child and a family of three who suffered exposure to mercury. "I vowed to expose the conduct by the NCMB during the first hearing," Dr. Buttar said. "The additional frivolous and unfounded charges filed against me by the NCMB only fueled my resolve to fight them even harder."
Eventually – upon examination of exhaustive evidence contrary to the allegations and in the face of Dr. Buttar's bulldog determination to set the record straight and after motions filed by the NCMB allegedly to delay the case and as documented on the NCMB's website – the NCMB had no choice but to drop all allegations and charges.
In the final consent order dated March 26, 2010, Dr. Buttar was only issued a reprimand for dispensing a prescription without first examining a patient and agreed to add language to his existing patient informed consent (http://www.drbuttartruth.org/documents/Consent_Order.buttarfinal.pdf).
Interestingly enough, the issue for which Dr. Buttar received the reprimand was not among the eight original charges filed against him or the subject of a complaint by any of the parties, as noted in the final consent order.
"The NCMB needed to justify what I and many others believe is clearly a horrendous abuse of power and waste of taxpayer dollars," said Dr. Buttar.
The reprimand was for dispensing a transdermal chelator called TD-DMPS for a child—the extraordinary results of which were subject of a Congressional hearing held on May 6, 2004 before the Sub-Committtee on Human Rights and Wellness (http://www.drbuttar.com/patientresources/autism/CongressionalHearing.pdf).
According to Dr. Buttar, "the child was appropriately and throughly evaluated using blood work, urine analysis and other testing to insure safety. The child was not examined however by a provider in our office, and the NCMB has a policy against dispensing without examining a patient."
Regarding the consent form, Dr. Buttar said "any intelligent person can clearly see that my clinic's existing patient informed consent is far more thorough and informative of the risks than what the NCMB proposed. The fact is, my consent form has never been a subject of contention and I challenge the NCMB to show any inadequacy in my consent form in a court of law!" The consent form already used by Dr. Buttar can be found on his clinic website, and he will continue to use his original consent form along with the NCMB addendum.
Why This Victory Means Greater Rights, and More Medical Freedom for Everyone Across the Country
The findings in this case not only serve to vindicate Dr. Buttar of all allegations, but they also mark a moment in history for integrative medicine. The final consent order lists certain treatments prescribed by Dr. Buttar and other integrative medical doctors without imposing any restrictions or constraints.
"To have many of my treatments in a consent order with NO restrictions is nothing less than condoning and accepting these advanced forms of treatment. I insisted on this language and was not willing to accept anything less," Dr. Buttar said. "My attorneys and I had prepared for this fight for the last 3 years. We were ready to go to trial before a real judge but the NCMB realized they had to avoid scrutiny in a real court of law, and had no choice but to abandon their prosecution."
Dr. Buttar has committed years of his life to what he believes. He is the Medical Director of the Center for Advanced Medicine and Clinical Research in Huntersville, NC, founded in 1996 with the purpose of giving those with "untreatable" conditions a chance to recover.
Many consider him a "maverick" because of his completely holistic approach to health and healing along with his fearlessness in being outspoken against the pharmaceutical industry and the medical establishment that indiscriminately supports the use of their drugs. But the results speak for themselves. Dr. Buttar's patients hail from 37 countries around the world and throughout the United States. An internationally sought-after speaker, his audiences have ranged from lecture halls filled with more than 2,000 fellow physicians to the U.S. Congress, where he testified on the dangers of heavy metal toxicity and its link to autism.
With the NCMB investigation behind him, Dr. Buttar can now focus on the release of his first book, "The 9 Steps to Keep the Doctor Away," due for release on June 1 and available at all major book stores. It's another step toward realizing his goal of "making the change the world is waiting for," a motto inscribed in larger-than-life-sized letters on the walls of his clinic.
"With the grace of Almighty God we have been blessed to be able to help many people, but there are countless more that need help all over the world," Dr. Buttar said. "Until every doctor who desires to understand and learn what my colleagues and I do and how we achieve our results gets the training they desire to help us help others, my job will not be done."
Dr. Rashid A. Buttar is a graduate of the University of Osteopathic Medicine and Health Sciences, College of Medicine and Surgery. He trained in General Surgery and Emergency Medicine and served as Brigade Surgeon and Director of Emergency Medicine while serving in the U.S. Army. Dr. Buttar is board certified in Clinical Metal Toxicology, Preventive Medicine, is board eligible in Emergency Medicine and has achieved fellowship status in three separate medical societies.
Additional information about Dr. Buttar and the Center for Advanced Medical and Clinical Research can be found at http://www.DrButtar.com. Information and details regarding the NCMB case against Dr. Buttar and the final conclusion can be found at http://www.DrButtarTruth.org. To pre-order or learn more about Dr. Buttar's new book titled, "The 9 Steps to Keep the Doctor Away," visit http://www.The9Steps.com.