Prof John Oxford
Bird Flu fearmongering Viral fear racket
[John Oxford is Scientific Director of Retroscreen Virology Ltd and Professor of Virology at St Bartholomew's and the Royal London Hospital. Bird flu was going to kill us all, now it's Swine flu. Yawn. His comments should be tempered by the fact his company makes vaccines and antivirals. Usually appears with David Salisbury, Professor Pennington and is the main 'expert' for Jenny Hope of the Daily Mail. Looks more a useful idiot than a sociopath.]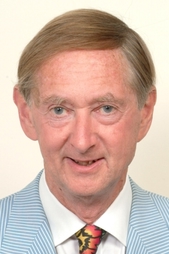 Web: http://www.retroscreen.com/ Funding received to develop intranasal vaccine for avian influenza
See: Virology banners
The Media Winter 2011 flu vaccine drive
The Media Winter 2010 flu vaccine drive
[2012 Oct] The Armageddon virus: Why experts fear a disease that leaps from animals to humans could devastate mankind in the next five years
[2010 Dec 30 Mail] Hospital bans friends and family from visiting all patients as swine flu death toll hits 36
[2010 Dec 30 Mail] Under-4s hit by flu epidemic as intensive care units 'will have to start turning patients away' Professor Oxford said: 'Sometimes you even get a dip in figures around this time of year, not because flu has gone away but because GP surgeries were closed during the holidays – which reduces the number of patients who can be counted.' He added the UK was on the 'cusp' of an epidemic which could take off when older children go back to school. He also called for routine flu vaccination of under-fives on the NHS. Although many children were given the swine flu jab during the pandemic as a one-off measure, independent experts ruled out inclusion of the under-fives in the seasonal programme.
[2010 Dec 29] Swine flu: The 'perfect storm' as flu victims soar, winter vomiting bug spreads, more elderly fall ill... so how will hospitals cope? Virologist professor John Oxford, from the University of London, said that because two-thirds of the population did not get swine flu during the last two outbreaks, they risk falling victim now.....huge numbers of people travelling to see family and friends over Christmas and New Year were carrying flu infections to different areas.'
[2009] An open letter to Professor John Oxford, world renowned influenza virologist
[2009 Dec] Swine flu jab dilemma: Parents and pregnant women refuse it but experts insist it's safe... so who's right?
[2009 June] Swine flu pandemic 'in autumn'
[SARS] Professor John Oxford, a virology expert from Queen Mary's College in London, told BBC News Online: "There's not much you can do to avoid this, unless you go and live as a hermit.
[pdf Profile] Professor John Oxford. Scientific Director of Retroscreen Virology Ltd. Professor John Oxford is Scientific Director of Retroscreen Virology (he) worked under Professor Graeme Laver, whose work with the crystallization of the influenza protein formed the basis for the development of the Tamiflu vaccine. .....
.....Retroscreen Virology has grown into Europe's leading contract virology research company. Its work is dedicated to creating the next generation of antivirals and vaccines in the field of biomedical research. It is the only company in the UK able to conduct human influenza challenge studies in a specialised quarantine unit with A/Panama/2007/99 and A/New Caledonia/20/99 viruses and has characterised influenza A (H1N1 and H3N2) and B viruses. Recently the company cultivated the SARS virus in its containment laboratory and has investigate
Allopathy Inc spokesman (rent a quote):
"This is a timely study. It will be noticed by scientists. It fits in with the seasonal pattern of flu. There is an increasing background of solid science that makes the vitamin D story credible. But this study needs to be replicated. If it is confirmed we might think of giving vitamin D at the same time as we vaccinate." [2010 March] Vitamin D better than vaccines at preventing flu, report claims
Quotes by Oxford
'Don't be lulled into a false sense of security - rates might be plummeting now, but what about next week, or Christmas, when flu always seems to reach peak numbers, or January, or February? The situation is very unpredictable and I won't be breathing easily until we are into March. 'This is a virus that can put you in hospital or the mortuary. And there aren't many viruses around like that. The sensible advice is to have the vaccination if you are offered it.' [2009 Dec] Swine flu jab dilemma: Parents and pregnant women refuse it but experts insist it's safe... so who's right?