[back] Pathologists
Inquiry blasts pathologist Smith and his overseers
Ontario told to overhaul system of investigating child deaths
Last Updated: Wednesday, October 1, 2008 | 3:09 PM ET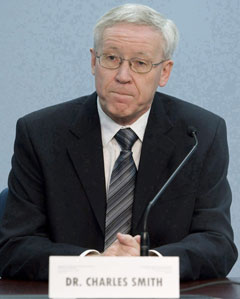 Dr. Charles Smith waits to deliver testimony at the Goudge inquiry in Toronto on Jan. 28, 2008. (Adrian Wyld/Canadian Press)
An Ontario inquiry into a series of faulty pediatric autopsies that led to the wrongful prosecutions of several parents and caregivers has concluded that the pathologist in the cases had "very serious failings," but also that his superiors moved "far too late" to curb him.
The inquiry, led by Justice Stephen Goudge, made 169 recommendations in a report released Wednesday about how deaths should be investigated when foul play is suspected. The report implores the province to overhaul its autopsy system in the wake of the findings against discredited pathologist Charles Smith.
Over a 10-year span at the Hospital for Sick Children in Toronto, Smith "actively misled" his superiors, "made false and misleading statements" in court and exaggerated his expertise in trials, Goudge found.
In 20 child autopsies reviewed by outside experts in 2005, he was found to have made major scientific errors, leading to baseless charges of child-killing and 13 subsequent criminal convictions.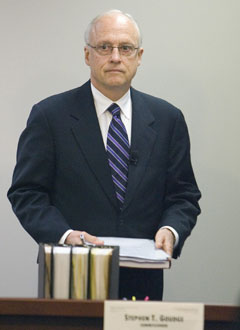 Justice Stephen Goudge arrives for the first day of public hearings at the inquiry into the work of discredited pathologist Dr. Charles Smith, on Nov. 12, 2007.
(Frank Gunn/Canadian Press)
"Smith lacked basic knowledge about forensic pathology," Goudge's 675-page report says. "He violated a cardinal rule of scientific expertise: [that]... the expert must be aware of the limits of his or her expertise.
"Smith was adamant that his failings were never intentional," Goudge wrote in the report. "I simply cannot accept such a sweeping attempt to escape moral responsibility."
'We need to turn the page': premier
In a brief written statement after the release, Smith said "he remains optimistic that the report ... will have a positive impact on the practice of pediatric forensic pathology in Ontario."
The release added that Smith, who can no longer practise in Ontario because his registration with the province's medical authority has expired, would "carefully consider" the report, and would offer no further comment. Smith resigned from the Hospital for Sick Children in 2005 and tried to work as a pathologist in Saskatchewan, but he was unable to get a licence.
Premier Dalton McGuinty said the province was keen to restore public confidence in the battered pathology system.
"A tragedy has unfolded here in Ontario, and we're looking for ways to move beyond that and to redress the wrongs," McGuinty said. "We need to turn the page."
One of the roughest sagas was the case of William Mullins-Johnson, a Ste. Sault Marie man who spent 12 years in jail on a wrongful conviction of murdering his niece. After Smith's faulty pathology work came to light, Mullins-Johnson was exonerated last year by the Ontario Court of Appeal.
"I really have mixed emotions and mixed thoughts about this report," Mullins-Johnson told CBC News on Wednesday. "I see a lot of potential there for better pathology. And I see a better future, but as for right now, I don't see anything in terms of accountability."
He urged the government to bring criminal charges against Smith and his supervisors.
"They knew what they were doing," he said. "Smith was condoned and he was protected."
Falsely implied deep knowledge
In another case, that of Sharon Reynolds, a seven-year-old Kingston girl who died of wounds in 1997, Smith testified at her mother's murder trial the child had been stabbed, and not bitten by a pit bull. He left the impression he had extensive experience examining penetrating wounds, even citing a trip to the North Pole to study polar bear bites.
But, in fact, "he had seen only one or two cases involving penetrating wounds or stab wounds," Goudge found.
His report also upbraids Smith for berating other experts' testimony in trials, holding up speculative opinions as facts, giving biased views of medical evidence and becoming too involved in many of the cases he was called on to scrutinize.
"His deeply held belief in the evil of child abuse caused him to become too invested in many of these cases," Goudge wrote.
Failure in oversight
Smith, who began working at the Hospital for Sick Children in 1981 and rose to become Ontario's head pediatric forensic pathologist, was not the only culprit in a fundamentally flawed forensic system, Goudge found.
'I simply cannot accept such a sweeping attempt to escape moral responsibility.'—Justice Stephen Goudge on Dr. Charles Smith
During the years in question, coroners, lawyers and police officers raised concerns about Smith's work, but his superiors at Ontario's office of the chief coroner — former chief coroner James Young and deputy James Cairns — moved "far too late" to address them.
"The oversight and accountability mechanisms that existed were not only inadequate to the task, but were inadequately employed by those responsible for using them," Goudge said at a news conference following the release of his report.
A further pitfall was the lack of a nationwide system of accreditation for forensic pathologists. Until this year, Canada had no licensing process to certify the medical specialty — meaning that, for decades, autopsies were done by physicians with little expertise on how to handle criminally suspicious cases.
Among Goudge's recommendations is that Ontario move to create a team of accredited forensic pathologists to handle all autopsies when foul play is suspected, and that a new oversight body supervise the provincial coroner's office.
Compensation promised
The Ontario government moved quickly to address those concerns Wednesday and to apologize to parents and caregivers who were wrongfully accused of child murder.
"To those who have been affected, who have suffered an injustice as a result of the most difficult loss imaginable, we are truly sorry," Attorney General Chris Bentley said at a news conference at Queen's Park.
"We're committed to compensating ... those who have suffered an injustice."
The province's chief coroner, Dr. Andy McCallum, said measures have already been implemented to make sure future investigations of criminally suspicious deaths don't go awry. Those measures include having each autopsy reviewed by a second pathologist, as well as providing training to pathologists on how to give "accurate and objective court testimony," McCallum said.
Report called 'valuable blueprint'
Legal and medical experts who followed the inquiry said they applauded Goudge's findings.
"He has identified the problem not only with the one pathologist, but also with the whole system," said Chitra Rao, medical director of the regional forensic pathology unit at Hamilton General Hospital and an associate professor at McMaster University medical school.
"The problem with Dr. Charles Smith didn't come overnight; it had been brewing for a long time."
"This report is going to serve as a valuable blueprint for restoring faith in pediatric forensic pathology and how the court system deals with the evidence," said Joe Di Luca, vice-president of the Criminal Lawyers Association.
"It will ensure that there are fewer miscarriages of justice."
Advice for reform
Among the other recommendations, Goudge said Ontario should:
Invest substantially more money in recruiting and training forensic pathologists, and in providing legal aid to defendants where the Crown relies on trial testimony from one of them.
Establish stringent rules to oversee and verify autopsy results, with random external audits.
Review 142 cases of infant deaths originally thought to be from shaken-baby syndrome, including subsequent criminal convictions, in light of new medical research.
Find a way to "expeditiously and appropriately" compensate wrongfully convicted parents and caregivers.
Ensure that pathologists approach cases in an "evidence-based" way, using their medical findings to build an impartial theory of how someone died instead of nitpicking only the autopsy details that support a preconceived police version of events.
Elaborate a code of practice for forensic pathologists that, among other things, sets out how they should write autopsy reports and how they should communicate with the justice system.
The inquiry was launched in April 2007 after a review of child autopsies found that Smith had made mistakes in 20 cases, leading to questionable conclusions of criminal wrongdoing. Thirteen of those cases resulted in criminal convictions.
A review of cases Smith handled between 1981 and 1991 is underway. Goudge recommended it should continue.
His inquiry was not meant to find criminal or civil liability, and nor was it intended to suggest how specific people should be remunerated for their suffering as a result of Smith's faulty work.