JOSEPH GOEBBELS
[back] Nazi [back] Shadow government Nazi list
1897 -1945?
German Nazi Party member Joseph Goebbels became Adolf Hitler's propaganda minister in 1933, which gave him power over all German radio, press, cinema, and theater.
In 1925 Goebbels met the party leader Adolf Hitler. In 1926 he was made Gauleiter, or party leader, for the region of Berlin, and in 1927 he founded and became editor of the official National Socialist periodical Der Angriff (The Attack). He was elected to the Reichstag, the German parliament, in 1928. By exploiting mob emotions and by employing all modern methods of propaganda Goebbels helped Hitler into power.
His work as a propagandist materially aided Hitler's rise to power in 1933. When Hitler seized power in 1933, Goebbels was appointed Reichsminister for propaganda and national enlightenment. From then until his death, Goebbels used all media of education and communications to further Nazi propagandistic aims, instilling in the Germans the concept of their leader as a veritable god and of their destiny as the rulers of the world. In 1938 he became a member of the Hitler cabinet council. Late in World War II, in 1944, Hitler placed him in charge of total mobilization.
As Reichsminister for Propaganda and National Enlightenment, Goebbels was given complete control over radio, press, cinema, and theater; later he also regimented all German culture. Goebbels placed his undeniable intelligence and his brilliant insight into mass psychology entirely at the service of his party. His most virulent propaganda was against the Jews. As a hypnotic orator he was second only to Hitler, and in his staging of mass meetings and parades he was unsurpassed. Utterly cynical, he seems to have believed only in the self-justification of power. He remained loyal to Hitler until the end. On May 1, 1945, as Soviet troops were storming Berlin, Goebbels committed suicide.

Listed below are the principles purported to summarize what made Goebbels tick or fail to tick. They may be thought of as his intellectual legacy. Whether the legacy has been reliably deduced is a methodological question. Whether it is valid is a psychological matter. Whether or when parts of it should be utilized in a democratic society are profound and disturbing problems of a political and ethical nature.
GOEBBELS FAMILY - RICH AND JEWISH Magda Goebbels was born Johanna Maria Magdalena Behrend. Magda's mother Auguste Behrend divorced Oskar Ritschel and married a JEWISH businessman named Richard Friedländer. Magda Goebbels once dated Haim Arlosoroff. He became a prominent ZIONIST....
Magda divorced Gunther and married Joseph Goebbels. Joseph Goebbels had many affairs during his marriage to Magda. Reportedly, Joseph Goebbels had Jewish origins and was gay. Joseph Goebbels' first girlfriend was Jewish. Goebbels' family came from Holland; he was nicknamed "rabbi" in school. "Goebbels had a medal struck: on one side the swastika, on the other the Zionist star."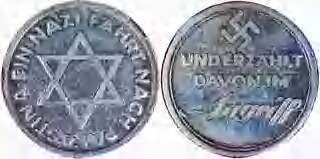 GOEBBELS' PRINCIPLES OF PROPAGANDA
Goebbels on the Jews, Part 1 by Thomas Dalton
Goebbels on the Jews, Part 2 by Thomas Dalton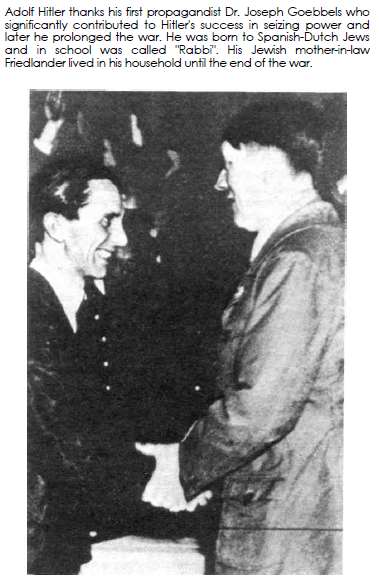 [1996] Adolf Hitler - Founder of Israel: Israel in War - With Jews by Hennecke Kardel
See: Nazi list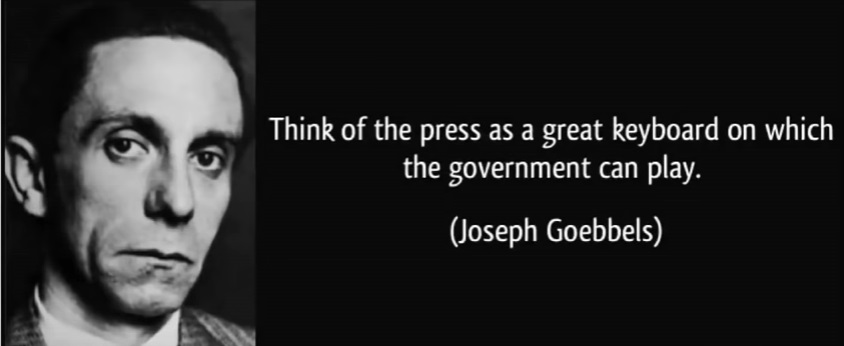 Quotes
Igra, who confidently asserts that the above men were homosexuals, cites still other Hitler aides and close friends who were known homosexuals as well. He states that Hitler's chauffeur and one-time personal secretary, Emile Maurice, for example, was homosexual, as well as the pornographer Julius Streicher, who "was originally a school teacher, but was dismissed by the Nuremberg School Authorities, following numerous charges of pederasty brought against him" (Igra:72f). SS Chief Heinrich Himmler's "pederastic proclivities [were] captured on film" by Nazi filmmaker Walter Frenz (Washington City Paper, April 4, 1995). Reinhard Heydrich, mastermind of the first pogrom, Kristallnacht, and of the death camps, was homosexual (Calic:64). In The Twelve Year Reich, Richard Grunberger tells of a party given by Nazi propagandist, Joseph Goebbels, which degenerated into a homosexual orgy (Grunberger:70). A recent biography of Albert Speer by Gitta Sereny speaks of a "homo-erotic (not sexual) relationship" between Speer and Hitler (Newsweek, Oct. 30, 1995). Langer notes that Hitler's personal bodyguards were "almost always 100 percent homosexuals" (Langer:179). Hitler's later public pronouncements against homosexuality never quite fit with the lifelong intimacy-sexual or otherwise-which he maintained with men he knew and accepted as homosexuals. The Pink Swastika by Scott Lively and Kevin Abrams.
Heinrich Himmler, Joseph Goebbels, and Adolph Hitler were all of Jewish extraction. They were also Roman Catholic. Himmler modeled the SS after the crypto-Jewish Jesuit order. Walter Schellenberg, former chief of German counter-espionage (Sicherheisdienst or SD), explained after the war: The SS organisation (sic) had been constituted, by Himmler, according to the principles of the Jesuits' Order. Their regulations and the Spiritual Exercises prescribed by Ignatius of Loyola were the model Himmler tried to copy exactly.233 [2011] Solving the Mystery of Babylon the Great by Edward Hendrie
Quotes by Goebbels
"The lie can be maintained only for such time as the State can shield the people from the political, economic and/or military consequences of the lie. It thus becomes vitally important for the State to use all of its powers to repress dissent, for the truth is the mortal enemy of the lie, and thus by extension, the truth becomes the greatest enemy of the State." ----Josph Goebbels, Nazi propaganda minister
The most brilliant propagandist technique will yield no success unless one fundamental principle is borne in mind constantly - it must confine itself to a few points and repeat them over and over.--Josph Goebbels, Nazi propaganda minister
It is the absolute right of the State to supervise the formation of public opinion.--Josph Goebbels, Nazi propaganda minister
Think of the press as a great keyboard on which the government can play.--Josph Goebbels, Nazi propaganda minister
If you tell a lie big enough and keep repeating it, people will eventually come to believe it. The lie can be maintained only for such time as the State can shield the people from the political, economic and/or military consequences of the lie. It thus becomes vitally important for the State to use all of its powers to repress dissent, for the truth is the mortal enemy of the lie, and thus by extension, the truth is the greatest enemy of the State.
--Josph Goebbels, Nazi propaganda minister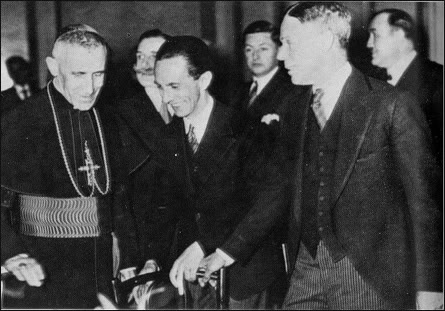 Archbishop Cesare Orsenigo, papal nuncio to Germany, with Goebbels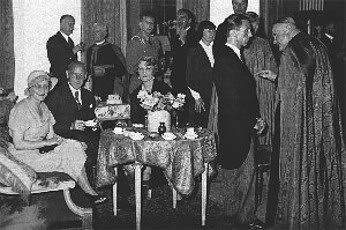 The German elite in the Vatican, including Goebbels and General Steinmann.
http://www.spirituallysmart.com/nazi.html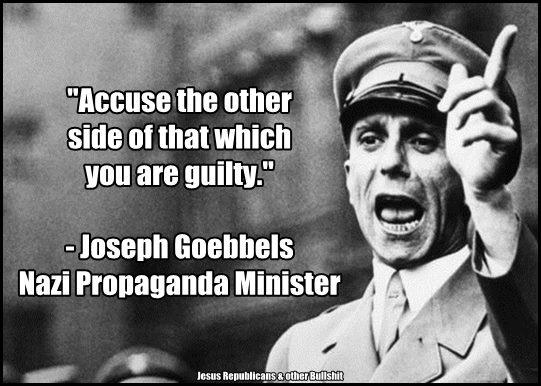 Anti-vaxxers kill