How 'Doctor Death', the world's most wanted Nazi war criminal, became a Muslim
By Ryan Kisiel
Last updated at 6:31 PM on 05th February 2009
Nazi hunters who have spent decades searching for a death camp doctor who performed hideous medical experiments on inmates expressed 'serious doubts' yesterday over claims that he is dead.

Police in Germany also said they would continue to investigate whether Dr Aribert Heim, the perverted physician of the Mauthausen concentration camp known as 'Dr Death', did indeed die in Cairo 17 years ago to be buried in a pauper's grave.

An American newspaper and a German TV station broke the news of his 'death' and his conversion to Islam – but it has not shaken those still on his trail.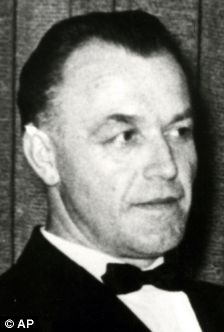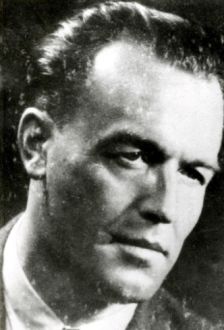 Evil: Nazi war criminal Dr Aribert Heim pictured (left) in 1959 and in 1950
Heim has headed the list of 'Operation Last Chance' – the name given to the hunt for the top ten surviving war criminals from Nazi Germany – for the last two years.

"The story raises more questions than it answers,' said Efraim Zuroff, head Nazi hunter of the Simon Wiesenthal Centre in Israel.

'There's no body, no corpse, no DNA, no grave - we can't sign off on a story like this because of some semi-plausible explanation.

'Keep in mind these people have a vested interested in being declared dead - it's a perfectly crafted story; that's the problem, it's too perfect.'

Zuroff said 'there was no doubt' Heim had lived in Egypt.

'But the question is whether he died in Egypt. We have serious doubts about that.'
He said German police had told him they had also not shut the case on Heim, the most notorious of surviving perpetrators of the Nazi killings of 6million Jews during the war, who has been missing since evading German police in 1962.

Enlarge
Efraim Zuroff, director of the Simon Wiesenthal Centre office in Jerusalem, holds up a document with pictures of the Nazi war criminal
Enlarge
The alleged death certificate of former fugitive Aribert Heim
Heim has been accused of killing hundreds of inmates at the Mauthausen concentration camp in Austria by injecting petrol into their hearts, performing surgery and severing organs without anaesthesia, crimes which he documented himself, Zuroff said.

German TV station ZDF, in footage from a documentary being aired yesterday, showed Heim's son Ruediger saying his father had died of cancer on August 10, 1992, after having spent 30 years in Cairo under an assumed name.

Zuroff said news of Heim's death came as the Wiesenthal Centre was preparing to triple its reward for locating him to 1million euros, but that he was sceptical due to the lack of evidence and family interests in seeing the case closed.

Heim earned his position as the most wanted on Zuroff's list with a CV that sends shivers down the spine.

At Mauthausen, Heim moved like a veritable angel of death among the prisoners who were terrified of falling ill and having to be treated by him.

Liberated inmates pull down the Nazi sign over the gates to Mauthausen concentration camp in Austria in 1945
Survivor Karl Lotter, who worked in his clinic as an orderly, told war crimes investigators after the war about a young prisoner not earmarked for death who came to see Heim with a swollen foot.

'I think I have an infection,' said the young man.

'An infection, ah, well, we'll see what we can do about that,' said the doctor.

What he did about that was to anaesthetise him. He then castrated the boy, dissected a kidney and removed the second, then decapitated him.

The head was boiled to remove the flesh so the doctor could use the skull as a paperweight.

Lotter said: 'Of all the camp doctors in Mauthausen, Dr Heim was the most horrible.'

Dr Aribert Heim, at the time, was just 27 years old. So steeped was he in the twisted ideology of the Third Reich that he was known to all inmates simply as 'Dr. Death'.

Aided by an SS pharmacist, Erich Wasicky, he murdered hundreds of inmates by injecting them with various liquids, including petrol, phenol, water and poison, all in the interests of seeing which killed them fastest.

A U.S. serviceman chats to prisoners at Mauthausen after the concentration camp was liberated
The ovens at Mauthausen. Up to 320,000 people were killed in the camp
He used a stopwatch to time the results, recording them meticulously in a ledger.
Heim, whose experimentation was compared to that of the Auschwitz doctor Josef Mengele, also carried out amputations on prisoners without anaesthetic to see what level of pain a human could endure before expiring.

Organs were removed from conscious patients, including one case where the liver, spleen and bowel were excised. In another case, Heim removed the tattooed flesh of a prisoner to make seat coverings for the camp commandant's flat.

A court that sentenced him in absentia in 1979 said he 'wallowed in the fear of death suffered by his victims while performing lethal operations on them without anaesthetics'.

Justice evaded Dr Death at war's end, as it did for so many of his countrymen. He didn't even bother to flee at first, returning to Germany where he took up gynaecology.

But the past did catch up with him eventually. In the 1960s, he was forced to flee Germany as prosecutors finally pieced together his crimes.

Ever since, he has been on the run, leaving behind an intriguing fortune, property and a divided family – divided between those who accuse his pursuers of a witch-hunt and those who want to know the truth, however painful that may be.

Following the allegations of his death back in 1992, the Baden-Wuerttemberg state police unit that investigates Nazi-era crimes is preparing a request asking Egyptian authorities to allow them to pursue the case in Cairo.

'We want to attempt to find the body,' said a spokesman for the German sleuths.
Heim's son Ruediger told Germany's ZDF television that his father fled to Egypt after authorities tried to arrest him at his Baden-Baden home.

Enlarge
Egyptian merchant Gamal Abu Ahmed, 47, recalls how Aribert Heim used to live in the premises he now occupies in a run-down Cairo hotel
The younger Heim contradicted previous statements that he had never had any contact with his father since that time, telling ZDF that he had met with him several times in Cairo, starting in the mid-1970s.

Last summer, Ruediger tried to have his father declared legally dead so that he could take control of an estimated €1.2million in investments in his name, saying that he would donate the money to charity.

The report said Heim was living under a pseudonym and had converted to Islam by the time of his death from intestinal cancer. If still alive, he would be 94 today.

It was reported yesterday that a certified copy of a death certificate obtained from Egyptian authorities confirmed witness accounts that the man called Heim is believed to have used the name Tarek Hussein Farid.
The Egyptian official record states that Farid died in 1992.

'Tarek Hussein Farid is the name my father took when he converted to Islam,' said Rüdiger Heim.
In an interview in the family's villa in Baden-Baden, Mr Heim, 53, admitted publicly for the first time that he was with his father in Egypt at the time of his death from rectal cancer.
Enlarge
A man walks in the abandoned lobby of the long-gone Egyptian Qasr el-Medina hotel where 'Doctor Death' used to live in Cairo
He said: 'It was during the Olympics. There was a television in the room, and he was watching the Olympics. It distracted him. He must have been suffering from serious pain.'
Guy Walters, author of Nazi war criminal book Hunting Evil, said: 'Heim is one of the major criminals of the last century, and if true this revelation is hugely significant.
'His experiments that he carried out on concentration camp victims were disgusting and he was currently being hunted for his crimes.
'We like to think of South America as being the sanctuary of Nazis, but this proves that Islamic states were just as happy to play host to them after the war.
'This was partly because some Islamic states agreed with the Nazis' hatred of the Jews and also these people were wanted for their scientific knowledge.

'There were always rumours during the 1950s that Egypt had Nazi scientists and they were working on weapons to launch against Israel.'
Enlarge
Photos of Heim together with copies of his ID papers
Although he was captured in a general round-up of leading Nazis by US forces in March 1945, he was released because his name did not appear on any of the lists of war criminals the Allies had quickly drawn up.
Heim became a gynaecologist in West Germany until 1962, when his past caught up with him in the form of the Austrian police, who were finally investigating him for his war crimes.
Heim was tipped off and he escaped, reportedly to Spain and then to Uruguay, where he opened up a gynaecological practice.
Since the 1960s, Heim had been able to live a relatively unmolested life, and quietly amassed a small fortune.
Leading Nazi hunter Efraim Zuroff from the Simon Wiesenthal Centre said he had not seen the documents, but if true, would be 'earth shattering' news.
Nazi hunter Simon Wiesenthal tipped of Israeli intelligence that Adolf Eichmann, credited for being the architect of the Holocaust, was living in Argentina.
In 1960, Mossad agents captured Eichmann, smuggled him to Israel where he stood trial and was executed for war crimes.