Brigadier Gordon Kerr
[back] Northern Ireland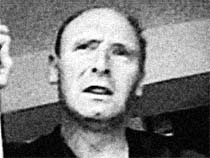 [2007] Exposing Gordon Kerr and Tony Blairís secret army Two of Britainís most secret military units operating in Iraq are run by a man who ran death squads in Northern Ireland.....Tony Blair appointed Kerr to head up military intelligence in Iraq in 2003 Ė just two weeks after an inquiry into collusion with paramilitaries in Northern Ireland sent a file about Kerr to the director of public prosecutions.
[2003] How Britain's master spy left Ulster double agents to die
[2003 March] 'UDA collusion' masterspy in top Iraq role
[2002 June] Rogue British agents name MI5 bosses in video expose the RUC knew about the Omagh bombing but did nothing; how military intelligence helped set up Belfast solicitor Pat Finucane for assassination....claims that MI5 helped one undercover army agent, who was working in deep cover inside the IRA for more than a decade, source infra-red equipment which was used to provide the IRA with state-of-the-art bomb detonation technology. ....Fulton also told how he helped develop a light-sensitive remote control device for booby-traps for the IRA with his handlers' full knowledge. The detonation equipment was set off by photographic flash units. In the video he says he made so many bombs - all of which he told his handlers about - that he lost count.
[2002] Why MI5 sanctioned the murder of a pensioner
[2001] Abandoned for killing their own, British Army officers planted as terrorists appeal to MoD to come home
[2000 Nov] The secret wars of a spymaster There's a phrase set aside in the British army for men like Brigadier Gordon Kerr and it's "Green Slime". ....In total, an estimated 15 civilians died as a result of FRU collusion with loyalist terrorists.
[2000 Nov] The Scot behind Ulster's dirty war The Sunday Herald today names for the first time the Scottish military intelligence officer who controlled an ultra-secret covert army unit in Northern Ireland that colluded with loyalist terror gangs to murder at least 14 Catholics. Home Affairs Editor Neil Mackay reveals a web of treachery, lies and murder
[2000] British army allowed IRA to bomb Ulster Pub
[2000] Revealed: how we spied on Ireland
[2000] Headline 'My unit conspired in the murder of civilians in Ireland'