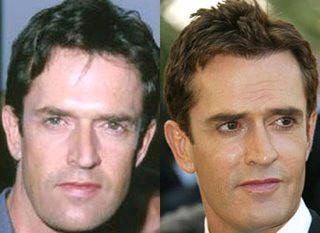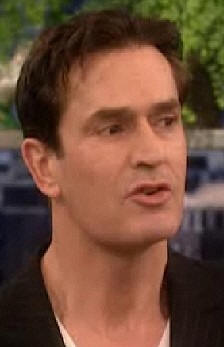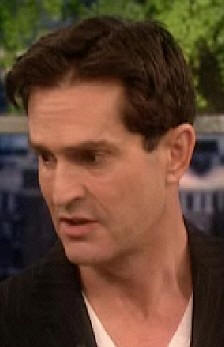 http://www.dailymail.co.uk/tvshowbiz/article-1171137/What-suspiciously-youthful-Rupert-Everett-face.html
What has suspiciously youthful Rupert Everett done to his face?
By SIMON CABLE
Last updated at 12:36 AM on 18th April 2009


Thanks to his ruggedly handsome looks, Rupert Everett won a legion of female - and male - admirers.

But they might not recognise him these days.

The actor's appearance on a television chat show in the U.S. recently left the audience shocked.

Everett's tousled salt-and-pepper hair had been replaced by a carefully combed dark brown mop and his designer stubble had been scraped off.

It was the incredible transformation in his skin, however, that drew the most comments.

Those smooth cheeks and forehead may have been an illusion created by a heavy-handed make-up artist on the Martha Stewart chat show - but Hollywood is speculating otherwise.

Gone were the wrinkles which were etched deep on his face as recently as 18 months ago when he was pictured at the Venice Film Festival.

Some say the 49-year-old has simply turned back the clock with some healthy living. But his new fresh face doesn't bear much of a resemblance to the first one he had as a young man.

Even in 1987, when starring in Hearts of Fire with Bob Dylan, he had his trademark wrinkled forehead.

U.S. magazine Star called on the opinion of a surgeon who said Everett looked 'ten years younger'.

One website lamented the star's 'terrible face-lift' while another asked if he is 'preparing to star in House of Wax 2'.

However, a spokesman for the star said suggestions he had undergone any cosmetic surgery were 'laughable'.

'Why would Rupert need any surgery?' the spokesman said. 'He's a beautiful man and he even plays a woman beautifully.

'Any speculation is completely laughable. He hasn't had anything done and he doesn't need it.'

Everett, who revealed that he was gay in 1989, is currently starring on Broadway in Blithe Spirit.

He has also made a documentary for Channel 4 on Lord Byron's travels around Europe.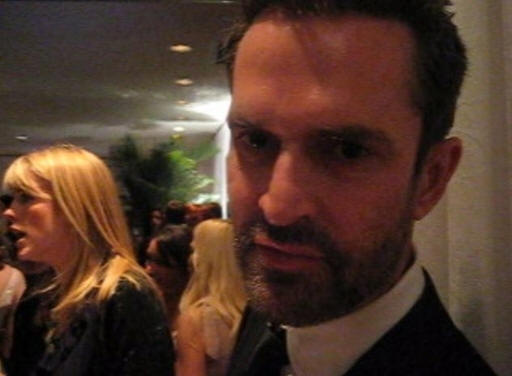 http://www.huffingtonpost.com/2008/04/28/whcd-swanky-sweaty-and-st_n_98897.html