Harley Swiftdeer Reagan
By Moon Owl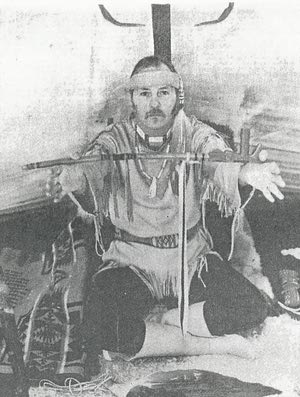 c. 1987/88
Harley Swiftdeer Reagan, half Irish and half Cherokee, is a shaman, Medicine man and healer who runs the Deer Tribe Metis Medicine Society; an organisation which is dedicated to uniting the eight great powers of the world and releasing their secrets to the world.
Swiftdeer has led a remarkable life full of diversity, and one cannot help but be touched by his magic if one works with him. He is a doctor of both Psychology and Divinity, author, Full Master and Professor of both Jujitsu and Karate, film stuntman, and former Green Beret. He began his medicine apprenticeship at the age of 8 with his Cherokee grandmother "Spotted Fawn", and continued it, after his return from Vietnam, under grandfather Tom "Two Bears" Wilson (familiar as "Don Genaro" in Carlos Castaneda's books)
The teachings of this path, for it is not a religion, are called the Sunset Medicine Sundance Wheels and Keys (Sunset Medicine is the native American term for the animal world), and are believed to have been brought from Sirius, approximately 250,000 years ago. Their wisdom was encoded into 13 holographic computers in the form of Crystal Skulls, which together are called the ARC.
The body of people who collected and held this knowledge were called Twisted Hairs. They were unusual men and women, who were not content to blindly accept the limitations and boundaries of their tribe's traditional teachings and chose instead to travel and seek knowledge from every direction of the Wheel of Life. In the Cherokee language, the hair symbolised knowledge and therefore a Twisted Hair was one who interwove knowledge from all sources. The first meeting of The Twisted Hairs was in the early 1100'sin Monte Alban, Oaxaca, Mexico. Today the society is known as the Sunset Medicine Sundance Council of Klders, and Swiftdeer has just become it's youngest member.
I first met Swiftdeer 5 years ago in Germany. He was teaching one of the basic Key Driver Wheels called "The Star Maiden's Circle". Everything he said I emphatically knew to be correct, yet I had never heard it before - it made me feel so emotional I started crying, which caused me great embarrassment as I am not generally the weepy sort, especially for no reason. I later found out that this Wheel is specifically meant to trigger your unconscious memory.
That little episode gave me many teachings on how we create problems that don't even exist if we can step into our power.
In Swiftdeer's view it is only through active participation in, and control of, our own individual lives that any permanent change can be made to the world. In Amerindian terms this is called "dancing your dream awake". He teaches a complex system of wheels and keys which are the technical framework. The main vehicle for change is in the performance of ceremony. This creates harmony between oneself and the natural world and allows the recognition of the Hokkshideh or God within.
Swiftdeer, like most Shamans, is a trickster. On one level you can trust him with your life, but on another level you know he will trick you into taking control of your life as a warrior, at every available opportunity.
He began his medicine apprenticeship at the age of 8 with his Cherokee grandmother "Spotted Fawn", and continued it, after his return from Vietnam, under grandfather Tom "Two Bears" Wilson (familiar as "Don Genaro" in Carlos Castaneda's books)
After studying with Swiftdeer for 3 years I began to share with my friends more and more of the teachings. They all seemed keen to hear more so I decided to invite my teacher to Britain. It seemed a very logical train of thought, as I was pretty lonely being the only real apprentice in Britain, and having to do all my ceremonies as best I could on my own.
At the conclusion of the 3 workshops he taught here, he asked if anyone wanted to apprentice and 40 people raised their hands. He took them through the Sundance Pledge across the Pipe and then turned to me and said "You are now the Chief of the British lodge and here are your first 40 apprentices". I proceeded hurriedly into shock with massive amounts of self nerves, dozens of reasons were streaming forth about why this was a ridiculous idea : I'd never taught anyone, anything; I was trained to be backstage, a stage-manager, not an actor; I've never even been part of group, never mind run one; I don't know enough, and anyway the apprentices would not want to work with me after Swiftdeer. I eventually I realised that I love a challenge and so I'd give it a go. If has been the most wonderful learning experience of my life, and I'm pleased to report that the lodge is still going strong with members all over the British Isles.
I learned to trust that Swiftdeer knew when I was ready to be pushed a step further. He is a visual seer, which means he can look into the Crystal Matrix of your soul. My first encounter with this remarkable ability in this area was when I asked him for a medicine name. I thought he'd forgotten my request, until he summoned me on the last night of the workshop. I was full of anticipation to hear my name. I knew by Sun Bear's astrology I was a red hawk, but that never quite felt right, although I thought I was a bird, because hawks are so streamlined, and I'm rather rounded. Swiftdeer told me he had dreamt my name the previous night; it was: Moon Owl. I was ecstatic, it was absolutely perfect. Owls are rounded and soft and wise, and above all loved the night. Days have been a problem for me ever since birth; when I was a week old my Mum nicknamed me the Night Owl because I'd sleep all day and be up all night -I haven't changed. I also have always loved full moons, I have a tremendous amount of energy and rarely go to bed. I do not believe that someone who hardly knew me would pick such an appropriate name by accident.
All these Sunset Medicine Sundance teachings were kept very secret until recently. The Council of Elders started to release them in 1982 and so far less than one third have been given out. Half of them they will not allow to be put into print, they have to be passed on orally. Whenever I hear a new wheel I get as excited as I was on hearing the first one. I love the whole concept of learning in a circle (wheel) as opposed to a straight line - as everything in life is cyclical, it seems more logical to me. The teachings cover absolutely every aspect of healing self and others in order to come into balance with the Earth Mother. They deal with all five aspects of self: emotional, physical, mental, sexual and spiritual; and the five worlds of Grandmother Earth: mineral, plant, animal, human and ancestor. This path uses the ceremonial tools of the American Indian combined with the warrior teachings of martial arts: Shamanic psychology combined with alchemy. The Sundance way is one of pleasure and knowledge, but one has to be willing to face the dark side, the lower self delusions that are within oneself. I have found that many of my tyrants in life are externalisations of my own inner fears, and those that are not, I have learnt to turn into allies, for your enemies are your greatest teachers.
Swiftdeer told me he had dreamt my name the previous night; it was: "Moon Owl". I was ecstatic, it was absolutely perfect.
This path has brought me health, hope and happiness, as Swiftdeer says: "(Don't believe anything I say - try it out and if it works great, if not - throw it away".
Moon Owl Heather Campbell