Weapons expert was allowed to see secrets far outside his brief
By MILES GOSLETT
20 Aug 2010
David Kelly had access to highly sensitive international intelligence material far beyond that relating to weapons of mass destruction, it was revealed last night.
A Ministry of Defence security clearance form shows he had permission to access all relevant intelligence documents of British or American origin marked 'Top Secret'.
The form, labelled 'Restricted', shows that Dr Kelly was privy to the material on what is known officially as the "need to know" principle".
It included 'atomic information' and Nato-led 'international defence organisation information', some of which would have been accessible only via codewords to limit how many people could see it.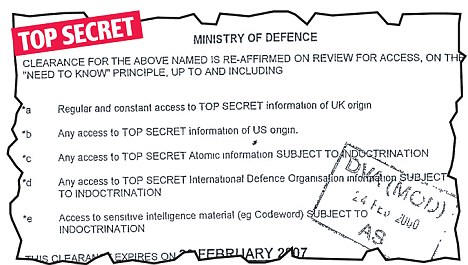 Sensitive: Part of the form permitting Dr Kelly to see the material
All information was available 'subject to indoctrination', meaning briefings he would have been given.
According to Colonel Richard Kemp, former chairman of the government's Cobra Intelligence Group, Dr Kelly would have undergone a thorough background check that could have lasted 'months' before being given such clearance.
Colonel Kemp, who was also head of international terrorism for the Joint Intelligence Committee between 2002 and 2006, said: 'I don't think there's a much higher level of clearance than this form offers.'
Dr Kelly's security clearance form was signed on February 24, 2000 and was valid for seven years.
The form was submitted as evidence to the Hutton Inquiry in 2003 but is not available for public view on Inquiry's website.
Today is the first time it has been published by a newspaper.
In his role as a weapons inspector, Dr Kelly worked closely with the intelligence services of all major industrialised countries.
He spent long periods in the former Soviet Union in the early 1990s, where he uncovered evidence of biological weapons laboratories including work on developing smallpox in Atlanta and Moscow.
The Daily Mail has also established that Dr Amy Smithson, an American academic who specialises in indepth research on issues related to chemical and biological weapons proliferation, has written a book which includes one of the last interviews Dr Kelly ever gave. Called Germ Gambits: The Bioweapons Dilemma, Iraq and Beyond, it will be published in 2011.
Dr Smithson, who obtained special permission from Dr Kelly's widow, Janice, said: 'Among his fellow inspectors Dr Kelly was considered the consummate inspector.
'They admired him tremendously for his very effective interviewing technique; his encyclopedic knowledge; and his determination to out the truth about the former Soviet and Iraqi biological weapons programmes.
'Put another way, David's colleagues were somewhat in awe of his skills as an inspector'.