Hollande, Francois Paris Nov 2015 Rothschild
The Paris Attacks - À quoi bon?
November 17, 2015 http://bollyn.com/#article_15325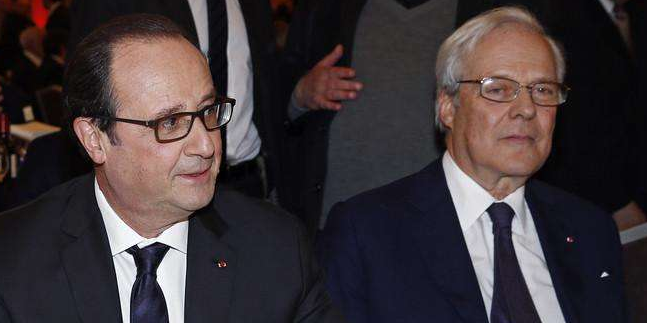 HOLLANDE AND THE ROTHSCHILD BANKSTERS - François Hollande, seen here with David de Rothschild, appointed a Rothschild banker to manage the French ministry of economy in 2014. What does that say about Hollande's loyalty?
"An act of war was committed by a terrorist army, DAESH [ISIS], a jihadist army, against France… An act of war prepared, planned, from outside, with outside complicity which an investigation will establish."
- French President François Hollande, November 14, 2015
"We need to work to find a political solution. Bashar al-Assad is not the solution, he is the problem."
- French President François Hollande, October 23, 2015
"In politics, nothing happens by accident. If it happens, you can bet it was planned that way."
- Franklin D. Roosevelt
The Friday the 13th terror attacks in Paris seem to have accomplished exactly what they were meant to. They have seemingly given the French and the U.S. the right to attack "without mercy" ISIS forces in Syria. While the strikes are supposedly aimed at ISIS, the country taking the pounding is Syria.
There are basically two ways to view the terror attacks in Paris: they were, either, as French President François Hollande says, "an act of war… committed by a terrorist army, DAESH, a jihadist army," – or they were something else.
The accepted view, promoted by the controlled media and accepted by world leaders, is that they were, exactly as Hollande says, "an act of war" carried out by DAESH (a.k.a. ISIS, ISIL, Islamic State). Based on this interpretation, U.S. A-10 Warthogs and French fighter jets have started bombing DAESH targets in Syria.
À quoi bon?
This raises the obvious question, what's the point? Why would any militia carry out an outrageous terror atrocity against a very powerful nation that is well prepared, willing, and ready to wage war against it as a response?
This is a situation strikingly similar to 9-11, in which the predecessor of DAESH, Al Qaida, supposedly attacked the United States, opening the door for the pre-planned invasion of Afghanistan. How convenient.
We should ask: Do these so-called Islamic groups have a desire to commit mass suicide? With the French aircraft carrier Charles de Gaulle approaching Syria and with American A-10 Warthogs poised on the border ready for destroy anything on the ground, why would any Islamic group give such powerful forces a carte blanche reason to attack?
Is this not just a little too neat?
If you agree that this is too neat, there is the alternative view to be considered. That is that the Paris attacks are something other than what they appear to be and that the desired outcome was achieved by using a fraudulent input. That is to say that the terror attacks in Paris were, in fact, controlled and carried out by a hidden hand that used deception to produce the desired outcome. We are, after all, living in an era of massive deception.
Who might that be?
Given the fact that the fraudulent "War on Terror" is an Israeli construct dating back to the 1970s, the first suspect would have to be Israeli intelligence.
Why would they do that?
To advance the Israeli strategy known as the "War on Terror" – and destroy Syria in the process.
How would they do it?
By creating a cell of extremists who are cultivated and prepared to carry out such acts of violence.
Are there any indications that this is the case?
The fact that the Bataclan theatre was Israeli-owned until September 11, 2015, in one rather obvious clue. There are many others, such as the degree of knowledge held by the planners. For example, how did the terrorists know that the French president would be at the football game? And why did French SWAT teams wait for more than two hours to take action at the theatre?
Is Hollande part of the deception?
He could be, but I would tend to doubt it. Hollande is simply "in the pocket" of the Rothschild family and proved it by waging war in Mali on behalf of the Rothschilds and their gold interests in that poor African nation. In August 2014, Hollande appointed Emmanuel Macron, a Rothschild investment banker to head the French Ministry of Economy.
Hollande is a Rothschild puppet who does what his masters want. At this point they want him to attack Syria.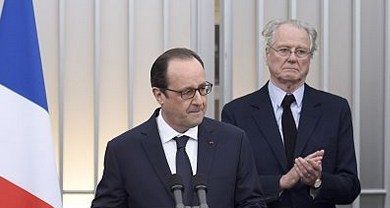 ROTHSCHILD PUPPET - François Hollande, seen here with Eric de Rothschild, serves the Rothschild family - not the Republic of France.
How does this affect the situation in Syria?
The Paris attacks bring France into the Syrian conflict, although their military actions in Syria are neither legal nor approved by the government of Syria. This increases the weight of the anti-Assad coalition vis-à-vis the Russians, who have been asked to intervene in Syria and are fighting in support of the Assad government.
Note: If you appreciate my articles please support my research and writing.
Click here to donate or via PayPal to:
bollyn@bollynbooks.com
Sources and Recommended Reading:
"Bashar al-Assad is Problem, Not Solution in Syria: French President Francois Hollande," NDTV.com, October 23, 2015
http://www.ndtv.com/world-news/bashar-al-assad-is-problem-not-solution-in-syria-frances-francois-hollande-says-1235630
"Hollande replaces critic of austerity with Rothschild banker," EurActiv.com, Reuters, August 27, 2014
www.euractiv.com/sections/euro-finance/hollande-replaces-critic-austerity-rothschild-banker-308004
"Mali - France Fights for Rothschild Gold," by Christopher Bollyn, January 19, 2013
www.bollyn.com/mali-france-fights-for-rothschild-gold/
- See more at: http://bollyn.com/#article_15325