Cliff Richards
Cliff Richard's Biggest Secret Unfortunately though, Reverend Cliff forgot to mention some other altogether more disturbing rumours, that his faithful fans might not be aware of. They include the following:
- that Cliff and Melvyn Bragg share a repulsive hobby that the average person would find sickening.
- that Cliff is linked to notorious boy-brothel Elm Guest House,where boys were trafficked from local care homes to be abused by VIP filth, and used the pseudonym, Kitty.
- that Cliff knew about the BBC paedophile ring, linked to Government and Royalty
- that Cliff was questioned several times by police officers following the brutal murder of his 'close' chum Jill Dando, who was about to blow the lid on the ring.
- that Cliff recently renounced his British citizenship and is now a fully fledged Barbadian
- that Cliff has been helped by his pals in Mi5 to evade justice when abuse allegations have been made against him.
- that Cliff is really nothing like his wholesome, religious, celibate persona at all and has actually hoodwinked us, Jimmy Savile style, for decades.
So you see, being exposed as gay is the very least of Cliff Richard's worries.
Is Myra Hindley really dead?: The mysterious case of Jimmy Savile, VIP pimps, Harriet Harman, Samantha Cameron and Britain's dirty secrets Jill Dando knew all about the BBC paedo-ring run by Savile and told her close chum Cliff. She was soon shot dead on her doorstep as a warning to others to keep their mouths shut.
Satanic Savile, QE2 Death Cruises, Steve Wright, Ipswich, Mr Kippah, Prince Philip, Fred West, Princess Diana, Clare Stagg, Sandra Court, Cliff Richard, Jill Dando and the Suzy Lamplugh connection
The revenge of Cliff Richard, T'Pau and the filthy dressing-room incident
Cliff Richard, Waitrose, concert tickets, a bottle of vinaigrette and the 'F' word connection
Cliff Richard, Operation Fernbridge, Hugh Grant and the gay childhood crush
Breaking News: Cliff Richard knows which Yewtree celebrity will be arrested next
Cliff Richard and the Wrath of God
Eurovision, Cliff Richard, Elm Guest House and the High Court super-injunction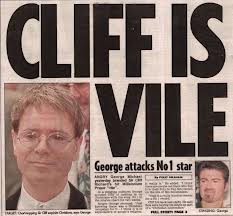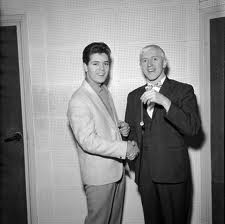 I have worked for some years as a receptionist at a top rejuvanation clinic stephen fry was there a while back and cliff richard is back at the slightest sign of the tiniest wrinkle and to hear cliff on TV say he puts his youthful looks down to his christian lifestyle makes me want to vomit http://thecolemanexperience.wordpress.com/2014/05/01/is-there-more-to-stephen-fry-than-meets-the-eye/