Human traffickers sell sex slave on Britain's busiest street
By Sophie Freeman
Last updated at 11:19 AM on 8th December 2009
Pimps sold a young woman as a sex slave in broad daylight on Britain's busiest shopping street.
A brothel owner paid just £3,000 for the Lithuanian victim, a woman in her 20s, in the transaction on London's Oxford Street.
Police surveillance footage shows an Albanian man handing over the cash to two of his countrymen outside Selfridges department store as shoppers pass by, unaware of what is happening.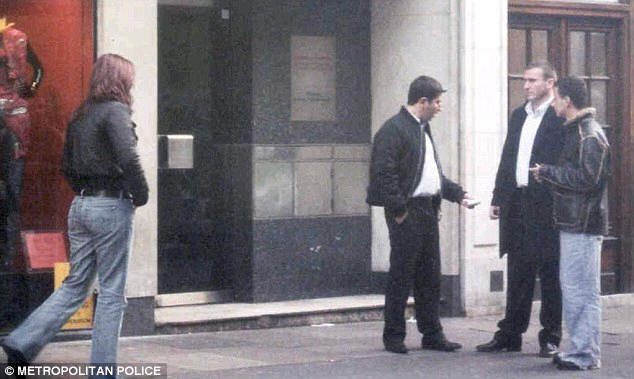 Caught in the act: Gazmet Turku hands over £3,000 to Izzet Fejzullahu (second from right) and Agran Demarku (right) in Oxford Street. He is 'buying' the Lithuanian woman pictured on the left to work in his brothel. All three Albanian men have been jailed and the girl returned to Lithuania
The helpless woman - guarded by a thug - is forced to watch as the men discuss the deal.
She would have been expected to earn her new 'owner' £100,000 a year by having sex up to 25 times a day in a brothel.
On this occasion, the woman was lucky. Police swooped to free her and her traffickers were jailed for a total of 63 years.
The Home Office estimated that in 2003, the most recent figures available, 4,000 women were trafficked into the UK for prostitution.
Police warn that the numbers of Eastern Europeans being trafficked into the UK will grow significantly in the run up to the London 2012 Olympic Games.
A rise in so-called 'vice activity' has already been detected in the five Olympic boroughs of Newham, Hackney, Tower Hamlets, Waltham Forest and Greenwich, to cater for demand from 25,000 construction workers.
A special police squad has been set up to tackle the trafficking. Officers cite the example of a 16-year-old Albanian girl who thought she was coming to London for a romantic weekend with her boyfriend. When they arrived, he handed her over to pimps.
Police released the photo of the woman being trafficked on Oxford Street in a bid to raise awareness of the problem.
Seller number one, Izzet Fejzullahu - an Albanian vice gang member - is pictured selling the girl for £3,000. He was jailed for 14 years at London's Southwark Crown Court for controlling prostitution.
Seller number two, Albanian Agran Demarku, is seen discussing the deal with the brothel owner. He was sentenced to 18 years, as was his brother, Flamur, who stood guard over the girl.
The buyer, brothel owner Gazmet Turku, was also jailed.

Detective Chief Superintendent Richard Martin, of the Metropolitan Police Clubs and Vice Unit, said: 'The man to the left in the picture has £3,000 in cash in his hand, with which he is buying a human being.
'She is just a commodity to them. She is an item for selling sex.

'The man is buying the girl for his own brothel from the men to his right, who ran a network of nine brothels. He is simply replenishing his stock, as a shopkeeper would.
'These women are put into slavery and exploited in the vilest way.'
Detective Superintendent Martin said 25 trafficked women had been rescued by his unit this year.

'We have had people kidnapped and smuggled into the UK,' he said. 'Others came in thinking they were working in bars but were put to work in brothels.

'Their passports were taken, they were threatened - and some were systematically raped and beaten up.'