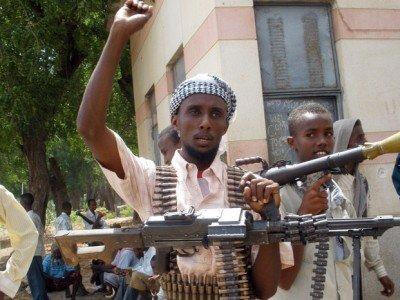 America's African proxies are waging a "three-prong attack in several regions" of Somalia, in a war instigated by George Bush in late 2006 and expanded by Barack Obama. In that time, Somalis have suffered two catastrophic humanitarian crises that claimed the lives of hundreds of thousands and displaced millions. U.S. drones have killed hundreds in the current offensive, involving troops from Kenya, Ethiopia, and mostly Ugandan and Burundian soldiers fighting under African Union auspices. The Al Shabaab resistance continues to put up a determined defense. "The current military interventions in Somalia harbor a strong strategic underpinning," given the discovery of large oil deposits in the country.
"The military invasion had been planned with Washington for nearly two years."
Broader western-backed military interventions in Somalia have not resulted in a lessening of hostilities. During mid-January, the number of deaths and injuries escalated as Kenyan, Ethiopian and AMISOM military forces accelerate their campaign to destroy the Al-Shabaab Islamic resistance movement and subdue areas of the country under its control.
The United States and United Nations, along with a number of other imperialist states and Israel, are propping up the Somalia Transitional Federal Government, the African Union Mission to Somalia (AMISOM) forces and Ethiopian troops who have leveled a three-pronged attack in several regions of the Horn of Africa state. These inland attacks are accompanied by the presence of flotillas of Europe Union Naval vessels that are in the Gulf of Aden ostensibly to fight "piracy."
On January 22, Kenyan army spokesman Major Emmanuel Chirchir reported that a TFG soldier and two other Kenyan Defense Force (KDF) personnel were killed by Al-Shabaab resistance fighters when the western-led military units attempted to take control of Hosingow and Delbio in southern Somalia. Chirchir claimed that in the course of the operation 11 Al-Shabaab fighters were killed, an assertion that has been rejected by the Islamic group.
"The U.S. has utilized drone attacks that have killed hundreds of Somalis over the last several months."
Kenyan Defense Forces entered southern Somalia in October in an operation called "Linda Nchi." Although the Kenyan government said that it was responding to incursions by Al-Shabaab into its territory, the military invasion had been planned with Washington for nearly two years.
The White House and the State Department have said repeatedly that Al-Shabaab is linked with Al-Qaeda in an effort to justify its intervention in Somalia. The U.S. has utilized drone attacks that have killed hundreds of Somalis over the last several months.
Fighting Causes More Displacement in Capital
On January 21, a British citizen of Lebanese descent was killed by a U.S. drone in Elasha Biyaha, located outside the capital of Mogadishu. The AMISOM forces have launched an offensive in the capital and its environs in recent days aimed at driving al-Shabaab supporters out of Mogadishu.
As early as January 20, civilians living in the capital reported serious clashes between TFG troops, who are reinforced by AMISOM, and the Al-Shabaab fighters in the Karan and Heliwa districts. Afgoye, a town that is the current residence of many internally displaced people from the war, was bombed as well in an airstrike of unknown origin.
A Somalia security official, Said Mohamed Hassan, speaking on behalf of the TFG, declared that "Al-Shabaab commanders and their Al-Qaeda allies will be targeted wherever they are in Somalia, including the Afgoye corridor and that is why people are now avoiding living in areas under their control." (AFP, January 23) This is the same policy that has been enacted by the U.S. in the Horn of Africa and other areas of the North Africa and Middle East.
Hundreds of residents of the northern sections of the capital fled after they were awakened Friday morning to sounds of mortar fire. The AMISOM forces, composed of 10,000 troops from Uganda, Burundi and Djibouti, states all closely allied with the U.S., is making a major effort to expand their operations outside Mogadishu.
"Al-Shabaab fighters are continuing to carry out a formidable resistance to the western-backed military units."
Lieutenant Colonel Paddy Ankunda, a spokesman for AMISOM, said that "We are moving out of the city now so we can defend the city from the outside now. Our troops have captured strategic bases from Al-Shabaab." (Guardian, UK, January 21)
AMISOM has been restricted to small parts of the capital due to the fierce resistance of Al-Shabaab and the largely unpopular sentiment harbored against them by the Somalian people. Several nations in East Africa have appealed to the United Nations Security Council to authorize another 7,000 so-called "peacekeeping" troops to enter the country, bringing the total up to 17,000.
Nonetheless, the Al-Shabaab fighters are continuing to carry out a formidable resistance to the western-backed military units. People residing in the capital reported that Al-Shabaab ambushed AMISOM and TFG troops in Daynile, Heliwa, Dharkenley and Yaqshid districts resulting in the deaths of a TFG military official.
In a video released by Al-Shabaab on January 18, an alleged spy for the Central Intelligence Agency (CIA), Ahmad Ali Hussein, confessed to be being recruited by the U.S. covert action organization. Hussein was reportedly executed by his captors in late January or early February of 2011.
In other developments on January 21, several armed militants reportedly took a U.S. citizen into custody in Galkayo, located in the breakaway Puntland region of the country. Somalia police officer Abdi Hassan Nur said that the gunmen had surrounded the man's vehicle, forced him to exit and enter another car.
During the course of the recent fighting in Mogadishu, Keysaney Hospital in northern Mogadishu was struck by two mortar shells on January 22. Reports indicate that there were no injuries or deaths from the attack.
Keysaney is one-of-two International Committee of the Red Cross (ICRC) surgical referral hospitals in the capital. The hospital is managed by the Somalia Red Crescent and treated 2,000 patients with war-related injuries in 2011.
Kenya Pays Heavy Price for Intervention in Somalia
Despite the claims that the Kenyan military is already halfway through its operations to subdue Al-Shabaab in Somalia, the invasion has had a serious negative impact on the East African state. Col. Cyrus Oguna, who is the director of information and operations for the KDF, said on January 21 that "As we are speaking now, Al-Shabaab is halfway in the pit." (Kenya Daily Nation, January 21)
Col. Oguna went on to state that "The target has been on logistics bases and command centers and these are critical in any operation and if you cripple a logistics base and a command center, the war is hallway won." However, Al-Shabaab has been able to raid Kenyan territory in Wajir, where an estimated 100 Islamic fighters destroyed an administrative police camp at Gerille and took five military personnel and civil servants into custody.
In a report issued by the Nairobi-based Inter-Regional Information Network (IRIN), an agency of the United Nations, it says that "Security, service delivery and economic activity in northeastern Kenya have deteriorated considerably since October 2011, when the country's military forces deployed in neighboring Somalia in an effort to eradicate the Al-Shabaab militia, which has vowed to avenge the incursion." (IRIN, January 13)
This same article goes on to point out that "In December alone, at least 15 incidents involving grenades or improvised explosive devices (IEDs) occurred in the regions of Garissa, Wajir, Mandera and Dadaab, where some 463,000 people, mostly Somalis, are housed in the world's largest refugee complex. Food prices had also increased with local traders no longer able to import goods from Somalia."
A former Senior Research Analyst at the Foreign and Commonwealth Office in London wrote also that "Military intervention in Somalia, whether unilateral, multilateral or under the auspices of some supranational body, has never achieved its aims nor led to long term peace let alone political and social harmony. Current operations conducted by the African Union, Kenya and Ethiopia are the latest in a line of foreign military actions in Somalia." (African Arguments, January 17)
Oil Drilling Begins in Puntland
In the breakaway region of Puntland, where the leadership of the area has sought international recognition independent of Mogadishu, a Canadian oil and gas exploration firm has begun drilling at two wells known as Shabeel-1 and Shabeel North-1 in the Dharoor plains. The Canadian corporation, known as Africa Oil, is working in partnership with two Australian counterparts, Red Emperor and Range Resources, where it has been claimed that 300 million barrels of recoverable oil may exist.
According to Reuters Press Agency, "The site is a humid, barren area of about 2,600 square km (1,004 square miles) near Dharoor town, some 350 km (217 miles) from the port of Bosasso on the Gulf of Aden. Africa Oil said last year it planned to drill up to eight wells in blocks it holds interests in across East Africa, including the two in Puntland." (Reuters, January 17)
The initiation of such economic activity lends credence to the notion that the current military interventions in Somalia harbor a strong strategic underpinning. The United States and other imperialist countries are exporting more oil than ever from the African continent, and these trends will continue well into the first half of the 21st century.
Abayomi Azikiwe and the and the Pan-African News Wire can be contacted at panafnewswire@gmail.com.