Kirsty Lang
The 7/7 Terror Rehearsal Panorama's fake terror, 7/7, Peter Power & Kirsty Lang. In yet another bizarre 'coincidence' of events, the newsreader pictured in the Panorama transcript above, reading news of the fake attack played out in the BBC's London Under Attack programme, is one Kirsty Lang, also pictured left. Kirsty is the presenter of The World, an international current affairs programme broadcast globally on BBC World and on BBC4 in the UK. Kirsty is a regular presenter on Front Row, the Radio 4 arts magazine programme. She is also a former presenter of Channel 4 News and a 'relief presenter' for BBC World. The TV Room fills in a little more background detail:
Kirsty started at the BBC as a graduate news trainee in 1985 after completing a degree in international relations at the London School of Economics and a postgrad MA in journalism from City University, London.

She then became a general news reporter in radio. In 1989, she took up a post in Budapest as stringer for the BBC World Service. In late-1991, she became a correspondent in the BBC Paris office.

C. 1994, Kirsty returned to London to take up a post as a reporter for 'Newsnight'. In summer 1995 she moved out of television to join the Sunday Times as their Paris correspondent. She remained there until 1998 when she returned to TV as Europe correspondent and presenter for 'Channel 4 News'.

In 2002, Kirsty moved to the BBC where she presented the news on BBC World and fronted the BBC Four news programme.
As part of Lang's stint in Eastern Europe as Central European reporter for the BBC World Service based in Budapest, she covered the fall of the Berlin Wall and the Balkans conflict, before then going on to be BBC World Service Paris correspondent at the time Diana and Dodi Fayed were killed. In early 2002 she moved from her post as Channel 4 News reader to join BBC Four News as chief correspondent. Her husband is a writer and broadcaster on Eastern Europe, especially Yugoslavia, and his father was in British Army intelligence in West Berlin, and a lecturer in Russian studies.
More recently, Lang chaired a Morgan Stanley sponsored meeting of the Royal Society for the encouragement of Arts, Manufactures & Commerce, cunningly known by the simple three-letter acronym, RSA, which ignores entirely the 'Manufactures and Commerce' aspects of the society, on the subject of Britishness. Lang was also on the Advisory Board ofEditorial Intelligence, Editorial Intelligence is Julia Hobsbawm's "information and networking club", whose list of clients include the Cabinet Office and the Metropolitan Police, and which has caused a bit of a stir among journalists with its strapline, "Where PR meets journalism". Hobsbawm is also a close associate and friend of Gordon and Sarah Brown, having once run a company, Hobsbawm Macaulay, with Sarah Brown, the wife of British Prime Minister, Gordon Brown.
The Press Gazette reports that Lang has since resigned from the Editorial Intelligence board, sometime between late March and early April 2006 but, according to the Sunday Times, this was only as a result of the BBC forcing journalists in their employ (Lang, as well as Barney Jones, editor of Radio 4's Sunday AM) to resign from the Editorial Intelligence board after learning that EI were buying off journalists with £1,000 a year to sit on the board and £200 a time to attend seminars.
As mentioned, one of Lang's roles is that of 'relief presenter' with BBC World, making her one of at least 25 regular and relief presenters for the channel. She was also hired to present the 'mock broadcasts' used to create a sense of realism in Panorama's London Under Attack alongside Peter Power and, in another amazing coincidence, Lang was selected from therange of BBC World presenters to replace regular newscasters on the biggest UK news day of 2005, namely the day of 7th July 2005. Lang can be seen in the screen captures below, both taken from BBC World coverage broadcast on 7/7.
Kirsty Lang presenting BBC World News on 7/7
Quite aside from the amazing coincidence of Peter Power's terror rehearsal on 7/7, which closely mirrored the reported events of that day, the odds are stacked against the coincidence of Kirsty Lang happening to be hired by the BBC to present fake news reports in the 2004 Panorama programme -- featuring, as per the original story that unfolded on the day of 7th July 2005, three staggered explosions on the London underground, including one at Liverpool Street (shown below), followed later by an explosion above ground on a land-based transportation device -- before then overcoming a one in twenty-five chance of being the BBC World 'relief presenter' selected to present the news on the day of 7th July 2005.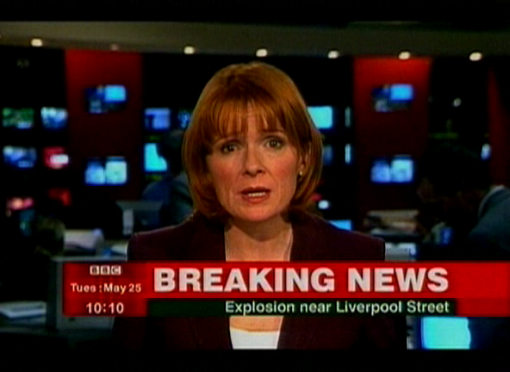 Kirsty Lang in Panorama's London Under Attack, as broadcast on 16th May 2004