Clinton body count Pedophile associated deaths
[Investigating Bill Clinton For Child Sex Charges.]
Mystery as husband of crusading anti-child sex trafficking assistant attorney general is shot dead while working as Lyft driver
Shahriar Zolfaghari was shot dead in Atlanta on Wednesday morning
Lyft driver is the husband of Georgia assistant attorney Camila Wright
Zolfaghari, 36, had been shot in the chest twice and died in hospital
Homicide investigators say the father-of-one's death is a 'mystery'
Mrs Wright is in charge of prosecuting human trafficking in the state
By Ollie Gillman For Dailymail.com
2 June 2016
The husband of an assistant attorney general who has crusaded against child sex trafficking in Georgia has been shot dead.
Shahriar Zolfaghari, 36, had been shot twice in the chest when he was found slumped in the front seat of his car in Atlanta early on Wednesday morning.
The Lyft driver - who is married to Georgia assistant attorney general Camila Wright - died in hospital, and police in charge of the homicide investigation say his death is a 'mystery'.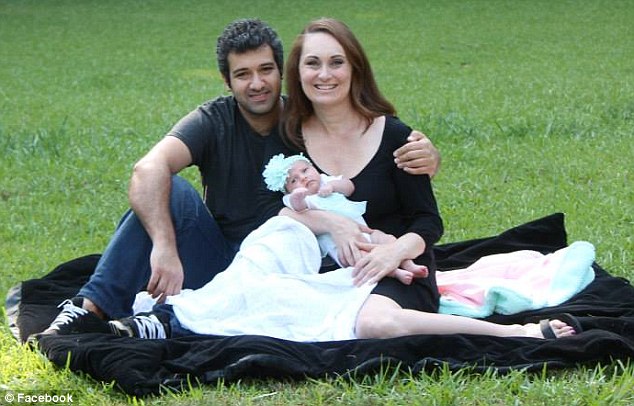 Tragic: Shahriar Zolfaghari, the husband of Georgia assistant attorney general Camila Wright (pictured together with their baby daughter), has been shot dead
Mrs Wright was made Georgia's prosecutor for human trafficking in 2014 and was believed to be the first person to take up such a role in the U.S..
Before that was in charge of Fulton County's human trafficking unit, where she helped jail 19 people, including two for life.
According to 11 Alive, a witness told police that he pulled up behind Mr Zolfaghari's vehicle at a red light next to a church at around 1am on Wednesday, but got out to see what was the matter when he did not pull away after the light changed to green.
They told investigators that the motorist had been shot and that there was blood inside the car.
Two shell casings were found at the scene, the Atlanta Journal-Constitution reported.
'It looks like someone must have either been in the vehicle with him or shot him at close range,' police Major Adam Lee III said.
'It's a mystery as to why someone would harm him,' he added.
Police have subpoenaed Lyft for Mr Zolfaghari's records to see if he was on a ride - and if so, who ordered it - when he was shot.
The father-of-one had been married to Mrs Wright since 2014 and have a young daughter together.
A heartbreaking Facebook post by Mrs Wright's sister, Everett Wright, said: 'My perfect brother, in love my sister found you. In love you leave us.
'You were the gentlest, kindest, most innocent person I knew honestly. You adored your wife and daughter in a way that cannot even be described by these words.
'I cannot fathom the thoughts that run through the minds of people that choose to take people like you away from the incredible life you had here. Our hearts our broken. Please all you who read this shower the heavens with prayers for my sister, her daughter, and my family.
'I love you, we all love you and always will cherish you. You are gone too soon. Rest in heaven's peace and may the thought of you bring peace to us all.'
A spokesman for Georgia Attorney General Sam Olens said: 'We at the Attorney Generalís office are heartbroken by the tragic loss of Camilaís husband. Our thoughts and prayers are with her and her family.'
A Lyft spokeswoman said: Our heartfelt sympathies are with the family and loved ones of Shahriar Zolfaghari. Lyft has been working closely with law enforcement and will continue to assist their investigation.'