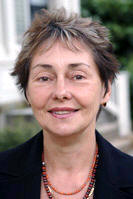 [Nancy Scheper-Hughes is a professor of anthropology at the University of California at Berkeley. She has conducted field research on madness among bachelor farmers in rural Ireland; AIDS and human rights in Cuba; death squads and street kids; mother love and child death in the shantytowns of Brazil; popular justice in South African squatter camps; and invisible genocides among native Californians. A so-called militant anthropologist, she focuses in her writings on suffering, violence, and death as they are experienced on the margins of the third world.
At the Radcliffe Institute, Scheper-Hughes will complete a book based on a ten-year, multisited study of the global traffic in "fresh" organs procured from desperate kidney sellers for affluent transplant tourists, an uncivil practice she views as a form of sacrificial violence. Transplant practices, even illicit ones, give a unique view of who we are and how we imagine ourselves and our bodies in relation to others.
Scheper-Hughes is the recipient of many grants, awards, and book prizes, including a Guggenheim Fellowship, the Margaret Mead Award, the Wellcome Medal from the Royal Anthropological Institute, and the Staley Prize from the School for American Research. Her book Death Without Weeping: The Violence of Everyday Life in Brazil (University of California Press, 1992) was a finalist for the National Book Critics Circle Award. Scheper-Hughes has taught at the École des Hautes Études en Sciences Sociales, Paris; at Manchester University, UK; and at the University of Cape Town, South Africa. She is a frequent keynote speaker in North America, Latin America, and Europe. 1]
[2011 Oct] NY organ trafficker admits buying kidneys in Israel for $10,000... and selling them in U.S. for $120,000 anthropologist and organ trade expert Nancy Scheper-Hughes, who described Israel as a 'pariah' in the organ transplant world, has said in the past that many of the donors were desperately poor immigrants from eastern European countries such as Moldova, Romania and Russia. They say the recipients are leading healthy lives thanks to Rosenbaum.....The probe led to 46 arrests, including several rabbis, the New York Daily News reports......Prosecutors said he bought the organs from vulnerable people in Israel for as little as $10,000, then sold them here for a minimum of $120,000.
[2010] Body Parts and Bio-Piracy by Nancy Scheper-Hughes In its heyday (1997-2007), the Israeli transplant tourism/organ-trafficking network was an ingenious and extremely lucrative multimillion-dollar program that supplied a few thousand Israeli patients and diasporic Jews worldwide with the "fresh" organs and transplants they needed. With Rosenbaum's arrest, the U.S. media were suddenly interested in the Israeli-based transplant-trafficking scheme, now that there was a proven link to hospitals in New York City. .....After my tape was released in Israel, on December 19, 2009, to Israeli TV's Channel 2, government officials for the army and the Ministry of Health admitted that organs and tissues were harvested from the dead bodies of both Palestinians and Israelis throughout the 1990s, but that the practice ended in 2000.....In fact, according to Kugel, "Organs were sold to anyone; anyone that wanted organs just had to pay for them." While skin, heart valves, bones, and corneas were removed and used for transplants, solid organs – hearts, brains, livers – "were sold for research, for presentations, for drills for medical students and surgeons."
.....To Dr. Kugel the prime issue had nothing at all to do with science: it was about disrespect, about hoarding body specimens, about turning the Institute into a factory of bodies. The Institute's conduct was motivated by money, by power, and by authoritarian paternalism of the sort that says, "We know what's good for you, we'll decide what happens to you, the person who doesn't know anything. We'll decide." And that's the reason why that happened, and Dr. Kugel asserts it is happening to this day.