Pesticides the Root Cause of Birth Defects in Farmworkers
Palm Beach Post
Why was Carlitos born this way?
He's one of three Immokalee babies who were born horribly disfigured to mothers and fathers who work together in Florida's fields.
By John Lantigua
Sunday, March 13, 2005 http://www.organicconsumers.org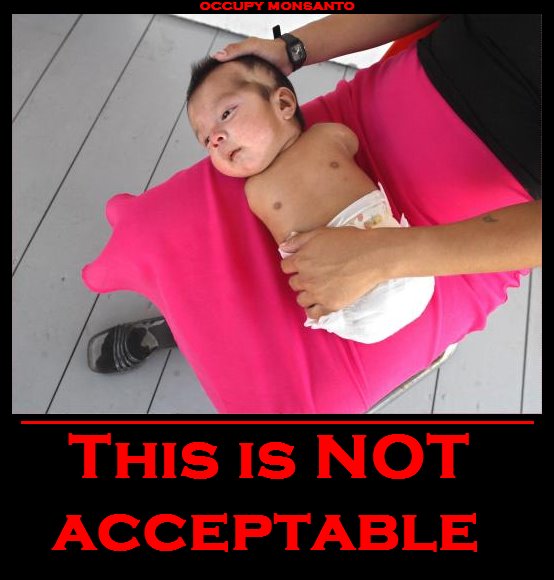 IMMOKALEE < Carlos Candelario, known as Carlitos, was born Dec. 17 without arms or legs.
On Feb. 4, Jesus Navarrete, whose parents live about 100 feet away from Carlitos' family, was born with Pierre Robin syndrome. His jaw is underdeveloped, and that causes his tongue to fall into his throat, and he risks choking.
Taylor Jones/The Post
Two days later, on Feb. 6, Maria Meza gave birth to a child missing its nose, an ear and with no visible sexual organs. At first the child was given the name Jorge, but hours later was renamed Violeta after a more detailed examination determined that the baby was a girl. She died three days later of massive birth defects.
Meza now lives about a mile away, but in 2004, when they became pregnant, all three mothers lived within 200 feet of one another at the same migrant labor camp, called Tower Cabins. All of them are Mexicans and worked for the same produce company, picking tomatoes, in the same field just off Camp Keais Road in Immokalee. More than two dozen different pesticides and herbicides are used in that field.
When the harvest was completed in Immokalee, they moved on to fields in North Florida and North Carolina, but they say they continued to work for the same employer and were again exposed to agricultural chemicals.
Two of the women say they worked until they were seven months pregnant. Meza quit the fields after two months.
Which raises the question: Are agricultural chemicals to blame for the plight of these babies? Or are there other environmental, nutritional or genetic causes?
At the moment, no one can answer with certainty. But the extraordinary convergence of three such serious birth defects among migrant families who live and work so closely together has alarmed Florida's migrant advocates and raised the concerns of the employer and state agriculture officials. "People have mentioned to me that maybe this has to do with chemicals," says Francisca Herrera, 19, Carlitos' mother. "But I really don't know anything about that. I would like to know."
After being notified of the cases recently by The Palm Beach Post, Dale Dubberly, chief state official for pesticide investigation, said his office would begin an inquiry.
The births, Dubberly said, "may have nothing to do with pesticides, but we'll try to get to the facts."
On its Web site titled "America's Children and the Environment," the federal Environmental Protection Agency states: "Studies evaluating the role of pesticides in birth defects have found an association between maternal and paternal exposure to pesticides and increased risks of offspring having or dying from birth defects."
Grower cited in pesticide violations The field in Immokalee where all six parents worked is operated by Ag-Mart, a produce company based in Plant City that markets tomatoes under the name Santa Sweets. At the entrance to that field is posted a list of 38 separate products involving some 30 chemicals used on the crops during the year. According to EPA reports, at least one of the chemicals, a herbicide called metribuzin "is associated with developmental toxicity effects" in tests on lab animals.
The Pesticide Action Network, an international watchdog group based in California, goes further. It lists the chemical as "a reproductive and developmental toxin," which means it has the potential to harm fetuses and children.
Makers of pesticides and herbicides insist such products are developed with a wide margin of error and are safe for workers and consumers if employed properly. But that doesn't always happen.
The EPA report on metribuzin specifically warns that "field workers" are at risk if they inhale the chemical. The warning calls for special protective equipment to be used when it is applied and also requires that workers wait 12 hours before entering a field where the chemical has been employed. Between 1999 and 2003, Ag-Mart was cited three times by state inspectors for violations of pesticide regulations in its Florida fields. Those violations involved the precise EPA concerns attached to a chemical such as metribuzin: failure to keep workers out of fields for a sufficient time after chemicals have been used, failure to provide proper protective equipment and failure to keep proper records of pesticide and herbicide use.
"We base our risk assessments on how the products are used," says William Wooge, an environmental protection specialist for the EPA, which approves agricultural chemicals. "People should follow the label. We look very carefully at those reentry intervals."
An even larger potential problem is that chemicals normally are tested and approved one at a time, not in combination, which is how they are habitually used in the fields.
"There has not been much study on that," says Dr. Stuart Brooks, a professor at the College of Medicine and Public Health in Tampa and a former member of the Florida Pesticide Exposure Surveillance Board. "I don't think anyone really knows the effects."
The EPA says it is studying those combinations now but concedes that intensive investigation started only in 1996 and that results are inconclusive.
'Looking into the issue' Those violations for which Ag-Mart was cited in the past occurred in Plant City and Bonita Springs. The Post requested of the Department of Agriculture and Consumer Services any new records involving Ag-Mart, including in Immokalee. The department, responsible for enforcing federal pesticide laws in Florida, did not provide the requested records in time for this article. Don Long, president of the company, issued a prepared statement in response to questions from The Post.
"We're looking into the issue of children born with birth defects to women who may have worked for our company," Long stated. "We care deeply about the health of our employees and take this concern extremely seriously.
"Santa Sweets has developed and instituted very detailed practices and procedures for our employees who handle or are exposed to crop protection materials," he said. "We take pride in our meeting or exceeding federal and state safety training regulations for every employee."
Long said the company had resolved past warnings received. In a brief conversation, he also said his company had never been fined by the Department of Agriculture for those past violations.
The case of Ag-Mart is not unusual: In Florida, where more pesticides are used per acre than in any other state, growers are rarely fined when they break the rules.
According to state records reviewed by The Post, between 1993 and 2003 Florida inspectors found 4,609 violations of pesticide regulations, but only 7.6 percent resulted in fines.
The department employs some 40 inspectors statewide under the Bureau of Compliance Monitoring in Tallahassee, which is supposed to enforce pesticide laws. But critics say the salaries and operating costs are a waste of taxpayer money.
"The department's basic task is to work with farmers to increase their business, and it does an ineffective job of monitoring worker safety," says Lisa Butler, an attorney for Florida Rural Legal Services in Fort Myers. "It's a classic case of the fox guarding the henhouse. There is an inherent conflict of interest in the Department of Agriculture investigating pesticide cases."
"Pesticide exposure is a serious health issue," says attorney Greg Schell of the Migrant Farmworker Justice project in Lake Worth. "The Department of Agriculture people aren't doctors. There is no rationale for them being in charge of this."
Dubberly, the chief state official for pesticide investigation, refutes those opinions. He says the job of his office is to "register pesticide use and to make sure they are being used properly" and that his staff does that. He says his inspectors have nothing to do with increasing growers' profits and that there is no conflict of interest.
Few medical reports of exposure It is state law that a doctor who believes that a medical condition was caused by pesticides must report it to state authorities. Dubberly said his office coordinates with Florida Department of Health officials in monitoring and investigating those complaints.
But his department had not been notified of the birth defects recorded in Immokalee by any member of the medical profession < despite the fact that the women were treated at a private, nonprofit clinic in Immokalee. And, according to the mothers, in all three cases doctors at local hospitals involved in the deliveries or treatment of the babies asked them about their work in agriculture.
Kim Hainge, the official in Dubberly's office in charge of receiving reports on pesticide-related medical conditions, admits that aspect of the system does not work.
"In all of 2004, we received only four such reports," Hainge says. "In 2003, it was all of eight. I know it can't be accurate."
By contrast, California, in 2003 < the last year for which figures were available < investigated 1,232 cases of "pesticide illness" and confirmed 802 cases. Of those, 405 occurred in agricultural settings.
Unlike Florida, California has a separate Department of Pesticide Regulation, part of its Environmental Protection Agency and independent of its agriculture department.
"It's not because we don't have the incidents in Florida, it's that our system for investigating pesticide violations and enforcing the laws doesn't work," says Schell.
Hainge says she believes doctors in Florida are reluctant to make diagnoses of pesticide illnesses.
Butler goes further. She says medical personnel avoid the problem.
"There is this reluctance to ask why this kind of thing happens," Butler says. "I have seen dozens of pesticide experiences where the patients were treated but were never asked about how it happened. The statute requiring a report is uniformly ignored by physicians."
Peter Leventis, the director of the Marion E. Fether Medical Center in Immokalee, where the mothers were seen, said his clinic had not notified state officials.
"I was not aware of that law," said Leventis, who came from Georgia 18 months ago to his current position. "The truth is that pesticide exposure was not even on my radar.
"We need to spend more time raising the awareness about potential problems," he said, expressing concern for the three families.
Legal and medical experts say proving that exposure to pesticides in one place during a specific period caused a birth defect is enormously difficult. Individuals have radically different reactions to the chemicals. Also, other environmental factors, as well as genetics, could be the cause of defects.
A number of birth defects in the Guatemalan community of Palm Beach County in the 1990s was eventually pegged to low levels of folic acid in the mothers' diets.
So medical and scientific personnel may be reticent to bring up the possibility of pesticides.
"They always say what they need is a cluster," Butler says. A cluster is considered two or more pesticide illness cases that may be related. "Well, this seems to be a cluster staring them right in the face. They can at least study it."
Carlitos' family deals with crisis The three mothers say there is no history of birth defects in their families or those of their mates, as far as they know. They all come from different towns in Mexico and are not related. Two of the women, Meza and Sostenes Maceda, the mother of Jesus Navarrete, have other children who are apparently healthy and who were born before they started work in Immokalee. For Francisca Herrera, Carlitos is her first child.
The three mothers all say they don't remember ever being accidentally sprayed with pesticides and that no aerial spraying was done while they worked. But they always wore bandanas over their mouths to try to protect themselves from residue.
"When you work on the plants, you smell the chemicals," said Herrera.
"It has happened to me various times that when you are working and the chemical has dried and turned to dust, you breathe it," says Meza. "They say it's dangerous."
Meza says she has asked for autopsy results on her dead daughter, but that report will take several weeks to produce. Maceda's child, Jesus, must undergo various examinations to determine what other problems he may have.
It is expected that the condition with his jaw and tongue will be resolved as he grows, she says.
Herrera says her son, Carlitos, is acting normal despite having no arms and legs.
"He eats well and he sleeps well, and I think he is intelligent because it seems sometimes that he already wants to talk," she says proudly. Carlitos will be baptized today.
But Herrera and her husband, Abraham Candelario, are facing a crisis: Tomato work in South Florida will soon end, and Candelario will have to move the family farther north to continue the harvest.
Nancy Ruby, an official at Children's Medical Services of Lee County, where Carlitos is a patient, says that would be a tragedy. The child, born in the U.S. and therefore an American citizen, is eligible for help.
"We are all set to give that little guy every service we can to help him," she says. "But if they go back on the road, he will get lost somewhere. They can't leave here."
She says the family will need permission to stay and work in Florida, despite the fact that the parents are undocumented.
"It's very sad. I've never seen anything like this," says Ruby, "but maybe this will get people's attention and hopefully figure out why these things happen."
Staff writer Christine Stapleton and researcher Melanie Mena contributed to this story.