U.S. Hires Shady Mercenary for Somali Proxy War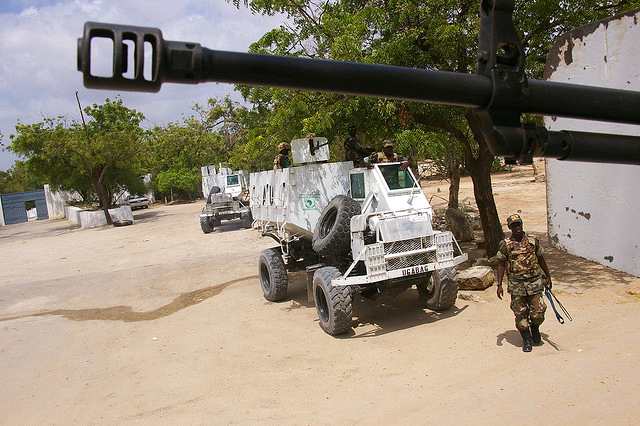 August 11, 2011
A French-born mercenary with a criminal record and possible ties to several African coups and at least one murder is the latest agent of the U.S. government's out-sourced war in Somalia, according to The New York Times' ace Africa reporter Jeffrey Gettleman and others.
Richard Rouget, alias "Colonel Sanders," works for Bancroft Global Development, a Washington, D.C.-based "private security company" that maintains an approximately 40-man team of self-described "mentors" in Mogadishu, Somalia's embattled capital city.
Rouget and the other mentors — a mix of former French, Scandinavian and South African soldiers — help train the 9,000-strong, U.S.-funded Ugandan and Burundian peacekeeping force that doubles as the heavy army of the Somali Transitional Federal Government in its long war with the al-Shabab Islamic terror group.
Al-Shabab, the latest in a long chain of Somali insurgent groups, has allied itself with al-Qaida and last year pulled off a bloody twin bombing in Uganda. Al-Shabab actively recruits disaffected Somali-American teenagers to sneak into Somalia to fight. In 2008, one of these young recruits became the first known American-born suicide bomber when he blew himself up outside a Somali government building.
Uganda and Burundi have paid Bancroft $7 million since 2010 for counter-insurgency training, according to Gettleman and his co-writers. Washington refunds the two African countries for their training expenses. The D.C. company's assistance has helped "turn a bush army into an urban fighting force," one adviser told Gettleman — and is partly responsible for the transitional government's big advances in Mogadishu and across Somalia in recent weeks. The Associated Press credits Rouget's bomb disposal experts for the drastic reduction in African Union troops lost to roadside explosives.
But the battlefield success comes at the cost of American moral credibility. First, there were reports that the U.S.-backed transitional Somali government employs child soldiers as young as 12. And now America has endorsed, however indirectly, a man who for years has allegedly fought against stability, justice and self-governance in Africa.
The photos accompanying Gettleman's piece depict the "husky," 51-year-old Rouget accompanying Ugandan soldiers onto a Mogadishu rooftop to observe a gunfight between peacekeepers and al-Shabab troops. "Give me some 'technicals' and some savages and I'm happy," Rouget joked, using the slang term for pickup trucks fitted with heavy machine guns. The Associated Press calls Rouget "a cigar-smoking, poetry-quoting, whiskey-drinking former big game hunter" with "a long scar on his thigh from getting shot in Somalia last year."
Rouget's mercenary career began soon after he left the French army in the early 1980s. Around 1985, Rouget, then answering to his "Colonel Sanders" alias, reportedly joined the "presidential guard" of the Comoros, a tiny island-group nation in the Indian Ocean.
The presidential guard was, in fact, the personal army of Bob Denard, a notorious French mercenary and agent of French colonialism in Africa after World War II. (The Associated Press calls Rouget Denard's former "right-hand man.") The Comoros were Denard's favorite target. In a 20-year period beginning in 1975, Denard backed no fewer than four coups in the Comoros, while also accumulating wives, properties and power on the islands.
From his Comoros base, in the 1980s Denard began working for the South African apartheid government in its campaign against Nelson Mandela's African National Congress, which advocates for equal rights for blacks and whites. Denard and Rouget have both been mentioned in connection with the 1988 murders of ANC officials Godfrey Motsepe and Dulcie September — but never charged. In 1992, the Belgian government dropped its investigation of Motsepe's murder, citing weak evidence.
After a stint organizing safaris, Rouget returned to the gun-for-hire business. In 2003, a South African court convicted him of illegally recruiting mercenaries to fight in the West African nation of Ivory Coast.
Oh, but Bancroft doesn't employ mercenaries, company founder Michael Stock told The New York Times. "Mercenary activity is antithetical to the fundamental purposes for which Bancroft exists," Stock said, adding that the company "does not engage in covert, clandestine or otherwise secret activities."
But Rouget has engaged in covert, clandestine, secret (and possibly worse) activities. And now the U.S. government has indirectly put its stamp of approval on Rouget's past, by paying countries to pay him to train their armies in pursuit of shared goals.
Make no mistake: Al Shabab is bad, bad, bad — and beating the terror group is a worthy goal that will benefit the whole world. But does this end justify hiring a shady soldier of fortune like Rouget?
Photo: David Axe
http://www.wired.com/dangerroom/2011/08/u-s-hires-shady-mercenary-for-somali-proxy-war/