[CIA/Mossad/MI6 mercenaries, same MO as Libya.]
[2013 May] America is Losing its Covert Syria War: US Sponsored Al Nusra Rebels Defeated by Syrian Armed Forces
A WELCOME PAUSE IN THE CRAZINESS OVER SYRIA
[2013 Jan] U.S. 'backed plan to launch chemical weapon attack on Syria and blame it on Assad's regime'
[2013 Jan] Hacked Emails Reveal 'Washington-Approved' Plan to Stage Chemical Weapons Attack in Syria
"Al-CIA-duh" in Clash of Civilizations
Press TV: UK defense contractor planning WMD false flag in Syria: Analyst "Should "chemical weapons" be used in Syria in an apparent joint Syrian-Russian operation, Britam, the United Kingdom, and Qatar should be the first suspects that come to mind."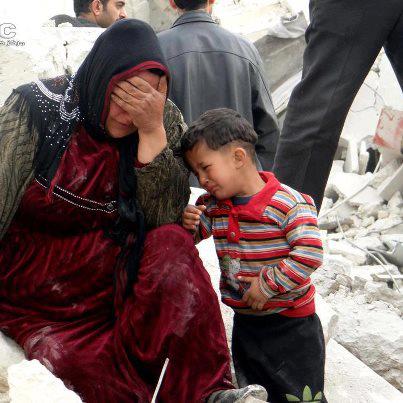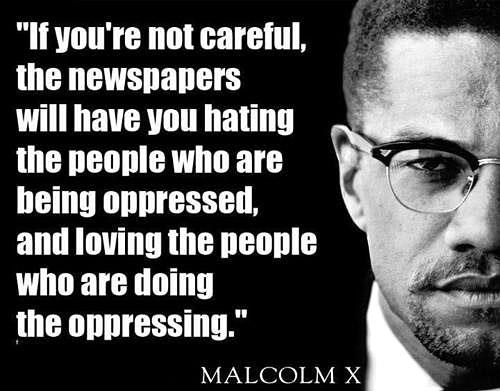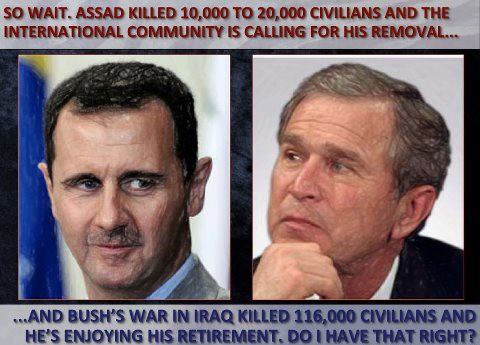 Muslim Brotherhood
Houla Massacre
[vid] Libya destroyed: next stop Syria and then Iran Former four star general and NATO commander Wesley Clark talks about the neocon plan to invade seven countries in five years. Included in the plan was an attack on Libya.
NY Times Scrubs Mention Of CIA Arming Syrian Rebels
[2012 Aug] British intelligence enabled Syrian rebels to launch devastating attacks on President Assad's regime, official says Disclosure is first indication of Britain playing a covert role in the civil war
[2012 Aug] The Dirty War on Syria
[2012 Aug] Dispatch from Damascus – Manuel Ochsenreiter about the Situation in Syria
[2012 July] Syrian Opposition's Amazing CIA Credentials
New Cold War: The War by Proxy in Syria
[2012 June] The Massacres in Syria and Israel's "War of Terror" by Christopher Bollyn The evidence, capability, and motivation all point to Israel being behind the terror atrocities being committed in Syria.
Washington funded Houla-style massacres: Analyst The US and NATO have launched a war on Syria by funding and training the terrorists who commit Houla-style massacres in the Arab country, an analyst tells Press TV.
Insurgents Named Responsible for Syrian Massacres
CIA, MI6 Orchestrating Massacres in Syria
[2012 June] CONFRONTING IRAN, "PROTECTING ISRAEL": The Real Reason for America's War on Syria By Prof. Michel Chossudovsky
MORE WESTERN JOURNALISTS BLAME REBELS FOR SYRIA VIOLENCE
Syrian rebels tried to get me killed to show up the regime: Channel 4 news reporter says he was 'deliberately set up to be shot'
[2012 June] PRESSURES ON RUSSIA: US Attempts to Mass-Murder Its Way to Victory in Syria. US to Russia: "Give Up" or Swim in Sea of Syrian Blood By Tony Cartalucci
CIA SABOTAGE OF SYRIA PEACE PLAN: Miami Cuban Dissidents Join Hands with Syrian "Opposition" "The CIA is implementing a device to sabotage the Annan plan and any attempt at peace in Syria. Reverting to its Cold War methods when it created subversive groups in the Eastern Bloc to infiltrate international combat fronts, the CIA organized a joint training seminar in Miami for members of the Cuban and Syrian armed opposition."

[2012 June] THE HOULA MASSACRE: Opposition Terrorists "Killed Families Loyal to the Government"

"Might Makes Right" Says Conspirator of Syrian-Iranian Conquest 2005 interview profiles psychology of those behind the Houla Massacre. "Both the Syrian and Lebanese regimes will be changed- whether they like it or not- whether it's going to be a military coup or something else… and we are working on it. We know already exactly who's going to be the replacements. We're working on it with the Bush administration."
SYRIA: Killing Innocent Civilians as part of a US Covert Op. Mobilizing Public Support for a R2P War against Syria
[2012 May] Phony 'Houla Massacre': How Media Manipulates Public Opinion For Regime Change in Syria
[vid] Al Qaeda and the West team up to frame Syrian government for massacre As information trickles out of Houla, Syria, near the city of Homs and the Lebanese-Syrian border, it is becoming clear that the Syrian government was not responsible for shelling to deaths some 32 children and their parents, as periodically claimed and denied by Western media and even the UN itself.
Syria: What really happened in al-Hula, Homs
MI6 and British Troops Already In Syria
[2012 May] BBC Caught Passing Off Old Photos From Iraq as Being of Syrian Massacre
[2012 March] Syria: The Western Deception Over Regime Change Unravels. NATO Prepares for All Out War By Finian Cunningham
[2012 Feb] Syria: Clinton Admits US On Same Side As Al Qaeda To Destabilise Assad Government "Since the middle of March 2011, Islamist armed groups – covertly supported by Western and Israeli intelligence – have conducted terrorist attacks directed against government buildings, including acts of arson. Amply documented, trained gunmen and snipers, including mercenaries, have targeted the police, armed forces as well as innocent civilians. There is ample evidence, as outlined in the Arab League Observer Mission report, that these armed groups of mercenaries are responsible for killing civilians. While the Syrian government and military bear a heavy burden of responsibility, it is important to underscore the fact that these terrorist acts – including the indiscriminate killing of men, women and children – are part of a US-NATO-Israeli initiative, which consists is supporting, training and financing 'an armed entity' operating inside Syria."
[2012 Feb] Syria: Rogue Elements Rampant By Felicity Arbuthnot
[vid] Libya destroyed: next stop Syria and then Iran Former four star general and NATO commander Wesley Clark talks about the neocon plan to invade seven countries in five years. Included in the plan was an attack on Libya.
[2012 Feb] Syria: Seeking a Convenient Casus Belli by Tony Cartalucci
[2012 Feb] Arab league monitors find slaughter in Syria the work of foreign-backed subversives
[2012 Feb] The new Cold War has already started – in Syria By Robert Fisk
[vid] Al-Qaeda and Washington, war hawks call for arming Syrian rebels You might remember, Al-Qaeda benefited greatly from the events in Libya by receiving many of Libya's 'missing' weapons, including heat seeking surface-to-air missiles. Now, both Washington and Al-Qaeda are calling for the arming of the Syrian rebels.