[Classic, medic = Allopath. "But medics last night were cautious. Dr Binoj Nair, of the samedaydoctor clinic in Manchester, said: 'If it works for you then great. It won't work for most people. The important thing is to see your doctor.']
Vinegar and honey cured my crippling arthritis, says delighted organist
By DAILY MAIL REPORTER
UPDATED: 08:48, 8 January 2010
When Sarah Gall was crippled by arthritis, the powerful painkilling drugs prescribed by her doctor brought no relief.
Yet the 55-year-old church organist now claims to be completely pain-free thanks to a simple but startlingly effective cure she found in her kitchen cupboard - vinegar.
After being left in constant agony and having to give up her beloved music, Mrs Gall began taking a mixture of cider vinegar and honey four times a day.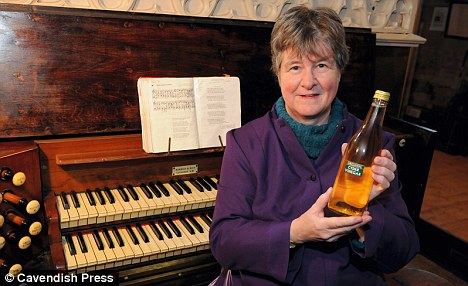 Back on song: Sarah Gall holds a bottle of her 'miracle' vinegar
The mother of four had been treated with conventional medicine after the debilitating joint condition, which affects around nine million Britons, was diagnosed in her knee in 2005.
She said: 'I would wake up in the morning and the pain would have moved to another joint, like my shoulder, or my big toe.
'I was prescribed anti-inflammatory drugs and painkillers, but nothing was working.'
After a trip to the supermarket, the pain became so intense she was rendered bedbound at her home in Rochdale. An X-ray revealed the arthritis was also affecting her spine.
'I was given stronger painkillers, but they made me violently sick... I was in agony,' she said.
She was referred to a specialist and told she faced a six-week wait for an appointment.
'I couldn't even walk - let alone get out to play the organ. I had become depressed and was crying with the pain.'
But then her daughter, who had researched her mother's condition on the internet, suggested the vinegar cure, first proposed by a nurse called Margaret Hills in 1961.
Miss Hills noted that although vinegar is acidic, when it is digested it becomes alkaline.
This, she believed, could then counter the acid that builds up in joints to cause the painful swelling associated with arthritis.
Mrs Gall said: 'It suggested drinking cider vinegar mixed with honey and hot water. After only a week I started to feel much better. I didn't need to see the specialist any more. Eventually the arthritis had disappeared. My doctor was flabbergasted.'
Mrs Gall has written a booklet to help other sufferers.
But medics last night were cautious. Dr Binoj Nair, of the samedaydoctor clinic in Manchester, said: 'If it works for you then great. It won't work for most people. The important thing is to see your doctor.'
Read more: http://www.dailymail.co.uk/health/article-1241303/Vinegar-honey-cured-crippling-arthritis-says-delighted-organist.html#ixzz3pDdnRaxz
Follow us: @MailOnline on Twitter | DailyMail on Facebook