Farmer the biggest hero yew can find
By Guan Xiaofeng (China Daily)
Updated: 2005-05-20 06:30
http://www.chinadaily.com.cn/english/doc/2005-05/20/content_444237.htm
He suffered death threats and poverty while toiling relentlessly for five years when he on a multinational pharmaceutical giant.
But Thursday, farmer Zhang Chunshan was awarded for his dedication to halt the decimation of the endangered Chinese yew tree.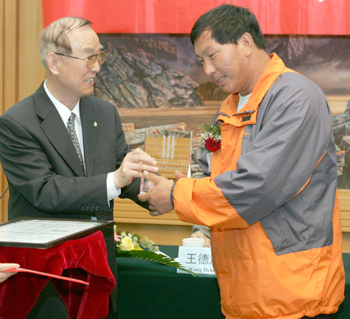 Zhang Chunshan (right), a farmer in Yunan Province, receives the conservation award from Qu Geping, president of the China Environmental Protection Foundation May 19, 2005. [newsphoto]
At an award ceremony staged by WildAid China Thursday in the Great Hall of the People in Beijing, the humble farmer from a remote village in Lijiang in Yunnan Province, accompanied by his wife and two children, broke down in tears.
"I feel extremely excited and happy to receive the award because my efforts are finally recognized by our country and justice has been done," Zhang said.
The 38-year-old had stood alone to protect the threaten species - which has first-class national protection - after scientific research a decade ago claimed to prove Paclitaxel found in the bark of the yew was effective at treating cancer.
The findings sparked scenes similar to a gold-rush. By the end of a frenzied harvest between 2000 and 2001, it was estimated 3 million trees were destroyed. Zhang quit his part-time job as a driver and devoted himself to the protection of the remaining yews.
Whenever he met people stripping or carrying bark, he would persuade them to stop their harvest while championing conservation.
But Zhang had not realized he had taken on a formidable rival - Sino-America Yunnan Hande Biotechnology Co Ltd, China's largest Paclitaxel manufacturer and exporter.
The company hired villagers to strip and transport the bark.
When Zhang became too much of nuisance, company chiefs reverted to dirty, often harrowing tactics.
Zhang said his house had been attacked repeatedly by stones at night, and the roof was damaged.
And he received anonymous death threats. Thankfully, his family were not physically hurt.
"But my family has suffered a lot," Zhang said. "We have been in a restless state every single day in recent years."
Zhang defied the pressure and threats from the company. He carried out a thorough investigation of the company's actions and handed his findings over to the provincial government and the media such as CCTV and the Southern Weekend newspaper.
Zhang's perseverance prevailed and finally paid off.
In July 2003, the Intermediate Court of Kunming found the company guilty of smuggling, and illegally purchasing and processing endangered wild plants. The court fined Yunnan Hande 10 million yuan (US$1.2 million) and sentenced the company's president to 18 years imprisonment. The Chinese yew is today at least, safe, thanks to Zhang's courageous stance.
"The biggest problem in China's protection of wildlife is that the laws are not strictly observed or enforced," said Professor Qu Geping, president of the China Environmental Protection Foundation.
Steve Trent, director of WildAid China, which sponsored the award, described Zhang as a hero and inspiration. He said: "Never has the need for the conservation of wild animals and natural habitats been greater than it is now."
(China Daily 05/20/2005 page1)