Steroids killed this little girl. Why did it happen?
Daily Express Aug 13, 1996
Her death was caused by drugs she didn't need. Now tragic Lexie's parents fight to find out more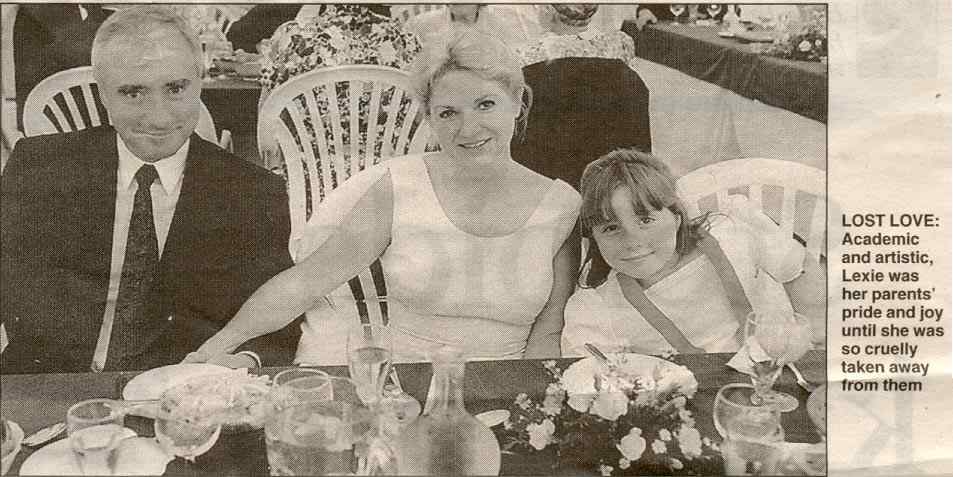 LEXIE McCONNELL was an imaginative nine-year-old. One day, she and her best friend made a wall-chart for a game of eye doctors.
Lexie's right eye was fine and she skimmed the childish letters easily, calling them out in a clear, confident voice. But when she tried reading with her left eye, she noticed a blurry patch obscuring her vision.
She mentioned it to her father Art. He didn't want to worry his wife Vicky but, a few days later, while splashing about in a swimming pool, Art asked Lexie if the blurry patch was still there. She nodded.
She was prescribed corticosteroids, potent anti-inflammatory drugs.
Four weeks later she was dead ----her chunky little body bloated and swollen. She had cirrhosis of the liver, thought at first to be constipation; her blood had lost the ability to clot; the drug caused serious damage to her immune system, leaving her unprotected against infection. She died of chickenpox and the coroner's inquest explicitly linked her death to the corticosteroid.
On her lip was a cold sore —her parents live with the thought that Lexie might also have been killed by her mother kissing her cheek and she was unable to fight off the infection.
Prednisolone is the most commonly prescribed oral steroid in Britain. Used appropriately it can save lives in cases of severe asthma and Addison's disease and is the only option for saving sight for victims of temporal arteritis.
Lexie had been prescribed 80mg of Prednisolone a day for 28 days for an eye inflammation which did no threaten blindness and was not progressive.
Yet the British National Formulary the bible of the pharmaceutical industry, specifies a maximum of 60mg day, and that only in the case of life-threatening disease.
But although Lexie's death, just five weeks before her 10th birthday, is a distressing case, it is not an isolate occurrence. There are at least 15,00 people in Britain who have suffered the permanent and disabling side effects of corticosteroids.
Like Janice Fairbridge, director o the Group Against Steroid Prescription (GASP), many are wheelchairbound. Janice lost four inches in height after the drug sucked the calcium from her bones until her spine crumbled with osteoporosis. There have been a number of other deaths besides Lexie's.
SINCE their daughter died, Art and Vicky have campaigned vigorously. Last week they presented a 20,000-signature petition to Downing Street calling for an inquiry into corticosteroid prescription in Britain. GASP, set up after Lexie's death four years ago, also sent the petition to the European Parliament.
The only thing that will make sense of their daughter's pointless death, they believe, is to make doctors more cautious about prescribing corticosteroids for conditions that are not life-threatening and to make sure patients are aware of the serious nature of the drugs they are taking.
"Many doctors act as though they are safe and benign, even for children," says Art McConnell, a softly spoken Canadian.
There is copious evidence demonstrating the swift and devastating dangers of steroids. Corticosteroids are especially potent drugs.
Dr Laurence Knott, a GP practising in Middlesex, told me: "Like electricity, corticosteroids can be used with great power for good but can also be very dangerous if not used properly."
Dr Joe Collier, Consultant Clinical Pharmacologist at St George's Hospital in London, believes: "Only doctors who are specially trained in corticosteroid prescribing and acquainted with the latest research, should be prescribing high doses of Prednisolone."
But Art says: "Lexie was given corticosteroids for a minor complaint as if they were as innocuous asSmarties. We were told nothing to indicate we were involved in serious drug treatment."
This wasn't due to lack of pressure from Art and Vicky. Educated and articulate, they took an avid interest in the drug their daughter was prescribed.
"We specifically asked if there were side effects connected to the treatment," says Art. "The consultant said that any drug could have side effects. We pressed him to be specific about Prednisolone."
The doctor's words are a chilling epitaph. He said Lexie may "perhaps suffer a rash". An inquest in May 1993 recorded a verdict of death by misadventure. In the time it took for her inquest to take place another child died in a similar way in Liverpool.
The McConnells' pain remains raw. Lexie was academic and artistic. She was top of her class and had recently won a painting competition. Even to an outsider, her absence is palpable inside the Abingdon house, specially bought because "it was a lovely place for a little girl to grow up".
A YEAR ago it looked as if Art and Vicky's persistence was paying dividends when Stephen Dorrell announced that, from January 1 this year, the Department of Health would introduce patient information leaflets into the packaging of corticosteroids.
Such information was intended to inform users about the potential side effects. Yet the Daily Express has discovered that, eight months later, the majority of GASP's 15,000 members have not received the leaflets with their prescriptions. And Roger Odd, of The Pharmaceutical Society, says: "At the moment there is no guarantee that patients will receive an information leaflet about corticosteroids. This is because the Department of Health is still working out an implementation system."
Dr Joe Collier is angry. "There has been a delay. Why? There was supposed to be a guarantee that, as of January 1, patients would get these information leaflets. Every day of delay will lead to trouble. And we still don't know when leaflets will be available. There needs to be an inquiry."
Kevin Barron MP, Shadow Health Minister, tabled a question in April about the delay. Yet the Department of Health Press office was initially unaware that the corticosteroid patient information packs had not been introduced as promised. A spokesman said: "As far as we know the drug companies are providing this information. It is a requirement of their having the licence to produce the drug. It isn't our responsibility to enforce this: it is up to the manufacturers of corticosteroids."
But Dr Collier says the DoH has got it wrong. "The Department of Health and the pharmaceutical industry have a joint responsibility. The fact this happened is because negotiations have so far failed."
Warwick Smith, Director of the British Generic Manufacturing Association, agrees: "The Department of Health has queried the cost of providing patient packs with information leaflets and this has stalled the programme."
Roger Odd adds: "We would like to be able to supply patient information leaflets but the DoH hasn't yet provided a system for us to be able to do so."
In most of Western Europe, information leaflets about all prescribed drugs have been mandatory in recent years. European legislation means that by December 1998. British patients must be provided with written information about the drugs that are dispensed.
Corticosteroids were supposed to be part of the first wave with leaflets inside patient packs —removing the need for pharmacists to count out loose pills and put them in generic brown glass jars.
BUT one High Street chemist admitted that they were still mainly dispensing the loose tablets. "In the past weeks a few patient packs have trickled in with leaflets enclosed but most prescriptions are still made up from loose tablets without leaflets."
Just two months ago an 18-month-old baby was prescribed Prednisolone for asthma but her mother received no information about side effects. How many other parents in the past eight months have asked questions about their children's medication — or their own — and not received correct information because of sluggish bureaucracy?
Lexie McConnell had inherited her father's gift for music. He was a violin teacher and they had started playing duets together. Art stopped playing after Lexie died and ill-health forced him to leave his job with the Oxford County Council Youth Orchestra.
The sweet sound of his violin died along with the joyful chatter of his daughter.
GASP HELPLINE (2-4pm weekdays): 01642 465118.
WARNING: Suddenly stopping a course of corticosteroids can be dangerous. Do not stop taking them without medical advice. If you are concerned, talk to your GP.
DOCTORS and pharmacologists agree corticosteroids are difficult drugs to use and all urge caution.
Dr Joe Collier, Consultant Clinical Pharmacologist at St George's, Tooting: "These drugs are very valuable, but using them is a balancing act and the risks are high."
Mrs Janice Fairbrldge,director of GASP (Group Against Steroid Prescription): "Many doctors appear to be unaware of the poison they are prescribing. If it was a new drug, we believe it wouldn't pass the necessary trials."
Dr Carol Cooper, author of Surviving At Work and consultant medical editor of Healthcare Magazine:
"Steroids should never be prescribed unnecessarily because their effect can be long lasting. Patients should always be well Informed about potential side effects."
Dr Rob Hicks, a London-based GP: "Whenever corticosteroids are used the aim is always to achieve for the patient the greatest benefits, with the least risk."
Parents sue over stress of death
Sunday Times 15 Dec 1996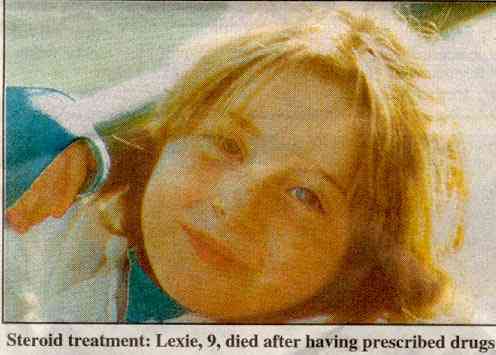 A COUPLE whose nine-year-old daughter died after she was given powerful drugs for a minor infection are suing for compensation for the stress of watching her life ebb away.
The unprecedented legal action by Art and Vicky McConnell could, if successful, pave the way for the relatives of victims of medical negligence or malpractice to sue for post-traumatic stress disorder.
There have been cases where relatives of victims of tragedies such as the Hillsborough stadium disaster in 1989 have secured compensation for post-traumatic stress disorder, but there are believed to have been none in the medical field.
The McConnells, who have been awarded legal aid, are suing Oxfordshire Health Authority for at least £96,000 for their suffering as Lexie, their daughter, bled profusely from her eyes, mouth and other parts of her body in the days before her death in November 1992.
They had earlier taken her to John Radcliffe hospital in Oxford for a mild eye infection. Doctors there are alleged to have prescribed double the recommended adult dose of prednisolone, a corticosteroid drug, which is Britain's most commonly prescribed oral steroid. It is used to treat severe asthma and Addison's disease.
The McConnells claim the drug fatally damaged Lexie's immune system, leaving her unable to fight common childhood diseases. An inquest in May 1993 recorded a verdict of death by misadventure, caused by a chicken-pox infection associated with steroid therapy.
Since their daughter died, Art McConnell, 52, a violinist and music teacher, has taken early retirement after finding himself unable to work. He says he has daily panic attacks and has taken antidepressants. He is claiming almost four years' loss of income.
"A lot of my pupils were Lexie's age. Obviously I couldn't carry on having children coming to the house. And I wasn't able to perform for two years," he said.
McConnell had been head of strings at the Welsh College of Music and Drama until moving to Abingdon. Oxfordshire, where he was responsible for the county's violin teaching. At the time of Lexie's death he had been shortlisted for head of strings at Harrow school.
Vicky McConnell, 49, an accomplished artist, said she had been unable to paint since her daughter's death. She has felt suicidal.
Since their daughter died, the couple have campaigned to warn of the dangers of steroid treatment. They have secured new patient information leaflets, but their attempts to take legal action against the manufacturers have failed. The couple turned down the health authority's offer of an inquiry because it would not be held in public.
They claim they were never warned about the side effects of prednisolone despite requests for information. Their legal action focuses on the distress these side effects caused.
Lexie's face and body became swollen, she had breathing problems, headaches, stomach pain and nausea. By the time her parents pointed out the chicken-pox rash to doctors, she was in hospital with severe abdominal pain. Eventually it was revealed she had liver damage — first diagnosed as constipation — and her blood-clotting mechanism had failed.
The health authority will contest the claim.