LEPROSY AND VACCINATION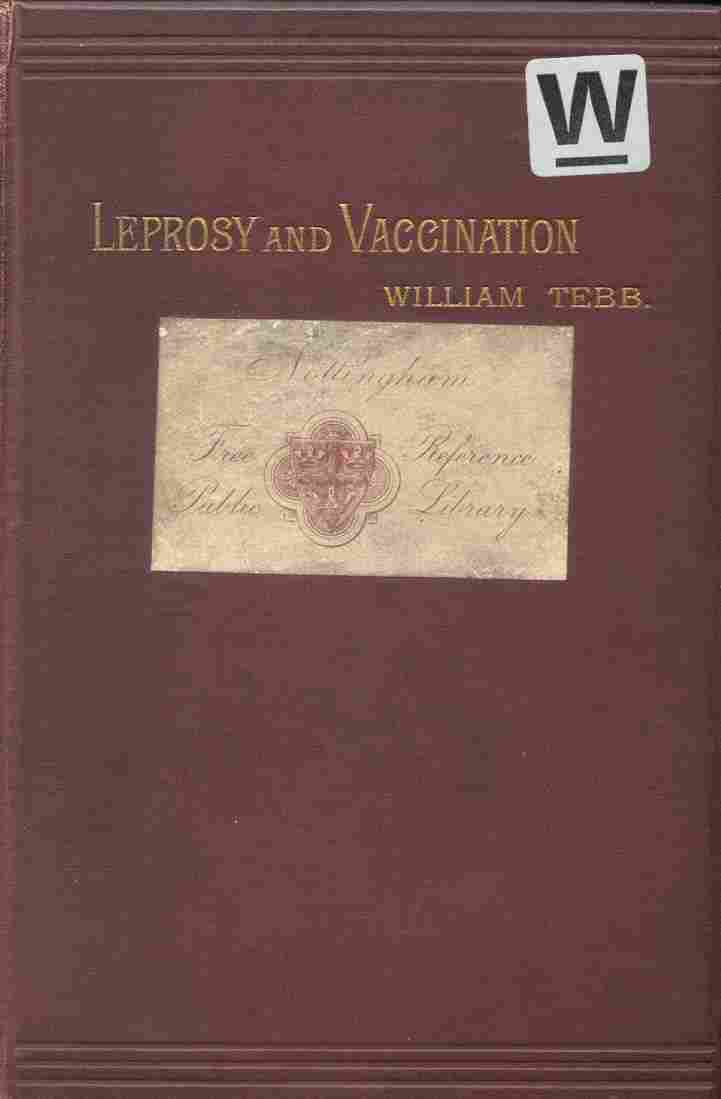 THE RECRUDESCENCE OF LEPROSY AND ITS CAUSATION
BY WILLIAM TEBB
LONDON
SWAN SONNENSCHEIN & CO
1893
[Converted--WHALE Nov 2000]
[One file] LEPROSY AND VACCINATION by WILLIAM TEBB
Book split into 17 chapters & 14 appendices:
EXTRACTS
PREFACE
CHAPTER 1: THE INCREASE IN LEPROSY
RUSSIA BOKHARA NORWAY ICELAND THE WEST INDIES JAPAN THE GRECIAN ARCHIPELAGO, TURKEY, AND SYRIA EGYPT THE UNITED STATES THE SANDWICH ISLANDS VISIT TO KALIHI THE MAURITIUS MADAGASCAR CANADA UNITED STATES OF COLOMBIA BRITISH GUIANA DUTCH GUIANA VENEZUELA AUSTRALASIA OCEANA NEW CALEDONIA FRANCE SPAIN THE UNITED KINGDOM SOUTH AFRICA INDIA BURMA CEYLON, TONQUIN
CHAPTER 2: LEPROSY CONTAGIOUS?
CHAPTER 3: LEPROSY COMMUNICABLE BY INOCULATION
INDIA SOUTH AFRICA THE INOCULATION OF THE CONVICT KEANU LEPROSY COMMUNICATED BY INSECTS
CHAPTER 4: VACCINATION WITH REFERENCE TO LEPROSY
THE WEST INDIES. SANDWICH ISLANDS. BRITISH GUIANA. UNITED STATES. BRITISH INDIA
CHAPTER 5: LEPROSY AND RE-VACCINATION
CHAPTER 6: OTHER ALLEGED CAUSES OF LEPROSY
CHAPTER 7: INADEQUACY OF MEDICAL THEORIES OF CAUSATION.
CHAPTER 8: LEPROSY AND VACCINATION AT THE INTERNATIONAL HYGIENIC CONGRESS
CHAPTER 9: VACCINATION IGNORED IN OFFICIAL LEPROSY REPORTS.
CHAPTER 10: OFFICIAL STATISTICS
THE LEPER CENSUS IN THE LEEWARD ISLANDS, WEST INDIES, 1891.
CHAPTER 11: LEPROSY AND THE ABORIGINAL RACES
CHAPTER 12: VACCINAL DISEASES IN SOUTH AFRICA
CHAPTER 13: A VISIT TO THE LAZARETTO, ROBBEN ISLAND, SOUTH AFRICA
CHAPTER 14: THE SEGREGATION OF LEPERS
CHAPTER 15: SELF-DEVOTION TO LEPERS
CHAPTER 16: THE LEPROSY INVESTIGATION COMMITTEE
CHAPTER 17: LEPROSY INCURABLE—HYGIENE THE ONLY PALLIATIVE
HAWAII THE WEST INDIES AND BRITISH GUIANA AMERICA AND CANADA INDIA AND OTHER COUNTRIES TUBERCULIN IN LEPROSY.
VACCINATION FRAUDS
COMPULSORY VACCINATION IN BOMBAY---THE DANGER OF TUBERCULOSIS.
THE REVOLT AGAINST COMPULSORY VACCINATION IN INDIA.
VACCINATION IN THE WEST INDIES.
VACCINATION A FAILURE AND A DANGER TO HEALTH FROM ITS INCEPTION.
VACCINATION FAILURES IN 1817.
ARM-TO-ARM versus CALF-LYMPH VACCINATION.
DR. R. H. BAKEWELL ON THE RISKS OF VACCINATION.
SIR JAMES PAGET ON SURGICAL PATHOLOGY.
DR. M. D. MAKUNA'S MEDICAL VACCINATION CENSUS.
MEDICAL DENIALS AND ADMISSIONS.
HOW LEICESTER DEALS WITH VARIOLOUS OUTBREAKS.
COW-POX AND VACCINAL SYPHILIS.
THE AUTHOR'S PERSONAL STATEMENT OF THE RESULTS OF VACCINATION