Here you can see how most of the British media kept silent, failing to warn British parents of the danger to child health safety from our government's and our Department of Health's unsafe vaccines and vaccination practices.
In contrast, in the USA, after a long period of also not reporting, US media including CNN, ABC, AP and the New York Times eventually reported and in March and April 2008 the landmark US Federal Court vaccines-to-autism case of
Hannah Poling
made the headlines. Here are a few of many examples:-
Here from Britain is the untold story of:-
the British government knowingly
buying unsafe MMR vaccines from a GlaxoSmithKline company for use on British children after they were withdrawn from Canada as unsafe
Wakefield's courage and willingness to speak out, alongside very few others, contrasts with the silence from the medical professions. It is no longer wise or safe to entrust your children's health to doctors and their professional bodies. The British Medical Association is a trades union. As such, its main interest is not yours or your child's but how much money it can get into its members' pockets every year from government. Its rôle in the vaccines-to-autism and related child health safety issues, through its control over the British Medical Journal is something not to be allowed to be forgotten.
If you are concerned and want to do something, tell others and circulate this. Ask them to tell others and to circulate this. Contact your political representatives. Demand they tell you what they are going to do to protect child health safety in your country. If you are in the UK and want to contact your political representative, to make it easier, use
www.writetothem.com.
The following is from an exchange of emails with The Observer newspaper (London, England) in April 2008 during the General Medical Council's witchhunt into Dr Andrew Wakefield over his personal and lonely stance for child health safety worldwide.
-------- Original Message --------
| | |
| --- | --- |
| Subject: | Letters to the Editor - Barbara Ellen: All that smooching was far too cordiale |
| Date: | Tue, 15 Apr 2008 06:29:28 +0100 |
| From: | Clifford G. Miller <cgmiller@cliffordmiller.com> |
| To: | Stephen Pritchard |
| CC: | Barbara Ellen, Denis Campbell, Jamie Doward |
To: Stephen Pritchard, CORRECTED & RESENT 15TH APRIL 2008
Readers Editor
The Observer
Dear Mr Pritchard,
Will a 9-Year-Old Change the Vaccine Debate?
- The New York Times- April 12, 2008, 4:39 pm
If The New York Times and other US news media can report the dangers posed to US kids, The Observer, and you in particular, refuse in the clearest of terms to report those same dangers when posed to British children. So that you can have no excuse for not writing about all of this, I provide for you a detailed summary and other details. Much more is available with documentary substantiation.
The British MMR child litigants claims are now being shown to be justified by events in the USA and other information obtained under Freedom of Information, but The Observer will not publish this. The Observer is in a unique position amongst the British media because it has been given privileged access to detailed information over many years.
If you want to ignore this, that is up to you. And
with 1 in 116 British children on the autistic spectrum (*),
you stated clearly in your email that you would not print correct balanced sourced and referenced information and you have ignored the news from the USA on the risks to British children. You instead prefer to take your information from the commerce and industry funded Science Media Centre, whose Director, Fiona Fox, is prepared to promote unusual perspectives:
Genocide? What genocide? How historical revisionists became biotech apologists
(5/4/2004). I also commend to you the further information appearing later in this letter.
The implications of your various remarks are considerable. From other comments you make and the singular lack of coverage elsewhere, it seems the position in other British media is the same as at The Observer. What it means is that regardless of how much harm is caused by the drug industry to British children or any other British citizen, if The Science Media Centre can find an industry friendly "expert" (and in this case anonymous ones), any story can be blocked, that harm will go unreported in The Observer and, it seems from what you say, in many other British media outlets, leaving the British public without any news of the dangers.
Instead of warning the public, you speak reverentially of The Science Media Centre and their patronage of The Observer, saying:-
"The Science Media Centre actually praised Barbara's piece for being was 'extremely balanced' adding 'she clearly concedes that this issue can be seen from both sides'."
This is part of what I had to say in reply to you:-
"Your comment that "The Science Media Centre actually praised Barbara's piece" (3rd April - on 'All that smooching was far too cordiale') will concern many people. They have good cause to be concerned. May I suggest you take some time out to read George Monbiot's Guardian story "Invasion of the entryists" on Fiona Fox, The Science Media Centre and Sense About Science. You might then want to take a look here:-

Fiona Fox,
The Science Media Centre
Sense About Science
Spiked-online
Genetic Interest Group
Institute of Ideas
Living Marxism
Progress Educational Trust

The fact that a national news media organisation like The Observer considers "praise" from an unelected publicly unaccountable industry funded lobby group like The Science Media Centre is more important than publishing balanced objective accurate information which can and will save children's' lives and protect their health is a tad over the edge. I am sure I am not alone in thinking that."
The New York Times' piece is about Hannah Poling and her autism being admitted by US government experts to have been caused by vaccines (and not simply by MMR but by vaccines in general). They conceded her case in the Federal Court rather than fight it and have a court decision. This story has been reported over many weeks and on numerous mainstream print and broadcast media in the US including the popular Larry King Live, which I am sure people in the UK have heard of. It is also reported that the Hannah Poling case is not isolated and that similar cases could be common, with as many as 1 in 60 sharing the same predisposition to react adversely to vaccines.
The Observer is failing to do its job when doing that would, as we can see below, save British kids from illness and injury. Your comments show we have the drug industry not just dictating the health agenda but writing and editing the UK's medical health stories, taking over at The Observer from journalistic duty, ethics and public obligation.
The importance of publishing correct information would help protect British children from harm. We now have:-
1 in 116 children on the autistic spectrum (*);
the pandemic of asthma since the 1980s which has been repeatedly causally associated with childhood vaccines
asthma kills 1500 annually (including children) and debilitates tens of thousands, taking them out of the economy and costs the NHS nearly £1 billion per annum

the pandemic in allergies since the 1980s
and we have life threatening allergies which are
recorded as rising 700% in ten years (including emergency hospital admissions)
with 20 people conservatively estimated by the Anaphylaxis Campaign to die each year and with the number of unreported cases believed to be higher
the pandemic in childhood diabetes in the same period
the lists of other chronic conditions like ME and Chronic Fatigue Syndrome
I and other professionals including some in medicine and beyond share these child health safety concerns, but it would seem not The Observer. Your Home and Social Affairs Editor, Jamie Doward, has documented information on all of this accumulated from various sources over the past 4 years and more. As The Observer's editors prefer to take their information on science and medicine from The Science Media Centre, the public need to be told that is what is happening in the British media.
And with that backdrop, you tell me in clear terms you refuse to publish correct information because you worry there is a risk one person in 55 million in England and Wales who would already have to be seriously ill, might in the present day die from measles. The information you will not publish would balance out what The Science Media Centre say.
You have been provided with hard factual evidence showing the risk of that very low chance of measles mortality. It is 30 to 60 times lower than the chance someone in the UK will be struck by lightning. Instead, you come back with three anonymous so-called "MMR experts" who cannot get basic facts right. I demonstrated that was the case - backed up by government figures and peer refereed journal reference.
I drew your attention to the the Hannah Poling case and the coverage it is receiving in the USA in my email of 3rd April. You ignored that email.
My 3rd April email was entitled "
82% Say Vaccines Cause Autism & Wakefield Sent the Money Back
". To that email I linked the US audience poll 82% figure from The Larry King Live site. I also attached the May '97 internal memo from The Royal Free's Deputy Secretary and Finance Officer Tarhan to Dean Zuckerman. Tarhan reported to the Dean that Wakefield was so fed up with the shenanigans at the Royal Free that Tarhan was already sending the legal aid money back. Tarhan also reported that Wakefield was going to find funding for the autism work himself. That memo is in the GMC proceedings and I have it under FOIA together with many of the documents and other evidence The Sunday Times had either withheld or failed to disclose in 2004 when it attacked Wakefield and then and since. But we hear not a word of this in The Observer.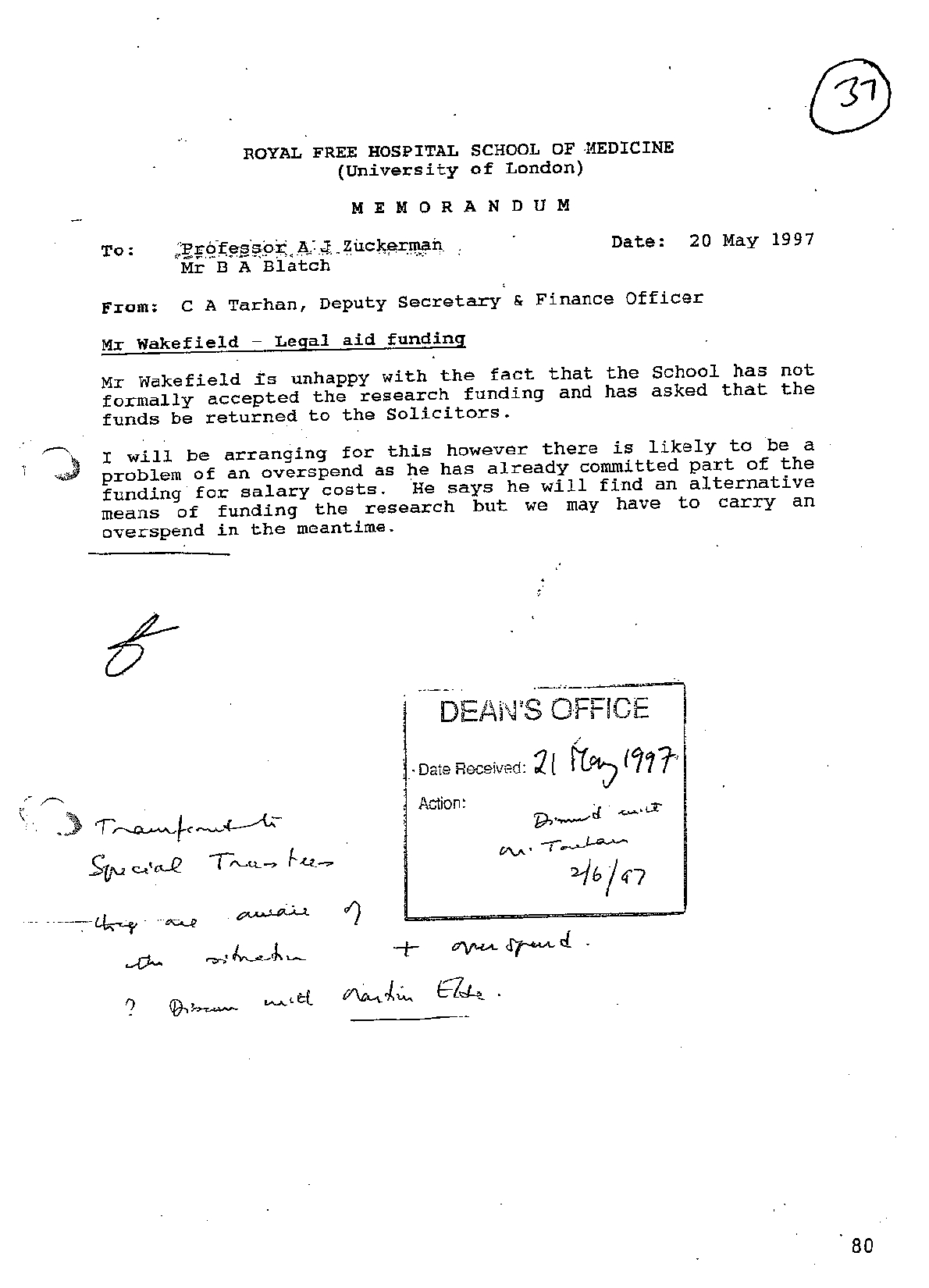 And The Observer has not reported the correspondence and other documentary evidence disclosed this week in the GMC. Contrary to Lancet Editor Dr Richard Horton's evidence to the GMC was that he did not know of Wakefield's paid involvement in the MMR litigation, Horton had detailed correspondence in 1997 disclosing that involvement The correspondence was with Richard Barr, the solicitor who was working on the MMR litigation with Wakefield to help all those seriously injured British children.. This correspondence was considerably in advance of Horton's February 1998 publication in The Lancet of the Royal Free's paper containing the interpretation that MMR vaccine is associated with autism cases involving inflammatory bowel disease.
Notwithstanding this, the alleged non disclosure of the legal aid funding to Lancet Editor, Dr Richard Horton and the publication of the 1998 Royal Free paper was the nub of The Sunday Times' February 2004 attacks on Wakefield where it was claimed:-
"The investigation has found that when [Wakefield] warned parents to avoid MMR, and published research claiming a link with autism, he did not disclose he was being funded through solicitors seeking evidence to use against vaccine manufacturers. "
Now we know from this that Horton's claims do not stand up and with them, those of The Sunday Times fall as well. But of course, not a word in The Observer, which is in thrall to The Science Media Centre, as you have so ably demonstrated.
Here are a few more things you have not reported which Jamie Doward has chapter and verse on and on which I naturally have full documentation:-
the CEO of the owners of Richard Horton's "The Lancet", Crispin Davis, was appointed to the MMR litigation Defendants' parent company GlaxoSmithKline's board of directors in July 2003
Brian Deer, a freelance journalist was commissioned by The Sunday Times two months later in September 2003 to write the stories attacking Wakefield
this was about two weeks before the Legal Services Commission final decision was due on withdrawal of Legal Aid from the MMR children's UK litigation and which did withdraw legal aid
the person who commissioned Deer was Paul Nuki, Sunday Times' sometime Head of Newsroom investigations and "Focus" editor
Paul Nuki is son of Professor George Nuki


Professor George Nuki in 1987 sat on the Committee on Safety of Medicines when the CSM was considering Glaxo company Smith Kline & French Laboratories' Pluserix MMR vaccine for safety approval
the CSM approved Pluserix MMR but it caused very high levels of adverse reactions and was withdrawn by the manufacturers on very little notice in late 1992 leaving the Department of Health in an embarrassing position
large numbers of British children were injured and legal aid claims had already started from as early as 1990, six years before Wakefield became involved and contrary to The Sunday Times' false claims that this was all a scam set up by Wakefield and solicitor Richard Barr
sitting on the CSM with Professor George Nuki was Professor Sir Roy Meadow and Professor Sir David Hull
Professor Sir Roy Meadow is now notorious for his evidence falsely condemning mothers around the world for killing their children. This includes the Sally Clark case where vaccines are directly implicated in the cause of death, as revealed by Neville Hodgkinson in The Spectator, (What killed Sally Clark's child? | The Spectator 16 May 2007 ) but which were specifically discounted by Professor Meadow in his evidence, despite sitting on the joint CSM/JCVI vaccine safety sub-committee with Professor David Salisbury and others to approve the MMR vaccine.
it was Professor Sir David Hull in 1998 who, as chairman of the Joint Committee on Vaccination and Immunisation, started the attacks on Wakefield's work
the Joint Committee on Vaccination and Immunisation advises the Department of Health on vaccination issues and the childhood vaccination programme
as Chairman of the JCVI, Professor Sir David Hull could have taken action to deal with the issues over the MMR and protect British children
in 1998 Professor Sir David Hull wrote (on home headed notepaper) to Dean Zuckerman of The Royal Free, suggesting the Royal Free Hospital's work was unethical research without clinical justification (wrongfully, as the public would have learnt if The Observer had been reporting the current GMC hearings into the Wakefield case)
despite his attacks on Wakefield's work, two years later in 2000, it was Professor Sir David Hull who rewrote the Royal College of Paediatrics and Child Health ethical guidelines to permit research on children where there was no clinical benefit (albeit in The Royal Free's case all the investigations were clinically justified)
The Sunday Times' freelancer was assisted in his efforts with free advice and assistance from the Association of British Pharmaceutical Industry funded and controlled company Medico Legal Investigations Limited
Medico Legal Investigations Limited speciality was in getting medical doctors on charges before the General Medical Council
so we know that before a single word was published by The Sunday Times, it was already being planned with the involvement of interested parties that Wakefield and colleagues were to be taken before the GMC

Another free of charge helper to Sunday Times journalist Deer was Glaxo Wellcome funded Fellow and active British Medical Association member, Dr Evan Harris MP.
Harris has advised and assisted Deer up to the present day, including attending the Wakefield GMC hearings with Deer.
The Sunday Times journalist, Deer, was also assisted by The Royal Free's Strategic Health Authority which passed Deer confidential documents 'in the spirit of openness' and including documents relating to the confidential medical treatment of the MMR child litigants
the SHA at first denied providing documents until it was pointed out the fact was disclosed by Dr Evan Harris MP, in Parliament on 15th March 2004
on Saturday 21 February 2004, Lancet Editor Richard Horton pre-empted the Sunday Times stories. Horton was reported in The Times claiming he would not have published the MMR part of The Royal Free's Lancet paper had Wakefield's paid involvement in the MMR litigation been disclosed
the Sunday Times waited until Sunday 22 February 2004, 5 days before judgment in the MMR child litigants' High Court challenge to the withdrawal of legal aid, to publish its stories attacking Wakefield
Prime Minister Blair was reported in the press on the issue as was Health Secretary Reid
legal aid was withdrawn on 27th February 2004 in a secret judgment by High Court Judge Nigel Davis
the reasons remain secret today
evidence given in open court at a different hearing included the allegation from a parent that an official admitted to her that legal aid was withdrawn after government pressure

it was discovered in 2007 that Judge Sir Nigel Davis is the brother of Lancet owner's CEO and main Glaxo board member Sir Crispin Davis
when challenged a statement was issued to The Telegraph's Joshua Rosenberg on Judge Davis behalf stating "The possibility of any conflict of interest arising from his brother's position did not occur to him."
on 15th March 2004 Dr Evan Harris launched an unprecedented and defamatory Parliamentary attack on Wakefield and his Royal Free colleagues and to which not one of Harris' Liberal Democrat colleagues contributed.
this was based on material in documents Sunday Times freelancer Deer had obtained and passed to Harris
Harris used the opportunity to raise allegations The Sunday Times chose not to publish
Crispin Davis was awarded a knighthood June 2004
Sunday Times freelance journalist Brian Deer confirmed it was he who had made the submissions to the GMC which led to the present GMC proceedings against Wakefield and this followed
Wakefield's solicitors November 2004 report that Deer had made a statutory complaint to the GMC and
freelancer Deer reported in the Sunday Times in December 2004 that the General Medical Council was investigating the complaints against Wakefield
British Government's Reckless Disregard for Child Health Safety
The UK's Department of Health and others appear to have been reckless as to the safety of British children over the manner in which Glaxo company, Smith Kline & French Laboratories Ltd's Pluserix MMR was introduced and used on British Children
the problems with Pluserix MMR were known to the supplier, Glaxo company Smith Kline & French Laboratories Ltd from the experience of its introduction to Canada, in 1986, where Pluserix was marketed under the name "Trivirix"
Pluserix/Trivirx are the identical vaccine manufactured in the identical Smith Kline factory in Belgium and with the exact same component parts and constituents
Trivirix (Pluserix) was withdrawn from use in Canada in 1988 because it was dangerous, causing high levels of adverse reactions in children
contemporaneously with the final withdrawal of Pluserix/Trivirix in Canada the UK signed the contract to purchase Pluserix MMR from Glaxo company, Smith Kline & French Laboratories Limited in July 1988, even though it was known by then to be too dangerous for use on our children
SK&F was provided with a blanket indemnity in that contract by the NHS Procurement Directorate
the contract was signed up by the backdoor through the North East Thames Regional Health Authority as agent for the NHS Procurement Directorate rather than being a contract directly entered into with the NHS Procurement Directorate which negotiated the contract or the NHS Executive of the time
there was no Parliamentary scrutiny of this and it seems to have been effected in a manner Ministerially deniable
the high levels of British adverse reactions to the vaccine were apparent and known about at ministerial level in 1990, as shown by ministerial correspondence (which I of course have copies of).
similar problems were experienced in Japan with the Japanese MMR vaccine which, in common with Pluserxi/Trivirix, contained the Urabe strain of mumps virus
the Japanese MMR was also withdrawn by 1992 on safety grounds having caused high levels of adverse reactions
the British government continued the licence for Pluserix MMR after 1992, which enabled it to be supplied overseas
even today, because it is cheaper than safer alternatives, organisations like UNICEF continue supplying urabe strain containing MMR vaccine to the more adverse reaction vulnerable and less well nourished third world children

since 1998, statistical paper after paper has been published in a blaze of publicity, claiming no evidence of an association between the MMR vaccine and autism, but when all the noise has died down, on subsequent careful examination, each one has been found to be flawed
other than the Royal Free's paper, no clinical studies of the MMR child litigants were undertaken or published
after being put under financial pressure by the British Government, in 2005 the Oxford based Cochrane Collaboration published a systematic review of all prior papers and its authors claimed to conclude the MMR vaccine was safe:-
it was shown the authors had violated the standards of evidence-based medicine and
their conclusions were not supported by the body of the review
and it later was discovered that the British Department of Health had increased the funding for Cochrane's Oxford administration by £1 million per annum and extended the contracts of its British groups
Notes on The Hannah Poling Case
Behind all of the above are developments in the USA which The Observer will not publish:-
all the British and US cases are an issue of child health safety;
there is ample clinical evidence the children's problems have been caused by the vaccination programmes;
government refuses to investigate clinical evidence, even though fundamental, as shown by Dr Donald Miller MD (no relation), professor of surgery at the University of Washington and me in the peer refereed paper published in the Journal of American Physicians and Surgeons in September 2005
government ignores the increasingly long lists of studies showing there are serious problems and uses conjecture to dismiss the evidence of the very large increases in children with autism, diabetes, allergies, asthma and suchlike since the MMR and accelerated DTP schedules were introduced in 1988 and 1990 respectively;
government instead relies on statistical paper after paper which are each launched in a blaze of spin and publicity and which, when examined after the furore has died down, are shown to be flawed and not to prove what government claims
on top of this there is considerable subterfuge over the facts and practised at many levels, as I demonstrated in my peer refereed paper published in the Journal of American Physicians and Surgeons in December 2006
we also have drug company funded lobby groups like Sense About Science, The Science Media Centre et al bombarding the press and constantly complaining and putting out misinformation, as non scientist SMC Director Fiona Fox admits for us here in one example:-
Then, after 10 years of government claiming there is no evidence of any link between MMR and autism, we find out the US government has conceded at least 10 court cases in the past 18 years linking autism to vaccines, and one of those cases - the case of Hannah Poling - is now being publicised by the media all over the USA - but not in the British press (with rare exceptions - Melanie Phillips piece "
Another piece in the jigsaw?
"
Saturday, 22nd March 2008
). The Poling case is all over US national and state media, with numerous appearances including on the Larry King show.
so for 10 years New Old Labour have insisted there was no evidence of link between MMR and autism
but the Hannah Poling case was conceded by the US government experts - they chose not to fight it
so this case is the first where any government has conceded any kind of causal link and it is not just MMR - vaccines in general are implicated
this child had a close clinical investigation -
it is the one thing the UK MMR parents have been calling for for their children
that is the one thing the governments and others have steadfastly refused to do
an inference can be drawn from that - they knew what they were going to find
most if not all of the physical problems these kids have are going without proper investigation or treatment by the NHS
there is an absence of good science to the government's denials
if you look at the Zimmerman paper attached you will see this little girl developed a broad range of symptoms of the autistic spectrum very soon after the vaccines
with medical help she has recovered from many of them
because she now has fewer symptoms, government and other autism denialists are claiming she is not autistic - but what they do not realise is by doing so they are admitting autism is a physical disorder which is curable - and it is preventable
the standard of proof applied in this special Federal Court in these vaccine damage cases is exactly the same as in the UK Courts - a preponderance of evidence - and unlike all other US courts but just like most of our civil courts, there is no jury, there are only judges
And at the end of this email are the
details of the other nine cases
of which public details are available (and many cases are still in secrecy under special court rules) and the
full text of the Hannah Poling case concession
by the US government. And as mentioned above, I also attach a peer refereed published paper setting out the case history of Hannah Poling.
For details of the Hannah Poling's case, the attached paper is from the Journal of Child Neurology
"
Developmental Regression and Mitochondrial Dysfunction in a Child With Autism
" (Journal of Journal of Child Neurology / Volume 21, Number 2, February 2006)
In the full paper the authors' state:-
"Young children who have dysfunctional cellular energy metabolism therefore might be more prone to undergo autistic regression between 18 and 30 months of age if they also have infections or immunizations at the same time. Although patterns of regression can be genetically and prenatally determined, it is possible that underlying mitochondrial dysfunction can either exacerbate or affect the severity of regression. Abnormalities of oxidative phosphorylation can be developmental and age related and can normalize with time."
If you look at the other 9 cases cited below and take for example of Banks v HHS, you will see that he was diagnosed as PDD-NOS which is also called "atypical autism", and that it was described as "pervasive developmental delay".
[In the US the official diagnostic definition of what we call "Autism Spectrum Disorders" or ASD are instead called "Pervasive Development Disorders" or PDD for short. That is under the ""Diagnostic and Statistical Manual of Mental Disorders (4th edn)" or "DSM IV" for short.]

["Autistic Spectrum Disorder" is the term applied internationally under the "ICD" or "International Classification of Disease"]

Some of the US press is hard hitting:-
in addition to being a skilful explanation of the technical aspects, this just published 3rd March Op Ed piece

"Give us answers on vaccines"

in

newspaper The Atlanta Journal Constitution is especially unusual
it shows the US media are more prepared than ever to publish hard hitting factual information when they would not touch this issue in the past.
The Atlanta Journal Constitution is published in the "backyard" of the US Centres for Disease Control
The CDC is based in Atlanta, where its 15,000 employes will be able to read this.
Investigative journalist David Kirby says of CDC Director Julie Gerberding
"Gerberding was either grossly misinformed, or lying." and "
Instead of answers, we get adamant silence. This is not a matter of national security. It's a national emergency.
" And Gerberding controls a budget of
US$9.19 billion according to a highly critical US Senate Committee report "
CDC Off Centre
".
Kirby is
author of "Evidence of Harm – Mercury in Vaccines and the Autism Epidemic: A Medical Controversy"
See this US news report which started everything off in the USA - David Kirby is a journalist and author of the best selling "Evidence of Harm"-
US Government Concedes Vaccine-Autism Case in Federal Court - David Kirby - The Huffington Post -February 25, 2008 | 12:42 PM (EST)
"
After years of insisting there is no evidence to link vaccines with the onset of autism spectrum disorder (ASD), the US government has quietly conceded a vaccine-autism case in the ourt of Federal Claims. The unprecedented concession was filed on November 9, and sealed to protect the plaintiff's identify. It was obtained through individuals unrelated to the case.
"
Published cases of US government damages awards associating vaccines and autism:-
Banks v. HHS (Case 02-0738V, 2007 U.S. Claims LEXIS 254, July 20, 2007)
MMR vaccine administered in March 2000.
The child was diagnosed with PDD secondary to acute disseminated encephalomyelitis (ADEM).
Michael McLaren, counsel for petitioner; Richard Abell, Special Master

Noel v. HHS (Case 99-538V, 2004 U.S. Claims LEXIS 354, December 14, 2004)
DPaT and HiB vaccines administered in March 1997.
Seizure disorder in a child diagnosed with autism.
Clifford Shoemaker, counsel for petitioner; Laura Millman, Special Master

Freeman v. HHS (Case 01-390V, 2003 U.S. Claims LEXIS 285, September 25, 2003)
MMR vaccine administered in July 1999.
Seizure disorder in a child displaying features of "atypical autism."
Ronald Homer and Sylvia Chin-Caplan, counsel for petitioner; George L. Hastings, Special Master

Suel v. HHS (Case 90-935V, 1997 U.S. Claims LEXIS 210, September 22, 1997)
DPT vaccine administered in the 1980's.
Aggravation of tuberous sclerosis in a child diagnosed with autism.
Richard Gage, counsel for petitioner; Laura Millman, Special Master

Kleinert v. HHS (Case 90-211V, 1991 U.S. Cl. Ct. LEXIS 69, February 20, 1991)
DPT vaccine administered in February 1981.
Seizure disorder in a child diagnosed with "overfocussing," "similar in some respects to autism."
Michael Hugo, counsel for petitioner; Denis J. Hauptly, Special Master

Underwood v. HHS (Case 90-719V, 1991 U.S. Cl. Ct. LEXIS 373, July 31, 1991)
DPT vaccine administered in 1974.
Seizure disorder in a child diagnosed with autism.
Curtis Webb, counsel for petitioner; Elizabeth Wright, Special Master

Sanford v. HHS (Case 90-2760V, 1993 U.S. Claims LEXIS 49, May 10, 1993)
DPT vaccine administered in September 1979.
Seizure disorder in a child with "autistic tendencies."
Mari Bush, counsel for petitioner; LaVon French, Special Master

Bastian v. HHS (Case 90-1161V, 1994 U.S. Claims LEXIS 196, September 22, 1994)
DPT administered in December 1984.
Seizure disorder in a child diagnosed with autism. Testifying doctors for petitioners and HHS all agreed that while he "exhibits some autistic symptomatology, [he] is not autistic."
Boyd McDowell, counsel for petitioner; Richard Abell, Special Master

Lassiter v. HHS (Case 90-2036V, 1996 U.S. Claims LEXIS 216, December 17, 1996)
DPT vaccine administered in 1972.
Seizure disorder in an young man diagnosed with autism. The court ruled that a diagnosis of idiopathic autism (i.e., autism of unknown origin) was not sufficient to establish a "factor unrelated" that might result in the dismissal of a claim.
Clifford Shoemaker, counsel for petitioner; LaVon French, Special Master

FULL TEXT OF THE US GOVERNMENT'S CONCESSION OF THE HANNAH POLING CASE:-
The Vaccine-Autism Court Document Every American Should Read
IN THE UNITED STATES COURT OF FEDERAL CLAIMS
OFFICE OF SPECIAL MASTERS


CHILD, a minor,

by her Parents and Natural Guardians,

Petitioners,

v.

SECRETARY OF HEALTH AND HUMAN SERVICES,

Respondent.

RESPONDENT'S RULE 4(c) REPORT

In accordance with RCFC, Appendix B, Vaccine Rule 4(c), the Secretary of Health and Human Services submits the following response to the petition for compensation filed in this case.

FACTS

CHILD ("CHILD") was born on December --, 1998, and weighed eight pounds, ten ounces. Petitioners' Exhibit ("Pet. Ex.") 54 at 13. The pregnancy was complicated by gestational diabetes. Id. at 13. CHILD received her first Hepatitis B immunization on December 27, 1998. Pet. Ex. 31 at 2.

From January 26, 1999 through June 28, 1999, CHILD visited the Pediatric Center, in Catonsville, Maryland, for well-child examinations and minor complaints, including fever and eczema. Pet. Ex. 31 at 5-10, 19. During this time period, she received the following pediatric vaccinations, without incident:

Vaccine Dates Administered

Hep B 12/27/98; 1/26/99

IPV 3/12/99; 4/27/99

Hib 3/12/99; 4/27/99; 6/28/99

DTaP 3/12/99; 4/27/99; 6/28/99

Id. at 2.

At seven months of age, CHILD was diagnosed with bilateral otitis media. Pet. Ex. 31 at 20. In the subsequent months between July 1999 and January 2000, she had frequent bouts of otitis media, which doctors treated with multiple antibiotics. Pet. Ex. 2 at 4. On December 3,1999, CHILD was seen by Karl Diehn, M.D., at Ear, Nose, and Throat Associates of the Greater Baltimore Medical Center ("ENT Associates"). Pet. Ex. 31 at 44. Dr. Diehn recommend that CHILD receive PE tubes for her "recurrent otitis media and serious otitis." Id. CHILD received PE tubes in January 2000. Pet. Ex. 24 at 7. Due to CHILD's otitis media, her mother did not allow CHILD to receive the standard 12 and 15 month childhood immunizations. Pet. Ex. 2 at 4.

According to the medical records, CHILD consistently met her developmental milestones during the first eighteen months of her life. The record of an October 5, 1999 visit to the Pediatric Center notes that CHILD was mimicking sounds, crawling, and sitting. Pet. Ex. 31 at 9. The record of her 12-month pediatric examination notes that she was using the words "Mom" and "Dad," pulling herself up, and cruising. Id. at 10.

At a July 19, 2000 pediatric visit, the pediatrician observed that CHILD "spoke well" and was "alert and active." Pet. Ex. 31 at 11. CHILD's mother reported that CHILD had regular bowel movements and slept through the night. Id. At the July 19, 2000 examination, CHILD received five vaccinations - DTaP, Hib, MMR, Varivax, and IPV. Id. at 2, 11.

According to her mother's affidavit, CHILD developed a fever of 102.3 degrees two days after her immunizations and was lethargic, irritable, and cried for long periods of time. Pet. Ex. 2 at 6. She exhibited intermittent, high-pitched screaming and a decreased response to stimuli. Id. MOM spoke with the pediatrician, who told her that CHILD was having a normal reaction to her immunizations. Id. According to CHILD's mother, this behavior continued over the next ten days, and CHILD also began to arch her back when she cried. Id.

On July 31, 2000, CHILD presented to the Pediatric Center with a 101-102 degree temperature, a diminished appetite, and small red dots on her chest. Pet. Ex. 31 at 28. The nurse practitioner recorded that CHILD was extremely irritable and inconsolable. Id. She was diagnosed with a post-varicella vaccination rash. Id. at 29.

Two months later, on September 26, 2000, CHILD returned to the Pediatric Center with a temperature of 102 degrees, diarrhea, nasal discharge, a reduced appetite, and pulling at her left ear. Id. at 29. Two days later, on September 28, 2000, CHILD was again seen at the Pediatric Center because her diarrhea continued, she was congested, and her mother reported that CHILD was crying during urination. Id. at 32. On November 1, 2000, CHILD received bilateral PE tubes. Id. at 38. On November 13, 2000, a physician at ENT Associates noted that CHILD was "obviously hearing better" and her audiogram was normal. Id. at 38. On November 27, 2000, CHILD was seen at the Pediatric Center with complaints of diarrhea, vomiting, diminished energy, fever, and a rash on her cheek. Id. at 33. At a follow-up visit, on December 14, 2000, the doctor noted that CHILD had a possible speech delay. Id.

CHILD was evaluated at the Howard County Infants and Toddlers Program, on November 17, 2000, and November 28, 2000, due to concerns about her language development. Pet. Ex. 19 at 2, 7. The assessment team observed deficits in CHILD's communication and social development. Id. at 6. CHILD's mother reported that CHILD had become less responsive to verbal direction in the previous four months and had lost some language skills. Id. At 2.

On December 21, 2000, CHILD returned to ENT Associates because of an obstruction in her right ear and fussiness. Pet. Ex. 31 at 39. Dr. Grace Matesic identified a middle ear effusion and recorded that CHILD was having some balance issues and not progressing with her speech. Id. On December 27, 2000, CHILD visited ENT Associates, where Dr. Grace Matesic observed that CHILD's left PE tube was obstructed with crust. Pet. Ex. 14 at 6. The tube was replaced on January 17, 2001. Id.

Dr. Andrew Zimmerman, a pediatric neurologist, evaluated CHILD at the Kennedy Krieger Children's Hospital Neurology Clinic ("Krieger Institute"), on February 8, 2001. Pet. Ex. 25 at 1. Dr. Zimmerman reported that after CHILD's immunizations of July 19, 2000, an "encephalopathy progressed to persistent loss of previously acquired language, eye contact, and relatedness." Id. He noted a disruption in CHILD's sleep patterns, persistent screaming and arching, the development of pica to foreign objects, and loose stools. Id. Dr. Zimmerman observed that CHILD watched the fluorescent lights repeatedly during the examination and

would not make eye contact. Id. He diagnosed CHILD with "regressive encephalopathy with features consistent with an autistic spectrum disorder, following normal development." Id. At 2. Dr. Zimmerman ordered genetic testing, a magnetic resonance imaging test ("MRI"), and an electroencephalogram ("EEG"). Id.

Dr. Zimmerman referred CHILD to the Krieger Institute's Occupational Therapy Clinic and the Center for Autism and Related Disorders ("CARDS"). Pet. Ex. 25 at 40. She was evaluated at the Occupational Therapy Clinic by Stacey Merenstein, OTR/L, on February 23, 2001. Id. The evaluation report summarized that CHILD had deficits in "many areas of sensory processing which decrease[d] her ability to interpret sensory input and influence[d] her motor performance as a result." Id. at 45. CHILD was evaluated by Alice Kau and Kelley Duff, on May 16, 2001, at CARDS. Pet. Ex. 25 at 17. The clinicians concluded that CHILD was developmentally delayed and demonstrated features of autistic disorder. Id. at 22.

CHILD returned to Dr. Zimmerman, on May 17, 2001, for a follow-up consultation. Pet. Ex. 25 at 4. An overnight EEG, performed on April 6, 2001, showed no seizure discharges. Id. at 16. An MRI, performed on March 14, 2001, was normal. Pet. Ex. 24 at 16. A G-band test revealed a normal karyotype. Pet. Ex. 25 at 16. Laboratory studies, however, strongly indicated an underlying mitochondrial disorder. Id. at 4.

Dr. Zimmerman referred CHILD for a neurogenetics consultation to evaluate her abnormal metabolic test results. Pet. Ex. 25 at 8. CHILD met with Dr. Richard Kelley, a specialist in neurogenetics, on May 22, 2001, at the Krieger Institute. Id. In his assessment, Dr. Kelley affirmed that CHILD's history and lab results were consistent with "an etiologically unexplained metabolic disorder that appear[ed] to be a common cause of developmental regression." Id. at 7. He continued to note that children with biochemical profiles similar to CHILD's develop normally until sometime between the first and second year of life when their metabolic pattern becomes apparent, at which time they developmentally regress. Id. Dr. Kelley described this condition as "mitochondrial PPD." Id.

On October 4, 2001, Dr. John Schoffner, at Horizon Molecular Medicine in Norcross, Georgia, examined CHILD to assess whether her clinical manifestations were related to a defect in cellular energetics. Pet. Ex. 16 at 26. After reviewing her history, Dr. Schoffner agreed that the previous metabolic testing was "suggestive of a defect in cellular energetics." Id. Dr. Schoffner recommended a muscle biopsy, genetic testing, metabolic testing, and cell culture based testing. Id. at 36. A CSF organic acids test, on January 8, 2002, displayed an increased lactate to pyruvate ratio of 28,1 which can be seen in disorders of mitochondrial oxidative phosphorylation. Id. at 22. A muscle biopsy test for oxidative phosphorylation disease revealed abnormal results for Type One and Three. Id. at 3. The most prominent findings were scattered atrophic myofibers that were mostly type one oxidative phosphorylation dependent myofibers, mild increase in lipid in selected myofibers, and occasional myofiber with reduced cytochrome c oxidase activity. Id. at 7. After reviewing these laboratory results, Dr. Schoffner diagnosed CHILD with oxidative phosphorylation disease. Id. at 3. In February 2004, a mitochondrial DNA ("mtDNA") point mutation analysis revealed a single nucleotide change in the 16S ribosomal RNA gene (T2387C). Id. at 11.

CHILD returned to the Krieger Institute, on July 7, 2004, for a follow-up evaluation with Dr. Zimmerman. Pet. Ex. 57 at 9. He reported CHILD "had done very well" with treatment for a mitochondrial dysfunction. Dr. Zimmerman concluded that CHILD would continue to require services in speech, occupational, physical, and behavioral therapy. Id.

On April 14, 2006, CHILD was brought by ambulance to Athens Regional Hospital and developed a tonic seizure en route. Pet. Ex. 10 at 38. An EEG showed diffuse slowing. Id. At 40. She was diagnosed with having experienced a prolonged complex partial seizure and transferred to Scottish Rite Hospital. Id. at 39, 44. She experienced no more seizures while at Scottish Rite Hospital and was discharged on the medications Trileptal and Diastal. Id. at 44. A follow-up MRI of the brain, on June 16, 2006, was normal with evidence of a left mastoiditis manifested by distortion of the air cells. Id. at 36. An EEG, performed on August 15, 2006,

showed "rhythmic epileptiform discharges in the right temporal region and then focal slowing during a witnessed clinical seizure." Id. At 37. CHILD continues to suffer from a seizure disorder.

ANALYSIS

Medical personnel at the Division of Vaccine Injury Compensation, Department of Health and Human Services (DVIC) have reviewed the facts of this case, as presented by the petition, medical records, and affidavits. After a thorough review, DVIC has concluded that compensation is appropriate in this case.

In sum, DVIC has concluded that the facts of this case meet the statutory criteria for demonstrating that the vaccinations CHILD received on July 19, 2000, significantly aggravated an underlying mitochondrial disorder, which predisposed her to deficits in cellular energy metabolism, and manifested as a regressive encephalopathy with features of autism spectrum disorder. Therefore, respondent recommends that compensation be awarded to petitioners in accordance with 42 U.S.C. § 300aa-11(c)(1)(C)(ii).

DVIC has concluded that CHILD's complex partial seizure disorder, with an onset of almost six years after her July 19, 2000 vaccinations, is not related to a vaccine-injury.

Respectfully submitted,

PETER D. KEISLER
Assistant Attorney General

TIMOTHY P. GARREN
Director
Torts Branch, Civil Division

MARK W. ROGERS
Deputy Director
Torts Branch, Civil Division

VINCENT J. MATANOSKI
Assistant Director
Torts Branch, Civil Division

s/ Linda S. Renzi by s/ Lynn E. Ricciardella
LINDA S. RENZI
Senior Trial Counsel
Torts Branch, Civil Division
U.S. Department of Justice
P.O. Box 146
Benjamin Franklin Station
Washington, D.C. 20044
(202) 616-4133


DATE: November 9, 2007
On Friday, February 22, HHS conceded that this child's complex partial seizure disorder was also caused by her vaccines. Now US taxpayers will award this family compensation to finance her seizure medication.
Hannah Poling's seizures did not begin until six years after the date of vaccination, yet the US government acknowledges they were, indeed, linked to the immunizations of July, 2000.
Sincerely,
____________________________________________________________________________
From: Clifford G. Miller,
CLIFFORD MILLER, Burnhill Business Centre, 50 Burnhill Road, Beckenham, Kent BR3 3LA, England
Tel: + 44 (0) 20 8663 0044 Fax: + 44 (0) 20 8663 0011
____________________________________________________________________________
(*) the true estimate is higher - 1 in 86. The 1 in 116 figure is from Baird 2006. This was not recalculated for this commentary to ensure people would recognise the figure and not have to wonder where 1 in 86 came from. The Baird 2006 figure is 116.1 in 10,000 (ie 116.1:10,000 (90.4-141.8) for cases on the autistic spectrum..