Man sues after vaccine paralyzes him

http://www.thanhniennews.com/society/?catid=3&newsid=35905

February 20, 2008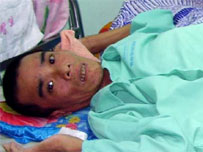 A man in the southern province of Hau Giang has sued a local health agency and vaccine maker, claiming a vaccine paralyzed him last year.

Tran Minh Chi, 37, is asking for VND85 million (over US$5,300) from the Phu Huu Commune Health Center and the Vaccine and Bio-Medical Product Company No 2, saying a rabies vaccine manufactured by the firm paralyzed him.
On August 2 last year, Chi received his first Rabivax II shot at the center after being bitten by a stray dog.
On August 12, he received the sixth in a course of eight shots of the vaccine.
The next day, he became paralyzed and was rushed to the Can Tho General Hospital and later to the Cho Ray Hospital in Ho Chi Minh City.
He has endured quadriplegia since then.
In his lawsuit, Chi said the center failed to inform him of the disadvantages of the vaccine so that he could have chosen a better one.
Meanwhile, in documents sent to the court, the health center denied responsibility concerning the man's paralysis and attributed the mishap to the producer, saying that its vaccine failed to meet quality standards.
The company also denied its involvement in the case.
The firm said all the information related to the vaccine was included with the medicine.
The vaccine is known to cause marrow paralysis to one out of every 10,000 people inoculated by the shots.
The Ministry of Health halted the production of Rabivax II in September last year following a similar case in May in which a HCMC man had suffered acute flaccid paralysis due to the same vaccine.
The company said the shots given Chi had been produced before the deadline, which meant it had no responsibility in his mishap.
A hearing will take place next Wednesday, according to judge Ngo Thi Hien.
Chi filed his suit at the Chau Thanh District People's Court.