'Swine flu' scam 2009 ('H1HN1')
[back] Infectious scares Flu vaccine racket Food Inc
"Virus Mania is a social disease of our highly developed society. To cure it will require conquering fear, fear being the most deadly contagious virus, most efficiently transmitted by the media. Errare humanum est sed diabolicum preservare… (to err is human, but to preserve an error is diabolic)."----Etienne de Harven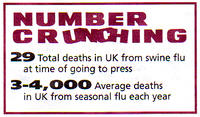 [The Euphemism for: 1. the latest Tamiflu sales drive (stocks are almost out of date), 2. to hide toxic air, and 3. to keep the viral mania gravy train on the road (see: Infectious scares, the Flu vaccine racket and check out the old Swine Flu massacre). Avoid all vaccines, they started the fake AIDS epidemic with a Hepatitis B vaccine, but it will be more likely be an additive such as Squalene that is behind Gulf War Syndrome. If they cared about viral attack they would be using Vitamin C, Zapper and Ozone, three decades old cures (over no drug cures). You have to admire the way they have pulled out all the stops for this hoax, wasting taxpayers money on two page ads and leaflets to every household, and the rest. A master class in Fearmongering, but they have had 200 years practice after all, also in wasting taxpayers money. They must have realised that they were beginning to look stupid after SARS, Bird Flu etc.]
See: Swine flu vaccine Virus hunters Rumsfeld Oseltamivir (Tamiflu)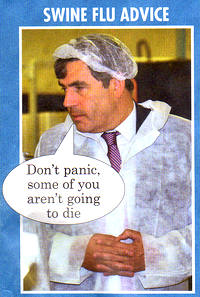 See vaccine diseases: Spanish Flu Gulf War Syndrome
See: Infectious scares Swine Flu 1976
"I am saddened that I've come to accept that the primary purpose of the H1N1 pandemic and the H1N1 mass-vaccination crusade is to induce chronic pathologies (eg, 1) which shall generate billions in ongoing revenues." Teresa Binstock,
[2012 June] GERM THEORY AND DEPOPULATION by Jon Rappoport Swine flu was a PROPAGANDA OPERATION, plain and simple, aimed at scaring populations and driving them to get vaccines. That was the op. And it failed. In fact, the op was exposed (by yours truly and others) as a sham and a con. Millions of people online caught on. It was a devastating defeat for WHO, the CDC, and the medical cartel.
[2010 Aug Video] Swine Flu Cure using Vitamin C Therapy
[2010 Aug] New Zealand Medical Authorities continue to ignore a potential cure for Swine Flu.
[2010 Jan] WHO'S FUKUDA GRILLED AT COUNCIL OF EUROPE HEARING: START OF SUBSTANTIAL INVESTIGATION INTO THE SWINE FLU SCAM
[2009] An open letter to Professor John Oxford, world renowned influenza virologist
[2009 Dec] Just one in five people given Tamiflu by NHS hotline was actually suffering from swine flu (and 800,000 wrongly told to stay home) Around 800,000 people were incorrectly told to stop work and take the Tamiflu drug, costing employers hundreds of millions of pounds and adding to the NHS drug bill. In fact just one in every five people diagnosed by the controversial call centres actually had the illness. .....It means that more than 800,000 of the 1million packets of Tamiflu - which cost around £15 each - were given out needlessly. .....Now the expected death toll has been revised to less than 1,000 - with 270 having died so far, of whom 80 per cent had other illnesses or underlying conditions.
CBS Determines That CDC Can Not Provide Accurate H1N1 Stats
[2009 May] Pandemic promoters in public health, media, have yet to prove existence of novel H1N1 swine flu strain
[2009 Aug] Setting the people up to die: A conspiracy of silence about swine flu natural remedies by Mike Adams
[2009 July Swine flu vaccine] Natural Solutions Alert by Gabriel Cousens, M.D.
[2009 June] More Swine flu porkies by Hilary Butler Never tell anyone that side effects of Tamiflu look like the flu you're trying to stop. Just tell them that Tamiflu stops it being worse than it would be otherwise
[2009 June] Sarkozy's Secret Plan for Mandatory Swine Flu Vaccination By F. William Engdahl
Swine-flu - The contradictions of an "epidemic" by Hans U. P. Tolzin
Fake Swine Flu Propaganda Infects Nation by Ramiel Nagel
Swine Flu is a HOAX! It is a U.S. Government Psychological Operation (Psy/Op) to TERRIFY the Public! by Lorraine Day, M.D.
SWINE FLU: NEW PANDEMIC OR JUST MAKIN' BACON? by Dr Tim O'Shea
[2009 May] 'The smell is so awful that I start to vomit': Is this farm the Ground Zero of swine flu?
[2009 may] Politics, Profits & Pandemic Fear Mongering by Barbara Loe Fisher A "public health emergency" has become an excuse to grease the skids and rush to market experimental drugs and vaccines that are not subject to product liability in the civil courts.
[2009 April] Pandemic or Factory Farm Fiasco? by Colleen De Koning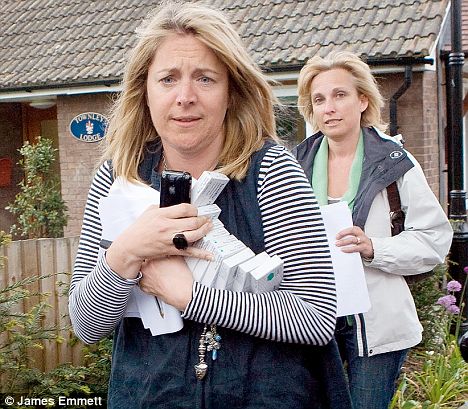 [2009 April] Did factory farming cause the swine flu outbreak?
[2009 April] SWINE FLU: PIG IN A POKE By Jon Rappoport
[2009 April] When Swine Flu isn't swine flu by Hilary Butler
[2009 April] Do Not Take A Swine Flu Vaccine! From Patricia Doyle, PhD
External
[2009 may] Flying Pigs and the WHO. Flying Pigs, Tamiflu and Factory Farms Part I: by F. William Engdahl
[2009 may] Flying Pigs and the WHO. Flying Pigs, Tamiflu and Factory Farms Part II: by F. William Engdahl
Pork's Dirty Secret: The nation's top hog producer is also one of America's worst polluters by Jeff Tietz - 2009-05-04
Fearmongering
[2009 June] Swine flu pandemic 'in autumn'
The Heist
[2009 may] Swine flu? It's just like a cold, says girl, 12, who was one of six hit at same public school
[2009 April] Swine flu alert clears old stock of Tamiflu
[2009 April] FDA allows uncleared uses of flu drugs, tests
[2009 April] Flu a windfall for some drugmakers, shares jump
Book
Virus Mania. Avian Flu (H5N1), Cervical Cancer (HPV), SARS, BSE, Hepatitis C, AIDS, Polio. How the Medical Industry Continually Invents Epidemics, Making Billion-Dollar Profits at Our Expense by Torsten Engelbrecht and Claus Köhnlein The authors of Virus Mania, journalist Torsten Engelbrecht and doctor of internal medicine Claus Köhnlein, show that these alleged contagious viruses are, in fact, particles produced by the cells themselves as a consequence of certain stress factors such as drugs. These particles are then identified by antibody and PCR tests and interpreted as epidemic-causing viruses by doctors who have been inoculated for over 100 years by the theory that microbes are deadly and only modern medications and vaccines will protect us from virus pandemics.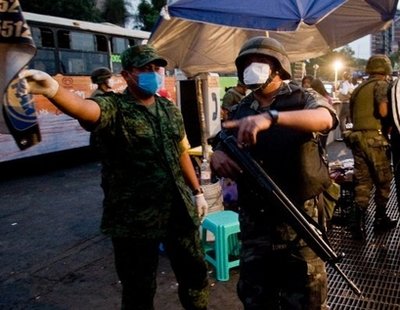 Quotes
Taken a vaccine: "I work as a resident doctor in one of the biggest hospitals in Mexico City and sadly, the situation is far from "under control". As a doctor, I realise that the media does not report the truth. Authorities distributed vaccines among all the medical personnel with no results, because two of my partners who worked in this hospital (interns) were killed by this new virus in less than six days even though they were vaccinated as all of us were. The official number of deaths is 20, nevertheless, the true number of victims are more than 200. I understand that we must avoid to panic, but telling the truth it might be better now to prevent and avoid more deaths."----Yeny Gregorio Dávila, Mexico City
Meanwhile the feds are still murdering innocents with aerosol poison around here and their media whores are inferring that it's swine flu, though every diagnosed case of swine flu where we live is known to be non.-fatal
just as the psychics foresaw for October, some months ago. The poison evidently causes a very rapidly rising fever after 'pneumonia-like symptoms' suddenly show up. Remember when the hospitals filled up with 'pneumonia-like' cases when chemtrails became omnipresent in early 1999? This may indicate that the poison is breathed in rather than injected, as with an implant gun. I think the little implants can't carry enough of the stuff to make you sick. --Don Croft Oct 2009
"The school medicine protagonists/practitioners need the paralysing, stupid-making and destructive fear of disease causing phantom viruses as a central basis for their existence."--Lanka

"AIDS and SARS are ways for epidemiologists (e.g., the CDC, WHO, etc.) to secure their jobs and continued funding for their agencies. No new emerging epidemics, maybe no CDC, no WHO, so we've got an infrastructure that REQUIRES the "discovery" of new, threatening epidemics. And the media pick a new one every year. This year, it's SARS. For the past couple of years, it's been West Nile Virus. Next year it'll be something else."---- Dr Dan Duffy DC 2002
Michael Belkin Report (Extract) May 4, 2009 -- The WHO who Cried Wolf
Following the Swine Flu hysteria is a little like watching an old Keystone Cops cartoon. For those of you who have never had much contact with public health officials -- perhaps you could benefit from my unfortunate experience. When my daughter died after getting a hepatitis B vaccine -- I had extensive personal exposure to CDC, FDA and IOM and other public health officials in Congressional, CDC and Institute of Medicine hearings. In my humble opinion, these people are some of the biggest idiots I have ever met -- and their ignorance is only exceeded by their arrogance. CDC and WHO (World Health Organization) officials have made the public hysterically paranoid about an influenza virus that is turning out to be not much different than any seasonal flu. The WHO now suggests it will raise its pandemic alert to its six-point maximum. This is clear evidence that the WHO has absolutely no way to differentiate between a real and non-existent public health threat. You should be alert for public health statisticians who are not qualified enough to get hired into the private sector (Merck or Wall Street) yet are now vested with the power to create public hysteria and treat our bodies as pincushions for experimental vaccines that haven't been proven safe. In the last swine flu scare (1976) one death and few disease cases presented, while hundreds of vaccine adverse reactions occurred (GBS -- paralysis and also deaths). If there was a vaccine for this strain, health officials would undoubtedly be mandating it and ignoring the adverse reactions. We probably have more to fear from incompetent health officials than from would-be epidemics. Thankfully, markets dismissed this current flu scare and kept rallying -- because the WHO is like the boy who cried wolf, when nothing was really there.
"Orthodox virology omits toxicology, and is thus void. Toxicological causation is obvious and toxicology is avoided by the media like the plague. Forget the intellectual, scientific intrigue of virology. Without toxicology, virology is a mind-trap. Virology is the deadly virus. Orthodoxy could claim that a "virus" has any number of fearful characteristics, but those characteristics are meaningless if the victims are poisoned. Without poisoning, perhaps the virus is a nutrient. Perhaps there is no virus. Most likely, the "virus" is harmless human nucleic acid, rearranged as a response to poisoning, and thus always a test for said "virus" would be positive during periods of poisoning." Swine Flu 2009 by Jim West
A "public health emergency" has become an excuse to grease the skids and rush to market experimental drugs and vaccines that are not subject to product liability in the civil courts............The stampede in 2001/2002 to re-write long standing public health laws in this country was fueled by reports that terrorists were in possession of weaponized smallpox and anthrax, a fear that was fostered by U.S. government officials and New York Times journalists reporting Iraq had secret stockpiles of weaponized smallpox and anthrax. This myth played a role in public support for the U.S.-Iraq War and persuaded Congress to pass Bioshield and pandemic influenza vaccine legislation that gave billions of dollars to vaccine manufacturers, the Department of Defense (DOD) and the Department of Health and Human Services (DHHS) to create experimental bioeterrorism and pandemic flu vaccines while protecting drug companies and doctors from liability for vaccine injuries and deaths that will occur. [2009 may] Politics, Profits & Pandemic Fear Mongering by Barbara Loe Fisher
In 1996, when the greatest food scare of all exploded over BSE, front-page headlines greeted the admission on Newsnight by the Government's chief scientist John Pattison that the death toll from CJD caught by eating beef could within a few years reach 500,000. A year later, however, scarcely any attention at all was paid to Dr Pattison's confession that he had now revised his figure downwards to just '100' (indeed, it now seems highly likely that beef was not the cause of CJD at all).
It is not long since, in 2005, an even more senior WHO official was telling us that, any time soon, a worldwide epidemic of Asian bird flu could kill '150 million people'. The actual death toll from bird flu to date is around 200, barely double the number already dead when that hysteria was at its height. [2009 April] Pandemic of panic - After salmonella, bird flu, the Millennium Bug... should we actually be scared this time?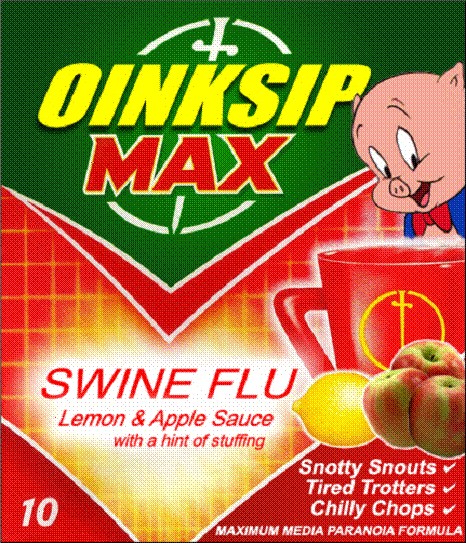 1976 Swine Flu Propaganda

Get vitamin D not the flu shot. Dr. John Cannell, a cardiac surgeon and Professor of Surgery at the University of Washington, recommends avoiding the flu shot and taking vitamin D instead.