Robert Gallo
AIDS-HIV racket
See: The REAL ROGUE'S GALLERY of AIDS Luc Montagnier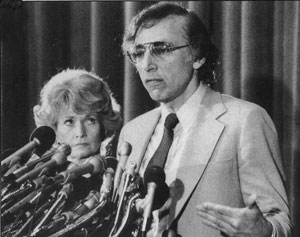 ROBERT GALLO
Books
Fear of the Invisible by Janine Roberts
SCIENCE FICTIONS: A SCIENTIFIC MYSTERY, A MASSIVE COVER-UP, AND THE DARK LEGACY OF ROBERT GALLO by John Crewdson
IN GALLO CASE, TRUTH TERMED A CASUALTY Report: Science subverted in AIDS dispute By John Crewdson
Quotes
At bottom, why all this false science? Because someone needed a cover story to conceal a persistent and intentionally unsolved situation in Africa that was causing death according to a plan to depopulate the continent.
A PLAN: DEPOPULATION.
A COVER STORY TO CONCEAL THE PLAN: HIV.
MEDICAL DUPES TO PROVIDE THE COVER STORY: GALLO, MONTAGNIER, SERWADDA, AND OTHERS.
AN INTERNATIONAL HEALTH AGENCY THAT WOULD DO EVERYTHING EXCEPT HELP SOLVE THE REAL AND CONTINUING CAUSES OF DEATH IN AFRICA: THE WORLD HEALTH ORGANIZATION.
A DIVERSIONARY AND PHONY DEBATE THAT ACTUALLY FORWARDS THE DEPOPULATION AGENDA: WHETHER TO LOWER PRICES ON TOXIC AND DESTRUCTIVE AIDS DRUGS FOR AFRICA.
[2003] Depopulation and HIV by Jon Rappoport
"Gallo himself was not in on this gigantic hoax. He would steal the germ from Montagnier and call it his own, but that was just theft. Gallo was just a pawn. He was a man who wanted desperately to find a retrovirus as the cause of AIDS, just as he had been a man who desperately wanted to find a retrovirus as the cause of cancer. He had learned this new field of exploration - retroviruses - and it was his only real ticket to fame. He was riding that pony for all it was worth, and the federal money, such as it was in those days, was mainly coming to him and his colleagues at the National Cancer Institute." [2003] Depopulation and HIV by Jon Rappoport
"The therapy business: Antiviral medication, 3 or 4 or 5 fold combinations, AIDS can't be topped in this department. ....... With intoxication hypotheses on the other hand you cannot make any money at all. The simple message is: Avoid the poison and you won't get sick. Such hypotheses are counterproductive insofar as the toxins (drugs, alcohol, pills, phosmet) bring high revenues. The conflict of interests is not resolvable: What virologist who does directly profit millions from their patent rights of the HIV or HCV tests (Montagnier, Simon Wain-Hobsen, Robin Weiss, Robert Gallo) can risk to take even one look in the other direction."--By Claus Köhnlein
World War II, produced of course by Rome, caused the Nazi experiments on the people in the concentration camps-the Jews, the Gypsies, the Socialists, primarily the Jews. But they experimented with things like fluoride. They experimented with things like EDTA chelation, which is THE treatment of choice for anybody with heart disease. They experimented with poisons. They experimented with surgeries. They experimented with all kinds of things on these people. They also experimented with vaccinations and immunizations.
There's a book called The Nazi Doctors. Everything that was learned by them was integrated into the American Medical Association, after the war. That's why we all have our municipal water supplies fluoridated. That's why they're all chlorinated, because chlorine decreases oxygen, and therefore causes cancer, because cancer grows in an anaerobic state-it's a virus, converting cells into mutants that are anaerobic.
Ok. All of Europe is using ozone to clean their water supplies. Here they use chlorine. They want us with cancer. And how do we get cancer? With the vaccinations and immunizations, where they inject us with live viruses, like the hepatitis vaccine-every one of them has the HIV virus, SV-40.
What they're doing is what they learned in Nazi Germany. They implemented here and they continue their research in the CIA. There's a two-tape set called The CIA And The Virus Makers which show how the CIA helped to create the HIV virus and various other viruses. They get into Robert Gallo, the world's foremost virologist.
Robert Gallo is a Jesuit. He's a Roman Catholic, Italian, the world's foremost virologist-and yet not controlled by the Brotherhood, by the Company? Ridiculous. He's under their control! He's doing all the research, and he doesn't want to be blamed for it-as the WONDERFUL Jew, Len Horowitz, proved. Again, we've got Jews getting in the way-Jews blowing their cover.
Personally, I have my own home where I use ozone oxygen. I use ultraviolet blood irradiation. I can show you how ultraviolet blood irradiation incapacitates Lupus. It destroys Hepatitis. It destroys Meningitis. It destroys HIV.
This is a very simple procedure; I do it every day. It can easily be done by any medical doctor, and they won't do it. Because, when you kill off the virus, you don't have the diseases. You are thwarting what they wanted to do with their vaccinations and immunizations.
That's why they want to make a law. That's why that filthy Ted Kennedy, that Knight of Columbus, wants all these vaccinations and immunizations-when it should be a religious tenet of everyone: 'It's against my religious convictions to put foreign pathogens into my bloodstream. It's going to make me sick by the time I'm 40. It's going to give me plaque build-up and heart-disease. I'm not going to do it.'
In the meantime, they're suppressing all the things that reverse it: soft lasers, hyperbaric chambers, ultraviolet blood irradiation, oxygen ozone, north-pole magnetic therapy. All the things working together that would easily reverse it, they suppress, and consider it a crime. Make sense? The Black Pope: Interview of Eric Jon Phelps
In 1983, Luc Montagnier, a French scientist at the Pasteur Institute, claimed to have found a new retrovirus in AIDS patients. But nobody paid attention, because he hadn't isolated a virus, and he hadn't found a single viral particle in the blood - remember the titer was zero, undetectable. Seeking some academic support, Montagnier sent a cell sample to Robert Gallo at the NIH. Gallo took the cell-line Montagnier sent him and modified it slightly. Then he did something strange. He stole it.
In 1984 Gallo called an international press conference and together with Margaret Heckler, the head of the Department of Health and Human Services, announced that he'd discovered the "probable cause" of AIDS. It was a new retrovirus called HTLV-III, (later re-named HIV). Later that same day, he patented the modified cell-line he'd originally gotten from Montagnier. He hadn't published a single word of his research. Robert Gallo, a government-backed scientist, simply announced that a retroviral-epidemic was on its way.
He sold the cell-line to Abbot Labs, a pharmaceutical company that makes HIV tests. The French government demanded that all patent rights be returned to Montagnier. Gallo refused, claiming it was all his work. In 1987, Gallo and Montagnier were forced by President Reagan and French Prime Minister Chirac to meet in a hotel room to work out the HIV patent rights. In 1992, Gallo was officially convicted of theft by a federal scientific ethics committee. The AIDS Debate The Most Controversial Story You've Never Heard By Liam Scheff