Ralph Moss
[back] Cancer Industry critics
Website: http://www.ralphmoss.com
Quotes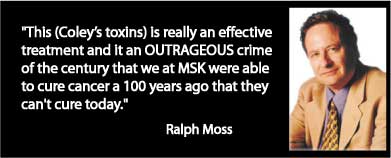 [2010 Nov] Is Radiation Therapy A Necessity? by Ralph Moss
[2009 Oct] Comments on Dr Ralph Moss' critique of German New Medicine By Don Benjamin Finally he devoted over 10% of the report to showing that Hamer was Anti-Semitic, and providing evidence that he was 'delusional'. The implication from this was that his 'unreason' can therefore be extended to his medical thinking. This again displays a lack of logic.
[2009 Aug] Simoncini's Bicarbonate Treatment For Cancer by Ralph Moss
[2009 Aug] Sodium Bicarbonate (Baking Soda) Cancer Treatment by Mark Sircus Ac., OMD "What I can't believe is Moss' organization is not even appearing willing to take a critical look at the evidence supporting the fact that cancer can be a fungus. They just dismiss it outright."----Claudia French RN
[2009 July] INTRODUCING 'GERMAN NEW MEDICINE®'-HOPE OR HOAX? by Ralph Moss
WHERE'S THE EVIDENCE? by Ralph Moss
The Ralph Moss Story by Ralph Moss
[2007] Big Blow to Radiation Therapy for Breast Cancer by Ralph W. Moss, PhD
Interview of Dr Ralph Moss, Ph.D.
The Master Disease of Our Time--Ralph W. Moss
[pdf] ON GUARD – GARDASIL A critical look at a new and controversial vaccine by Ralph W. Moss, PhD
HPV, Gardasil, Fear and Profit by Dr Ralph W Moss
[2000] The Grand Illusion of Chemotherapy by Ralph W. Moss, Ph.D.
THE DOWNSIDE OF SCREENING FOR CANCER by Ralph W. Moss, Ph.D.
[2005] GERMAN MAGAZINE BLASTS CHEMOTHERAPY
TAXOL DOES NOT HELP PREVENT RECURRENCE OF MOST COMMON BREAST CANCERS by Ralph W. Moss, Ph.D.
Books
The Cancer Industry
Questioning Chemotherapy
Cancer Therapy by Ralph Moss


Standard of Care