Web: http://www.holocaustdenier.com/ http://gaschamberhoax.com http://www.youtube.com/user/erichuntvideo
[2014] The Jewish Gas Chamber Hoax By Eric Hunt As of 2014, Steven Spielberg's "Survivors of the Shoah Visual History Foundation" has recorded nearly 52,000 interviews in 56 countries and in 32 languages with so-called "Holocaust survivors." The present documentary uses some of them to prove that the orthodox tale about the alleged extermination camp at Treblinka is untenable. It is a Revisionist documentary presenting the latest evidence debunking the greatest hoax in human history: "The Holocaust" – that is to say, the fraudulent claim that six million Jews were murdered by Germans, mostly in "Gas Chambers disguised as Shower Rooms." Never before seen evidence helps prove that Treblinka was a transit camp, far from the "Pure Extermination Camp" myth currently promoted by the Holocaust religion. For the first time ever, listen to Jews themselves who were transited through Treblinka describe the process of being transferred from Treblinka to other camps, along with hundreds and thousands of other men women and children. Documentation is presented which affirms that Treblinka was no top secret "pure extermination center," but a simple transit camp where some Jews even took real showers in order to keep them alive. The absurdity of diesel gassings, non-existent mass graves, forced confessions, and more are covered in The Jewish Gas Chamber Hoax, a new documentary from the filmmaker of The Last Days of the Big Lie.
[2011 Nov pdf] Smith's Report 186
[vid] The Last Days of the Big Lie - (Part 1 of 9) The Last Days of the Big Lie - Steven Spielberg's Holocaust Hoax. Irene Zisblatt, A Holocaust Survivor who stars in Steven Spielberg's Oscar winning film The Last Days claims to have repeatedly defecated and swallowed diamonds for a year while in Auschwitz and on death marches. She also claims she was selected to become a lampshade, had her tattoo removed by Mengele, and escaped from inside a gas chamber.
[vid] Holohoax Survivors who Tell the Truth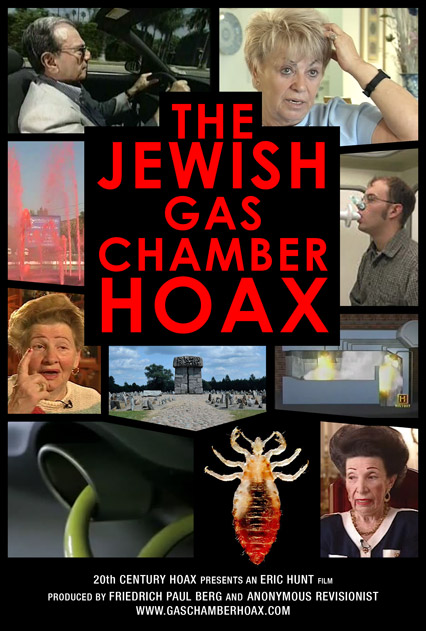 'Holohoax Survivors Who Tell The Truth' has really hit a nerve. It's shocking to hear Auschwitz inmates tell about their elaborate stage, with curtain rings and a grand piano, where they had plays and other musical performances. It's shocking to see video of happy children playing in Theresenstadt juxtaposed with a woman telling about fun costumed children's plays in her Auschwitz block, along with arts and crafts activities, with beautiful children's murals painted on the walls. According to the official Holocaust narrative, all children were immediately gassed upon arrival! "Testimony" such as this is extremely important to cast doubt on the "factory of death" Holocaust promoters push. Auschwitz and Buchenwald inmates speak about being paid for their work in special currency, using their currency in camp cantinas and at the camp movie theater, receiving and sending postcards, and playing in well organized soccer tournaments.