Dr Lesley Fallowfield.
A cancer psychologist and Director of the Cancer Research Campaign's Psychosocial Group.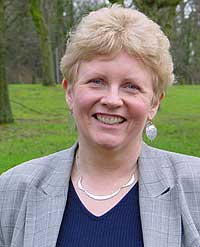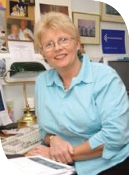 Lesley Fallowfield, Ph.D., is Professor of Psycho-oncology at Brighton & Sussex Medical School, University of Sussex where she is Director of the Cancer Research UK Psychosocial Oncology Group. In 1991 Professor Fallowfield became full-time Director of the Psychosocial Oncology Group. She was awarded the first European chair in Psycho-oncology by the University College London in 1997. Her research interests are wide and include the measurement of quality of life in clinical trials of cancer therapy and training in communication skills for health care professionals engaged in cancer care. She has published over 250 papers, and written or co-edited 3 books. She lectures and runs training workshops throughout the world in psychosocial oncology, quality of life assessment and communication skills.
Professor Fallowfield's research into promoting better communication skills for health care professionals has been recognised by Cancer Research UK and her training courses for professionals in this area are now being run throughout the UK as part of the Department of Health's Cancer Plan.
Professor Fallowfield originally trained as a nurse at Guy's Hospital London and then did a BSc in Experimental Psychology at Sussex. Research for her doctorate in psychophysics was completed at the Universities of Sussex and Cambridge. She was a senior lecturer in health psychology at the Royal London Medical College where she gained a career development fellowship and a major programme grant from the Cancer Research Campaign.