Leslie Lynch King, Jr. (later known as Gerald R. Ford)
Shadow government players Porn
[Dec 2006] Spinning the Gerald Ford 'Legacy' into High Orbit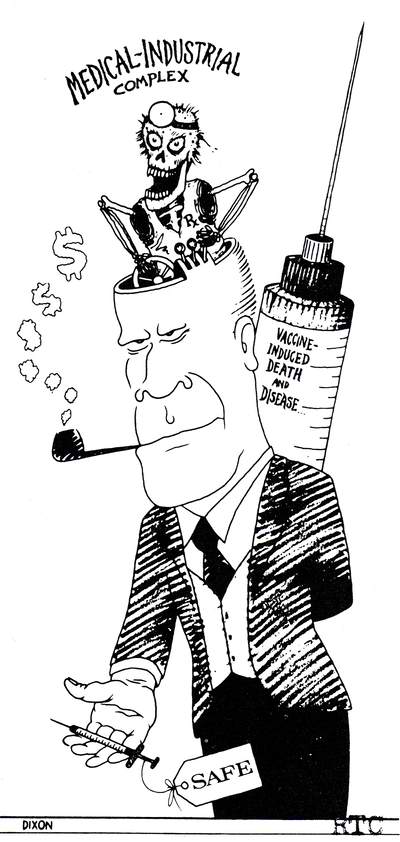 [2001] Why Did President Ford Ban Assassinations?
Books
Trance Formation of America by Mark Phillips and Cathy O'Brien
Thanks for the Memories: The Memoirs of Bob Hope's and Henry Kissinger's mind control slave by Brice Taylor Chapter Eighteen: Gerald Ford
Quotes by Ford
This virus was the cause of a pandemic in 1918 and 1919 that resulted in over half a million deaths in the United States, as well as 20 million deaths around the world. Swine Flu transcript---60 Minutes Nov 4, 1979
Quotes
If you take the view that the President of the United States is actually a pirate Captain then all of it's history fits into place, it's the destruction of the Health system, it's taking over other countries and stealing their assets and bombing the snot out of them and it is depopulating the planet, these guys are Pirate Captains, we should stop calling them Presidents and Prime Ministers. They are Pirate Captains of the British plantation which is controlled by Israel Greg Hallett Begins 11/12: Interview with Dr. James Fetzer, PhD - NATO drug runs from Afghanistan
O'Brien describes a few of them, "My mother's oldest brother. Uncle Bob, was a pilot in Air Force Intelligence and often boasted that he worked for the Vatican . Uncle Bob was also a commercial pornographer, producing kiddie porn for the local Michigan Mafia, which looped back to Mafia porn king and U.S. Representative Jerry Ford (or known by some as Leslie Lynch King Jr.)". [Yes, she means Gerald Ford the 38th President of the U.S. ] [1997] Sex, Drugs, the CIA, MIND CONTROL and Your Children By A.B.H. Alexander
[2001] Why Did President Ford Ban Assassinations? At a White House lunch for the publisher and editors of the New York Times on January 16 [1975] the president revealed that the intelligence files contained material that it was against the national interest to reveal because it would "blacken the reputation of every President since Truman." "Like what?" asked one of the editors. "Like assassinations!" replied Ford, adding hastily, "That's off the record! " It was, by any standards, an astonishingly ill-judged remark. Colby was told what Ford had said the next day. "I was stunned," he recalls. "I just couldn't figure out how it had happened. My conclusion is that it was just Ford being the straightforward guy he is. He's not a Machiavellian, ... and he was being pressed."
"I called Ford, "Henry," trying to joke with him so he wouldn't be so brutal but he usually was anyway, despite my attempts at humor. Ford began with me early, as he liked young girls. He was into fantasies and often liked for me to wear an eye mask. We had sex often, especially during the time Reagan was Governor of California. He liked violent sex-tying me up, handcuffs, spankings, slapping, and all that kind of S&M stuff. He enjoyed the whips and chains routine, and liked to tie me up with thick black leather straps. He slapped me frequently. Often after he satisfied himself sexually with me, blood would drip down my legs. It was so painful that I felt like I was not only splitting in my rectum or vagina, but the excruciating pain exploded up into my head and out my arms and fingertips. Gerald Ford required violent sex in order to orgasm. He joked about needing, "the chain gig in order to get off." His jokes were very crude. He was in politics a long time and often traveled in political circles. He was "one of the good old boys" and had major Mob connections. He wore his own gun in a shoulder holster and was afraid for me to remove it. "I don't trust you with the gun," he said and he laughed. He was a short President and pretty hairy. While he was violent sexually he still was not as brutal as Ted Kennedy.
Ford wore nice clothes, silk shorts and good quality suits, and he was very proud of them. For some reason, these mob guys were into expensive, quality clothes. I don't know why that was, but image was very important to them. There was lots of mob involvement when Nixon was President and Ford was Vice President, and it didn't stop when Nixon stepped down. Same mob involvement, just a few different players who were close friends of Jerry. Ford had more mob organizations behind him than Nixon did, so he had lots of people to give favors to when he was in the White House. He was very corrupt. He had to be in a wheelchair briefly for something. I don't know what happened but they managed to keep it hushed up. He had a bandage like he'd been shot or wounded or operated on. I don't know exactly what happened, but I felt a little safer when he was in the wheelchair. Unfortunately, he wasn't in it long enough to suit my needs.
Ford didn't treat me like I was real. He often hurt me and was convinced that I was just a machine built for his pleasure. It was true that I was a non-thinking slave that obeyed every command, but it did register within me when I was abused and treated cruelly.
.....After I had children, Ford teased me that he may have been the father of my child and he would ask me, "How's junior?" He was responsible for a lot of the mob violence that happened to me during the mid to late 70's. He always wanted to insure that I was 'contained,' so he even had his mob buddies come to my home to rough up my children and me." Thanks for the Memories
The local Michigan pornography ring was sanctioned by a criminal faction of our government. Government allowed the pornography to be distributed because they were interested in the effects of trauma on the human mind and wanted to locate children such as myself who had been sexually abused prior to the age of five. Child pornography was one means to locate us.
The local Michigan politician who protected this Mafia pornography ring was Gerald Ford -- the same Gerald Ford who became President and very much a reason why I ended up in a political realm of the MK Ultra mind control operation. When my father agreed to sell me, Gerald Ford came to our house and explained to my father how to raise me according to government specifications for mind control......It was there that I was subjected to the sexual perversions of certain politicians like Gerald Ford. I'm not saying Gerald Ford is a pedophile, a person who just rapes children. Instead, Gerald Ford is what I refer to as "tri-sexual"--he'll "try" anything with anybody, any age, any time, any where, it doesn't matter to him, as long as he can be in control. He had a perversion for power......It was while I was in Catholic Central that Gerald Ford became President. This devastated me. Not that I could even think about it by that time, because I couldn't. I could only sense that if Gerald Ford was President, then people everywhere actually condoned child abuse and mind control.
Sex, Lies, and Mind Control by Cathy O'Brien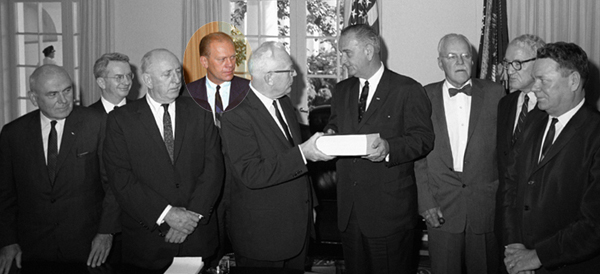 Members of the Warren Commission present their report on the assassination of JFK. L-R: John McCloy, J. Lee Rankin (General Counsel), Senator Richard Russell, Congressman Gerald Ford, Chief Justice Earl Warren, Pres. Lyndon B. Johnson, Allen Dulles, Senator John Sherman Cooper, and Congressman Hale Boggs. Warren Commission member Gerald Ford pressed the panel to change its description of the bullet wound in President Kennedy's back and place it higher to make "the magic bullet" theory plausible, thereby enabling the Warren Commission to conclude that Lee Harvey Oswald was the lone gunman. Ford was J. Edgar Hoover's informant on the commission and did the FBI director's bidding to squelch the investigation from naming other assassins. (Photo credit: LBJ Library photo by Cecil Stoughton)
Warren Commission member Congressman Gerald Ford pressed the panel to change its description of the bullet wound in President Kennedy's back and place it higher to make "the magic bullet" theory plausible, enabling the Warren Commission to conclude that Lee Harvey Oswald was the lone gunman. Ford was J. Edgar Hoover's informant on the commission and did the FBI director's bidding to squelch the investigation from naming other assassins. When a Dallas County deputy constable heard shots coming from the nearby grassy knoll, he rushed there to find veteran CIA asset Bernard Barker, posing as a Secret Service agent. No Secret Service agents had been assigned to cover the grassy knoll and all accompanied President Kennedy to the hospital. Secret Deep-Black War to Hijack your mind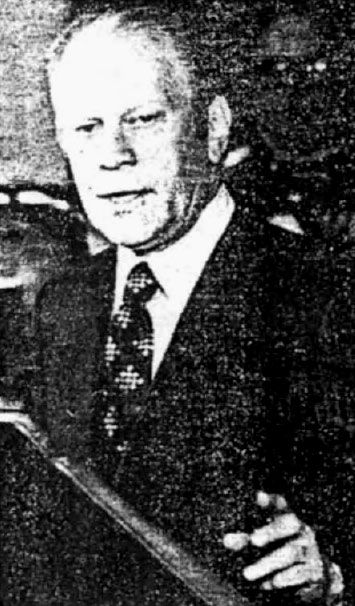 President Gerald Ford, a 33rd degree Mason, wears a necktie with the "cross of Baphomet" emblem of the occultic OTO and British satanist Aleister Crowley. The symbol is also worn by the Sovereign Grand Commander of Scottish Rite Freemasonry. http://www.bibliotecapleyades.net/sociopolitica/codex_magica/codex_magica23.htm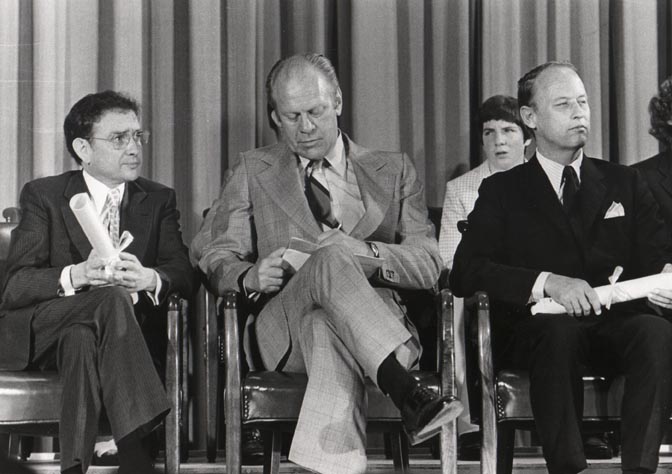 Theodore Cooper, M.D. (left) and President Ford (center) The Flawed 1976 National "Swine Flu" Influenza Immunization Program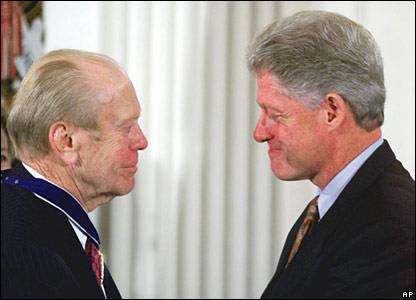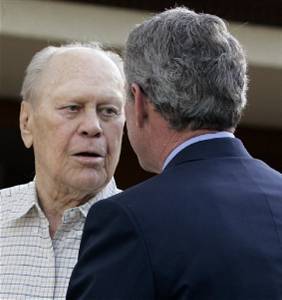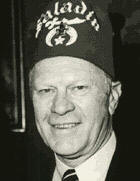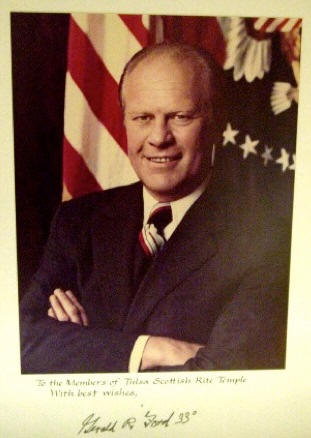 "To the Members of Tulsa Scottish Rite Temple With best wishes, Gerald R. Ford 33°"