Jewish Defense League
[back] Holocaust revisionism [back] Anti-semite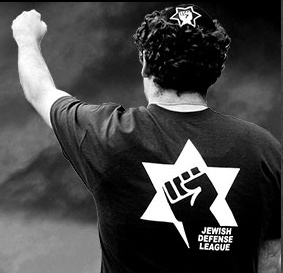 [See JDL attack on David Cole here.
Web: http://www.jdl.org
Israel control of USA government
See: Holocaust revisionism Anti-semite Tagar/Betar group Attacks on revisionists
See: AIPAC The United Jewish Appeal (UJA) Anti-Defamation League (ADL) B'nai B'rith Jewish Voice for Peace (JVP)
[2011 April] FBI Says Eazy-E, Tupac Victims of Jewish Defense League Extortion Attempts New documents released by the Federal Bureau of Investigations (FBI) confirm longtime allegations that the Jewish Defense League (JDL) attempted to extort rappers Eazy-E and Tupac Shakur.
[2011 Jan] JONATHAN AZAZIAH: WIKI-HYDRA: ISRAEL'S FAVORITE PSYOP JUST WON'T DIE "…The arrogance of the Wiki-Hydra is astounding in its enormity. It is now protected by the century-old gang of thugs, mass murderers and mob lawyers known as the ADL.."
[2008] A Zionist Smear: The ADL Attacks an Islamic Peace Conference By Mark Weber
[1993] The Zionist Terror Network Background and Operation of the Jewish Defense League and other Criminal Zionist Groups
J. G. Burg (Joseph Ginsberg) Persecuted and beaten by Holocaust enforcers of Jewish Defense League type thugs. Denied burial in the Munich Jewish cemetery.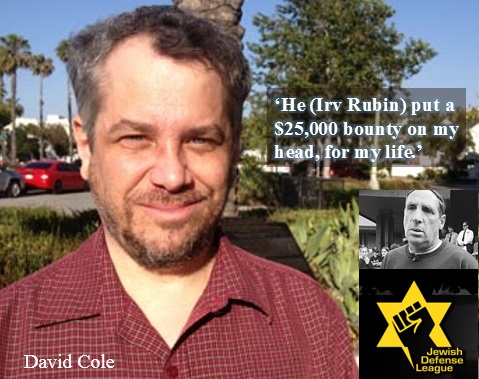 Cole, David
Quotes
On January 22, 1992, revisionist activist David Cole was attacked by JDL thugs at a meeting held at the University of California at Los Angeles. Before the meeting began, JDL leader Rubin first tried to push the youthful Cole down a flight of stairs. JDL hoodlums also harassed and pushed around meeting organizer Robert Morrissey. After the meeting commenced, JDL punks tried to shout down the speakers, and then threw food at Cole. Finally, a JDL thug assaulted Cole -- who is Jewish -- hitting him in the face and bloodying his nose.
The tumult was recorded on videotape by a camera crew of the CBS television news program "48 Hours," as well as by news crews of two local Los Angeles television stations. Neither of the two local stations mentioned a word of the incident in their nightly news broadcasts. Similarly, CBS officials decided not to air even a second of this outburst, not even in a segment about Holocaust revisionism that was part of the CBS television network's hour-long magazine-format program "48 Hours" broadcast of February 26, 1992. Network officials apparently decided that scenes of Zionist hoodlums beating a young Jewish revisionist would not "fit" with the image of revisionism that CBS wanted to project to its many viewers. [1993] The Zionist Terror Network Background and Operation of the Jewish Defense League and other Criminal Zionist Groups
On May 12, 1971, Kahane and a dozen other JDL members were arrested by federal agents for conspiracy to manufacture explosives. One day later, Kahane announced an alliance with a group founded by Mafia boss Joseph Colombo, Jr., a one-time killer who had risen to head the Colombo crime syndicate. "Kahane received substantial aid from the New York Mafia," writes Israeli journalist Yair Kotler in his biography of the JDL founder. Until Colombo's murder in 1971,
relations between Kahane and the New York City mob boss were very close
, and the two criminal chiefs worked closely together.
[1993] The Zionist Terror Network Background and Operation of the Jewish Defense League and other Criminal Zionist Groups
Over the years, Zionist militants have carried out hundreds of illegal actions against real or imagined "enemies," including many acts of vandalism and harassment, and countless threatening phone calls. What follows here, though, are details about some particularly spectacular criminal operations. While JDL responsibility for many of them has been conclusively established, in some cases precise responsibility could not be established.
On January 26, 1972, a JDL team firebombed the New York City offices of a US-Soviet cultural exchange agency. Killed in the fire was a 27-year-old secretary (who happened to be Jewish). Thirteen others were injured. One participant, Sheldon Siegel, confessed to police that he had made the bomb, and provided the names of the others involved in the crime. Several years later Kahane acknowledged JDL responsibility for the crime. However, the case against the JDL members who were charged in the incident was eventually dismissed on a technicality.
In May 1972, ten JDL thugs broke into the Austrian consulate in Washington, DC, and beat Austria's ambassador to the US, Karl Gruber, as well as the building's janitor.
In May 1974, JDL members attacked Arab-American community activist Dr. Mohammed Mehdi with a lead pipe, sending him to the hospital with a broken back. It took nearly a year for the police to make an arrest, even though a perpetrator had appeared on television to boast of the deed. A short time later, Mehdi's offices in Manhattan were almost totally destroyed in an apparent arson attack.
On February 21, 1975, a US federal court found Kahane guilty of violating terms of a probation stemming from his 1971 felony conviction for manufacturing firebombs. He had been forbidden from having anything to do with bombs, dynamite or other weapons, or encouraging violence. Citing incriminating letters written by Kahane in which he had urged followers to assassinate Russian and Arab diplomats, the judge sentenced the rabbi to one year imprisonment. Kahane served eight months of this term in a Manhattan halfway house, which he was allowed to leave every day to eat in kosher restaurants. Kahane used this period of "imprisonment" to conduct JDL business.
Jewish Defense League responsibility for a terrorist firebombing attack agains an alleged "Nazi war criminal" is reported here in the New York Post, September 7, 1985.
In 1975, 21-year-old JDL member David Kamaiko hijacked an executive helicopter in New York City, demanding $2 million ransom to buy guns for the JDL. Kamaiko shot the pilot before he was himself subdued.
In 1978, Canadian JDL leader Joseph Schachter bombed the home of right-wing activist Donald Andrews.
On April 11, 1982, JDL member Allan Goodman opened fire with a machine gun at a Muslim house of worship in Jerusalem, killing two Palestinian Arabs: an elderly man and a 20-year-old youth. After entering the mosque, he continued firing, critically wounding several people. Goodman, from Baltimore, Maryland, had received paramilitary training at the JDL's Camp Jedel in New York state. In an interview, Kahane said of the crime, "There was nothing wrong with what he did...the act was perfectly correct."
In 1987, three members of the Jewish Defense League were arrested for their involvement in at least six bombing attacks carried out the New York area between 1984 and 1987. The accused were Jay Cohen, Sharon Katz and Victor Vancier, head of the JDL in the New York area. After admitting his role in the terror bombings, Vancier was sentenced in October 1987 to ten years imprisonment. Another JDL member, Murray Young, was sentenced to five years in prison.
FBI officials believe that the JDL was behind the bomb blast in mid-August 1985 that killed Tscherim Soobzokov in Paterson, New Jersey, and a similar (although non-fatal) bombing attack in early September 1985 directed against Elmars Sprogis in Brentwood, New York. Soobzokov and Sprogis were falsely alleged to have been "Nazi war criminals."
In January 1991, Kurt Haber -- identified in newspaper reports as a "Jewish Holocaust survivor" -- was charged with making criminal threats against the Arab-American Anti-Discrimination Committee.
[1993] The Zionist Terror Network Background and Operation of the Jewish Defense League and other Criminal Zionist Groups
George Ashley, a high school history teacher and supporter of the IHR, has been the target of several terrorist attacks because of his revisionist views. In April 1982, two bricks were hurled through the front window of his suburban Los Angeles home. One month later, two gasoline fire bombs were thrown against the front of his house, and in December of 1982, JDL criminals ransacked Ashley's home, causing an estimated $26,000 in damage. Mordechai Levy later boasted: "We warned him [Ashley] that if he continued his activity, he would pay a consequence...We warned that if the school board does not stop Ashley, we would stop him." In July 1984, Ashley received repeated telephone calls from someone who threatened to bomb his home. A JDL member identified by police from tape-recordings of the threats was later arrested. In August 1984, JDL member Michael S. Canale was arrested on suspicion of making a bomb threat against George Ashley.
In May 1985, Ashley's home was the target of a another bomb attack, in which no one was hurt. The letters "JDL" were spray-painted on the walkway leading to Ashley's front door. This attack was cited in a January 1986 federal government report:
The following month [May 1985], the JDL claimed credit for bombing the house of George Ashley, Los Angeles-area high school teacher who had told students that the number of Jews killed by the Nazis during World War II was considerably less than the commonly accepted figure of six million, and that not more than a million Jews perished during the war.
Dr. Charles Weber, a contributor to the IHR's Journal of Historical Review, had his car vandalized in two separate incidents during the month of April 1985. A note from the JDL, which threatened to escalate the attacks into a bombing, was left behind in the second incident. (74)
Dr. Reinhard K. Buchner, a professor of physics at California State University, Long Beach, and a member of the IHR Editorial Advisory Committee (1980-1983), was the victim of repeated JDL harassment in 1981, 1982 and early 1983. He was spat upon, physically attacked, threatened by phone, and harassed at his office and home. (75)
German-Canadian publisher Ernst Zündel, a prominent revisionist activist, has been repeatedly attacked by the Jewish Defense League. In December 1983, JDL thugs beat him on the steps of Toronto's Old City Hall. The JDL carried out another attack against him on February 6, 1984.
I n September 1984, Zündel's home in Toronto was damaged in a pipe-bomb attack. A group calling itself "The People's Liberation Army of the Jewish Defense League" claimed responsibility in a phone call to a local television station. In January 1985, a JDL mob attacked Zündel, his attorney Doug Christie and Christie's female legal secretary at the entrance to a Toronto courthouse.
The office of a German-American group was set on fire in 1985, apparently because of the organization's skepticism about Holocaust claims. According to a report on terrorism issued in January 1986 by the federal Department of Energy, in June 1985 (76), an anonymous caller stated that the JDL had intentionally set fire to the offices of the German-American Political Action Committee in Santa Monica, California. The German-American group probably incurred the JDL's wrath by its advocacy of the view that "Jews were not gassed by the Nazis...[and that] numbers and reports of predetermined extermination are greatly exaggerated by professional liars."
[1993] The Zionist Terror Network Background and Operation of the Jewish Defense League and other Criminal Zionist Groups
The most notorious of these murders was the assassination of an American civil servant named Tom Soobzokov in Paterson N.J. in August of 1985. Because Soobzokov had recently won a huge award in his $50 million lawsuit against New York Times Books and a Zionist propagandist named Howard Blum, he had been marked for death by the terrorists. Blum had written an exercise in fantasy, "Wanted: The Search for Nazis in America", which devoted some 50 pages to Soobzokov's alleged career as a Nazi, despite the fact that Blum's sources had exonerated Soobzokov of all charges. The World Jewish Congress published a letter from its director that Soobzokov's name had never appeared on a list of war criminals; the Berlin Document Center, the world's most extensive collection of papers on Nazis, had nothing adverse in its files; and 67 other organizations which devoted their efforts to pursuing alleged war criminals admitted that Soobzokov had never been listed as a war criminal. The Office of Special Investigations, the Nesher group, had tried to have him deported but gave up the effort when all of the charges were disproved.
After winning an award of millions of dollars, Soobzokov was denounced at a neighboring synagogue by Mordechai Levy, founder of the terrorist Jewish Defense League. In the next few days, a number of attempts were made on Soobzokov's life, culminating in a bombing which tore off his legs and caused his death 22 days later. The FBI and the police did nothing on the case, marking it "Unsolved" and placing it in the dead file. Victims By Eustace Mullins
Since its founding in 1978, the Institute for Historical Review has been the leading American publisher of books and other materials questioning the Holocaust extermination story. For this reason, its office in southern California, as well as individual IHR employees, soon became targets of a systematic campaign that included a drive-by shooting, three firebombings, vandalization of IHR employee-owned automobiles, slashings of 22 tires of employee automobiles, JDL-organized demonstrations outside the IHR office, and numerous telephone threats during office hours and at night to IHR employees at home. So intense did the harassment become that the family of one IHR employee was forced to move.
During the course of a JDL demonstration in front of the IHR office on March 19, 1981, Mordechai Levy and other JDL protesters attacked the car of the landlord's agent, who had arrived to ensure security. While shouting threats, Levy smashed the right front passenger window of the man's car as he drove off.
A few weeks later, on April 5, 1981, JDL hoodlums staged another violent demonstration outside the IHR office, during which an IHR employee was thrown to the ground and beaten.
In the early morning hours of June 25, 1981, came the first firebombing attack against the IHR office. Fortunately, the arson device -- similar to a "Molotov cocktail" -- caused only minor damage. A man claiming to represent the "Jewish Defenders" announced responsibility for the attack in phone calls to news agencies.
The second arson attack against the IHR office came on April 25, 1982, in which a copy machine, a few pieces of furniture and some records were damaged. In a telephone message to a local news agency, a group calling itself "the Jewish Defenders" claimed responsibility.
In an attack on September 5, 1982, the IHR office was riddled with gunfire, demolishing two windows and damaging the front door. Additionally, a small arson device caused some slight damage to the front of the office. Later that day, as throughout the week, came a barrage of murder-threatening telephone calls. Although the caller's voice was identified as that of Mordechai Levy, typically, no one was arrested in the case. [1993] The Zionist Terror Network Background and Operation of the Jewish Defense League and other Criminal Zionist Groups
This terror campaign culminated in a devastating arson attack on the Institute's offices and warehouse in Torrance on July 4, 1984 -- the 209th anniversary of American independence. Damage in the attack, carried out in the early morning hours of the 4th, was estimated at $400,000.
In a special edition of the IHR Newsletter (August 1984), IHR Director J. Marcellus summed up:
As a physical entity, the Institute for Historical Review has virtually ceased to exist. Ninety percent of our book and tape inventory -- the largest collection of revisionist historical literature to be found anywhere -- has been wiped out. Every last piece of office equipment and machinery -- including desks, chairs, files and shelves -- lay in charred heaps of useless, twisted scrap. Manuscripts, documents, artwork, galleys and film negatives -- products of more than six long years of a tough, dedicated effort to bring suppressed historical data to people the world over -- no longer exist. Tens of thousands of books...estimated at over $300,000 in value, are gone...More than 2,500 square feet of space that was once the world's most controversial publisher lies blackened in chaos and total ruin.
Two days later, JDL leader Irv Rubin showed up at the site of the gutted IHR offices to publicly praise the arson attack. The JDL, he declared, "wholeheartedly applauds the recent devastation of the offices of the Institute for Historical Review." Denying any personal responsibility himself, Rubin said that the criminal attack had been carried out by a former JDL activist named Larry Winston (Joel Cohen). "I believe, with all my heart, that he [Winston/Cohen] had something to do with this" arson, Rubin declared.
Although no one was ever arrested in connection with the 1984 firebombing, the sophisticated nature of the attack suggests that it could have been the work of trained operatives of a foreign governmental agency.
Apart from local news coverage, American newspapers and television reported almost nothing about this act of criminal "book burning." This skewed media treatment moved noted journalist Alexander Cockburn to observe (in the pages of the liberal weekly The Nation): "The outfit in the United States that does publish material belittling generally accepted accounts of the Nazi extermination of the Jews is called the Institute for Historical Review. I don't recall much fuss when its offices in Torrance, California, were firebombed in July 1984. Perhaps this is what Mailer meant by "sophistication" in handling such heterodox opinion."
At the same time, though, a few prominent voices courageously spoke out against the attack. American historian John Toland -- who received the Pulitzer prize for general non-fiction in 1971 for his book The Rising Sun -- wrote to the IHR: "When I learned of the torching of the office-warehouse of the Institute for Historical Review, I was shocked. And when I heard no condemnation of this act of terrorism on television and read no protests in the editorial pages of our leading newspapers or from the halls of Academe, I was dismayed and incensed...I call on all true believers in democracy to join me in public denunciation of the recent burning of books in Torrance, California."
British historian David Irving, author of numerous acclaimed, best-selling works of history, declared: "I was deeply shocked to hear of the fire-bomb attack on your premises." [1993] The Zionist Terror Network Background and Operation of the Jewish Defense League and other Criminal Zionist Groups
In mid-February 1989, Jewish Defense League intimidation brought on the cancellation of a three-day Institute for Historical Review conference at two hotel sites in southern California.
Arrangements had been made months in advance to hold the Ninth IHR Conference at the Red Lion Inn hotel in Costa Mesa. Several days before it was to begin, the hotel received the first of a barrage of telephone threats warning that if it permitted the IHR gathering to take place as scheduled, there would be large, disruptive demonstrations in front of the hotel. It didn't take many such threats to persuade general manager Russell Cox to cave in to the Zionist group, and to cancel the hotel's contract with the IHR. Cox then added insult to injury by permitting JDL chief Rubin to hold a "news conference" in the hotel lobby. [1993] The Zionist Terror Network Background and Operation of the Jewish Defense League and other Criminal Zionist Groups
Arrangements were then hastily made to relocate the IHR gathering to a nearby Holiday Inn hotel. However, just hours before it was to commence -- and as attendees were arriving -- the Holiday Inn likewise cancelled out, bowing to JDL threats similar to those made against the Red Lion Inn.
At this point, and with help from former US Congressman John Schmitz, IHR Director J. Marcellus made emergency arrangements with Joe Bischof, proprietor of the "Old World Village" shopping center in Huntington Beach, to hold the IHR Conference there. Bischof refused to bow to JDL intimidation, including a demonstration at the site by a handful of sorry-looking placard-waving JDLers led by Rubin, who shouted insults at passersby. In spite of the disruption, and some inconvenience for attendees, the Ninth IHR Conference proved one of the most successful and high-spirited ever. [1993] The Zionist Terror Network Background and Operation of the Jewish Defense League and other Criminal Zionist Groups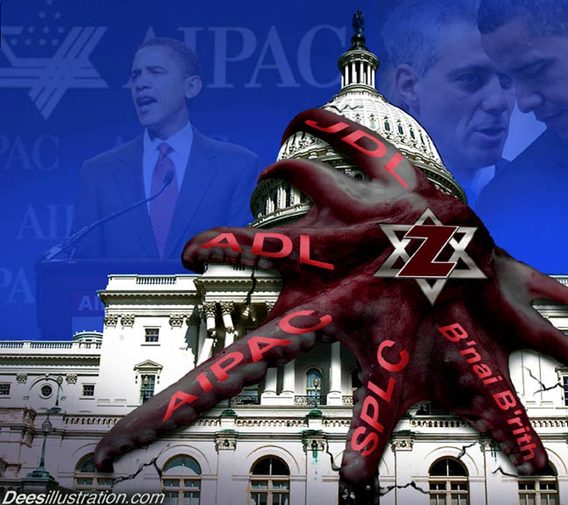 Mordechai Levy, leader of the militant Jewish Defense Organization, is taken into custody by police following an August 1989 shooting incident in which he wounded a bystander.
Irv Rubin with JDL followers at a 1981 gathering. Holding a baseball bat is Mordechai Levy. Rubin and Levy later became deadly rivals.
The Jewish Defense League was named in 1985 as a major terrorist group by the US Federal Bureau of Investigation, as a major California newspaper reports here.
Jewish Defense League responsibility for a terrorist firebombing attack against an alleged "Nazi war criminal" is reported here in the New York Post, September 7, 1985.