Prof. Peter Erlinder Speaks on Rwanda Genocide
9 February 2011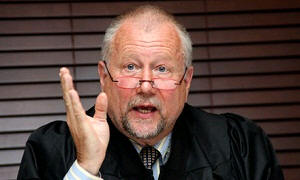 Professor Peter Erlinder is an international criminal defence attorney, human rights lawyer. and former prisoner in Rwanda, who is still wanted by the Rwandan government of President Paul Kagame, for disputing its official history of the Rwanda Genocide. In January, he began a speaking tour of the US, which coincided with DePaul University's Journal of Social Justice's publication of a selection of original UN documents and evidence supporting his analysis of what actually happened at the time of the epic massacres now widely known as the Rwanda Genocide. His presentation drew on his experience as a UN-ICTR defense lawyer and as a Rwandan prisoner.
When Professor Erlinder was in New York City to speak at several universities, and the Brecht Forum, I interviewed him about how the US manipulates the international criminal tribunals, including the International Criminal Court (ICC) and the International Criminal Tribunal on Rwanda (ICTR), and how this affects the people of East/Central Africa, in particular. Erlinder explained that the ICTR has become a victor's tribunal serving U.S. geo-political interests and that it therefore impedes reconciliation between African peoples of the region, and how this may affect the long-term interests of the American people. We also talked about the UN documents which formed the basis of his new publication, and about his life altering experience as a prisoner in Rwanda.
Peter Erlinder was President of the National Lawyers Guild from 1993 to 1997, and he has served as President of the Association Des Avocats de la Defense (ADAD), the UN-ICTR defense lawyers associations in Arusha, TZ. He is a founding member of the National Coalition to Protect Civil Freedoms and the Minnesota Bill of Rights Defense Coalition, established to defend the civil liberties of Muslims. He pioneered defense of Vietnam Veterans with PTSD facing the death penalty, and has represented many Native American, civil rights, and political activists facing misuse of government power, including Palestinian activist Dr. Sami al Arian and the Cuban-5.
In May 2010, he was imprisoned in Rwanda while defending Rwandan presidential candidate, Victoire Ingabire, and charged with "genocide denial" for having won the acquittal of his ICTR client on "genocide conspiracy" charges. Many groups, including the National Lawyers Guild, the American Bar Association, and members of the U.S. Senate and House, and an international grassroots campaign called for his release, which was granted on June 17, 2010.
Erlinder then returned to his position as a tenured professor at William Mitchell College of Law, in St Paul, Minnesota. He has also held faculty positions or lectured at the law schools of the University of Chicago, IIT Chicago-Kent College of Law, Golden Gate University, Waseda University, Hitosubashi University, the University of Wisconsin, the University of Illinois, Columbia University, and American University.
He has organized and stored his evidence relating to conflict in Rwanda and the Democratic Republic of Congo in The Rwanda Documents Project an online archive for UN documents relating to conflict in Rwanda and the Democratic Republic of Congo.
http://afrobeatradio.net/2011/02/09/prof-peter-erlinder-speaks-on-rwanda-genocide/