Behemoth and Leviathan
Symbols
Later Jewish sources describe Leviathan as a dragon who lives over the Sources of the Deep and who, along with the male land-dragon Behemoth, will be served up to the righteous at the end of time.
In Satanism, according to the author of The Satanic Bible, Anton Szandor LaVey, Leviathan represents the element of Water and the direction of West. The element of Water in Satanism is associated with life and creation, and may be represented by a Chalice during ritual. In The Satanic Bible, Leviathan is listed as one of the Four Crown Princes of Hell. This association was inspired by the demonic hierarchy from The Book of the Sacred Magic of Abra-Melin the Mage. The Church of Satan uses the Hebrew letters at each of the points of the Sigil of Baphomet to represent Leviathan. Starting from the lowest point of the pentagram, and reading counter-clockwise, the word reads "לִוְיָתָן". Translated, this is (LVIThN) Leviathan.[8] http://en.wikipedia.org/wiki/Leviathan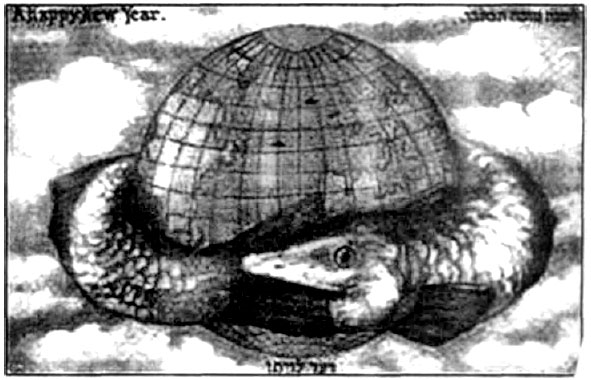 This is a Jewish New Year postcard, by artist Alain Roth in 1915. Amazingly revealing, the postcard image confirms the documentation found in the long controversial Protocols of the Learned Elders of Zion. In the protocols the Jewish Zionist conspiracy is described as a symbolic serpent encircling the world! As if to emphasize that this is the correct understanding, the writing in Hebrew at the bottom of this Jewish New Year postcard is the word "Leviathan." The identity of Leviathan is revealed in Isaiah 27 as the serpent, or Satan. Have a Happy New Year, indeed! (In Demonology, Leviathan is one of the seven princes of Hell and its gatekeeper) http://www.bibliotecapleyades.net/sociopolitica/codex_magica/codex_magica13.htm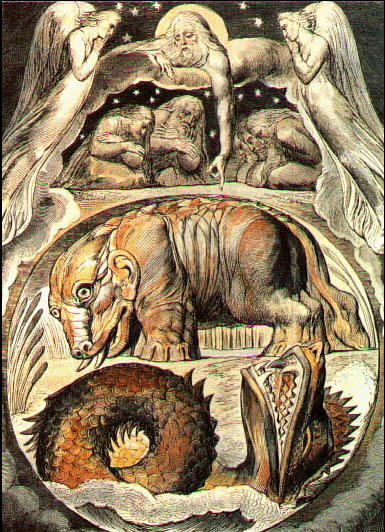 Behemoth and Leviathan, watercolour by William Blake from his Illustrations of the Book of Job.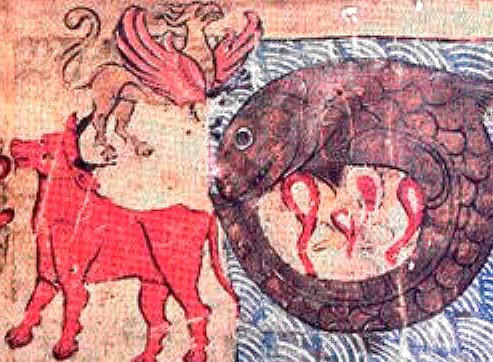 Above is the painting Ungeheuer Leviathan, Behemoth und Ziz Bibelillustration by Ulm, 1238. Leviathan the sea-monster, with Behemoth the land-monster and Ziz the air-monster. "And on that day were two monsters parted, a female monster named Leviathan, to dwell in the abysses of the ocean over the fountains of the waters. But the male is named Behemoth, who occupied with his breast a waste wilderness named Duidain." (1 Enoch 60:7-8)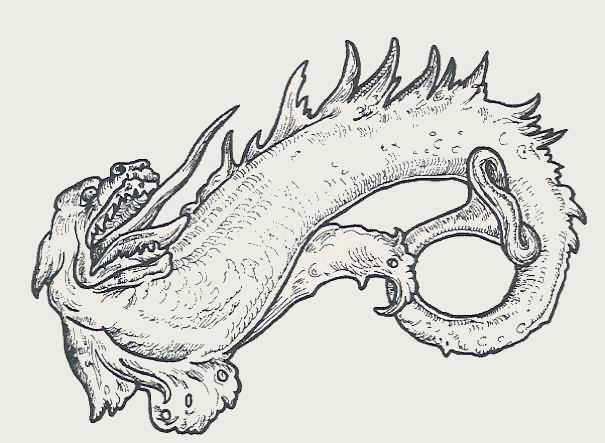 drawing of Leviathan, often found in Grimoires.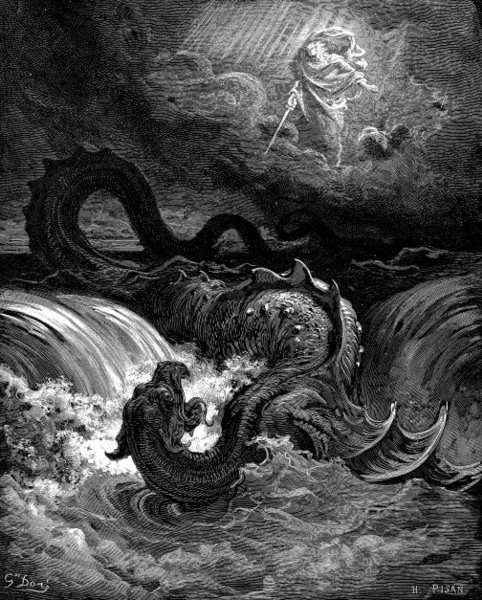 Above is the painting "Destruction of Leviathan" from 1865, engraving by Gustave Doré.