Lord Randolph Spencer Churchill
Royals
[Churchill's true father was King Edward VII]
[2011] "Jack the Ripper" was Winston Churchill's Father by John Hamer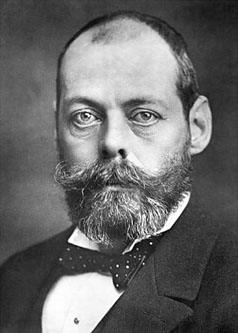 Sanpaku eye
Quotes
Churchill's REAL father was King Edward VII by Randolph Churchill's wife the Jewess Socialite BECAUSE Churchill was diseased with Syphilis and infertile. She was well known to be Edward VII's Mistress and Winston physically was Edward & his mother's spitting image down to face and body bone structure. Winston Churchill's REAL Father was NOT Randolph Churchill. Further, the Royals' doctor, Dr. Wynn Westcott, was Complicit in the Jack the Ripper murders as he too, was 33rd Degree Freemason, who with fellow 33rd Degree Mason, MacGregor Mathers, got Charter from Illuminati splinter in Germany to co-found the very occult Hermetic Order of the Golden Dawn in 1888. At that same time in Germany two wealthy Industrialists also both 33rd Degree Freemasons, Karl Kellner and Theodor Reuss, got a Charter from an Illuminati splinter to co-found the Ordo Tempii Orientis/OTO. Coincidence ??? NOT. HOW do You think Winston Churchill rose to be Prime Minister of the Oligarchy Royals? Winston Churchill was an Illegitimate "Royal Bastard" like Adolf SALOMON ROTHSCHILD Hitler, William Jefferson WINTHROP ROCKEFELLER Clinton, and Barbara ALEISTER CROWLEY Pierce Bush. [2011] "Jack the Ripper" was Winston Churchill's Father by John Hamer
Most of the British Royal family are illegitimate, including Queen Victoria, Prince consort Albert, King Edward VII and his son Winston Churchill. Winston Churchill was first cousin with Adolf Hitlerís father and uncle to Anthony Blunt, King Edward VIII and King George VI. Adolf Hitlerís grandfather ran the Rothschild Bank, the Bank of England, and was the first Jewish MP in British Parliament.
Prince Albert was also the son of a stable boy. Close to bankruptcy, the British Royal family were saved by another stable boy, John Brown, who went on to marry Queen Victoria after Albert Ďdiedí.
The British Royal family are a subset of the Rothschild family and the Rothschilds control all the wars and finances of the British monarchy. The British Royal family declare war as soon as the Rothschilds have completed their preparations. This makes for huge profits.
Many royals died of syphilis and many others died from the treatment of syphilis. When a British royal didnít like his wife, he simply ordered her murder Ė on their coronation night. This was repeated again 166 years later with the murder of Princess Diana as covered up by Lord Stevens. HOW TO TAKE OVER THE WORLD A Right Royal Con by Greg Hallett.