Erik Prince
Blackwater Arms dealers & PMCs
THE SERPENTS IN ERIK PRINCE OF BLACKWATER 'XE' by WIOLAWA
Owns
Blackwater/XE
Total Intelligence Solutions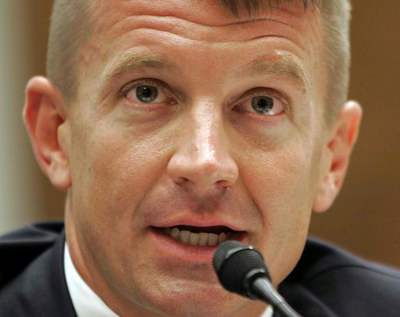 Blackwater founder Erik Prince
[2010 Sept] Blackwater's Black Ops by Jeremy Scahill entities closely linked to the private security firm Blackwater have provided intelligence, training and security services to US and foreign governments as well as several multinational corporations, including Monsanto, Chevron, the Walt Disney Company, Royal Caribbean Cruise Lines and banking giants Deutsche Bank and Barclays..... Blackwater's work for corporations and government agencies was contracted using two companies owned by Blackwater's owner and founder, Erik Prince: Total Intelligence Solutions and the Terrorism Research Center (TRC)......One of the most incendiary details in the documents is that Blackwater, through Total Intelligence, sought to become the "intel arm" of Monsanto, offering to provide operatives to infiltrate activist groups organizing against the multinational biotech firm.
[2010] Machines of War: Blackwater, Monsanto, and Bill Gates A report by Jeremy Scahill in The Nation (Blackwater's Black Ops, 9/15/2010) revealed that the largest mercenary army in the world, Blackwater (now called Xe Services) clandestine intelligence services was sold to the multinational Monsanto....Blackwater, Monsanto and Gates are three sides of the same figure: the war machine on the planet and most people who inhabit it, are peasants, indigenous communities, people who want to share information and knowledge or any other who does not want to be in the aegis of profit and the destructiveness of capitalism.
[2009 Aug] Blackwater used 'child prostitutes in Iraq' According to a report by MSNBC and based on alleged sworn declarations by two Blackwater employees in federal court, the firm used child prostitutes at its compound in Baghdad's fortified Green Zone. ....Based on other statements, the firm was involved in another sex scandal; "Prince's North Carolina operations had an ongoing wife-swapping and sex ring, which was participated in by many of Mr. Prince's top executives." The two employees also alleged that Prince "views himself as a Christian crusader tasked with eliminating Muslims and the Islamic faith from the globe," The Nation reported.