Countries Africa Lesotho MMR Skin disorders
LESOTHO MEASLES VACCINATION RESULTS IN HORRIFIC RASHES AND ILLNESS ON CHILDREN
26/03/2017
http://www.teambuntuafrica.co.za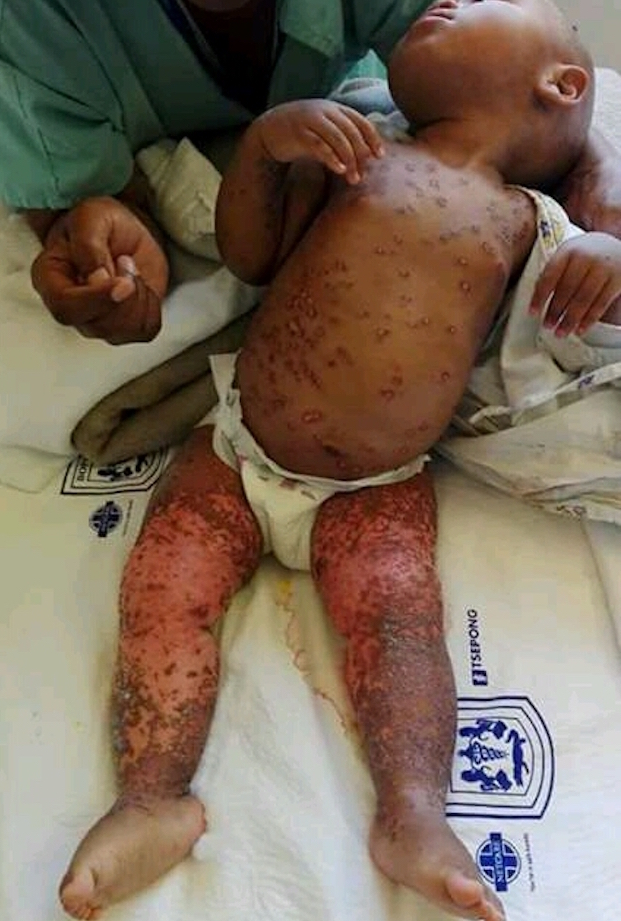 One of Lesotho babies in hospital after MR vaccination
HUNDREDS of children between the ages of 1 to 14 have been admitted in hospitals across Lesotho after a nationwide vaccination for measles and rubella (MR) resulted in horrific skin rashes, fever and muscle pain.
The vaccinations were carried out in February under the authority of the Lesotho ministry of health headed by Dr Molotsi Monyamane, in association with World Health Organization and UNICEF.
At a press conference on Thursday last week Dr Monyamane didn't fully acknowledge that the MR jabs which were administered in homes, schools and clinics were the main cause of ill effects on hundreds of children and the death of at least one child.
Instead the minister downplayed the effects of the vaccination by saying the children who have come out with rashes and other illnesses might be undernourished, hence their reaction to the vaccine.
'We don't have proof that the pictures posted on social media are truly for children who got such side effects from the vaccination," Dr Monyamane said.
He added: "Do not bring us pictures, bring those children here we have a specialist here. Parents should bring documented evidence from health professionals that prove that the children`s illness is a result of the vaccine. Take your children to the health facilities; I do not know what is ailing the children. Let's all investigate what is causing this outbreak. We can't attribute every illness in the country to the vaccine."
Dr Monyamane's dismissive attitude has offended scores of parents some of who are considering legal action against him and the ministry of health.
One mother who didn't want to be identified told Team Buntu Africa that her once perfectly healthy five-year old son has been sick since being vaccinated with MR.
"My son has been sick almost three weeks now," she said. "Normally, he is a very playful and cheerful child. Since the afternoon of the vaccination, he is always tired. He seldom plays and he is always coughing. He has a running nose and has a terrible rash on his thighs. He also has a very high fever and spots on his head, stomach and legs.
"I rushed him to a local hospital immediately when all these signs and symptoms began. The doctors gave him paracetamol and allergex but both do not help. I feel helpless and don't know what else to do," the mother added.
According to the Centre of Disease Control in USA MR vaccine is perfectly safe and very effective at preventing measles, mumps and rubella.
However, the information posted on their website also acknowledges that like any other vaccines, MR vaccine has side effects too, such a sore arm after the shot, fever, mild rash, and temporary stiffness in the joints.
"Extremely rarely, a person may have serious allergic reaction to MMR vaccine, " the website article notes.
Medical experts say there are people who, medically, should not be given this MR vaccine. Like those who are sick at the time the shot is scheduled, people who are HIV/AIDS positive or who have other diseases that affect the immune system, people who are currently taking drugs that affect the immune system, those that have any kind of cancer, has ever had a blood disorder, has received another vaccine within the past 4 weeks, and have recently received blood transfusion.
Lesotho is not the only country to receive this vaccine. Namibia, Kenya, Tanzania, India and Botswana are among the many countries that have received MR vaccine. Namibia received the MR vaccine in 2016, Kenya in 2016, Tanzania in 2014, India in February 2017 and Botswana in 2016.
In Namibia 21 babies reportedly died from MR vaccination. Consequently, six parents sued Namibia's ministry of health.
In Lesotho too, scores of parents are calling out on radio stations seeking ways in which they can take legal action.