Satanic Crime
A Threat in the New Millennium
a book by William H. Kennedy
---
[whale (offline)] http://www.lulu.com
Table of Contents
A Brief History of Modern Satanism
Manson Family Values ... .................
Twenty-two Disciples of Hell
Night Stalker ... .................
Say You Love Satan... .....
The Boy Who Cried Wolf
Necrophilia in Suburbia
Lucifer at Columbine
Angel of Death
The Blessed Virgin and the Beasts of Satan ...
Murder in the Cathedral...
Belgium Waffles
Raising Hell...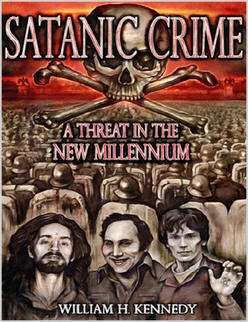 For several decades mainstream media outlets have been hesitant to report crimes which involve Satanism. When such incidents do receive coverage the diabolical aspects of the story are hardly touched upon and tend to never be followed up with further investigation. "Satanic Crime" is the first book to pull many of these under-reported stories together and offers an overview of Devil Worshipers who commit murders. This is also the first study to examine the links between elite Luciferian secret societies and Satanic serial killers. Bonus Features: Access to the Satanic Crime Multimedia Section with hours of free film documentaries and audios related to the Satanic case studies.