Hoxsey

Cancer therapies
Cancer Racket
Herbs
[Mentally and financially ruined by legal proceedings and AMA harassment. Arrested 157 times in 16 months. Died in suspicious circumstances, possibly murdered (see). Harry Hoxsey's formula included Red clover, Burdock root, Barberry bark, Licorice root, Buckthorn bark, Prickly ash, poke berries and root, Stillingia root, Cascara amarga, Potassium iodide, zinc chloride, and antimony trisulfide.]
[2001] When Healing Becomes a Crime by Kenny Ausubel
A Report by Special Counsel for a United States Senate Investigating Committee ... Making a Fact Finding Study of a Conspiracy against the Health of the American people.
THE CANCER BLACKOUT An Illuminating, Factual Survey by M. H. Clutter, D.R.L
Herbalist Richard Shulze used Hoxsey herbs in his cancer clinic
Patient's dramatic story fuels UK media interest In the Hoxsey Therapy
Hoxsey clinic: Bio-Medical center, PO Box 727 (615 General Ferreira, Colonia juarez), Tijuana, B.C. Mexico. Tel: 52 814 9011.
See: Herbs for cancer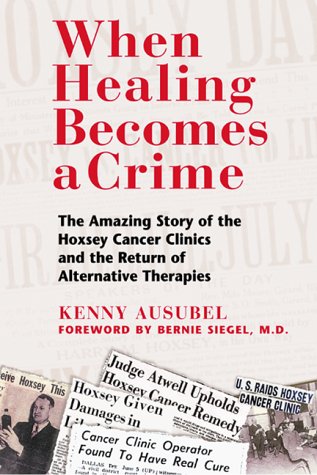 Books [See: Cancer books]
[2000] When Healing Becomes a Crime: The Amazing Story of the Hoxsey Cancer Clinics and the Return of Alternative Therapies by Kenny Ausubel
The Healing of Cancer by Barry Lynes
You Don't Have To Die by Harry M. Hoxsey, N.D.
Videos [See: Cancer videos]
[DVD 1987] Hoxsey; The Quack Who Cured Cancer?
Hoxsey - When Healing Becomes A Crime DVD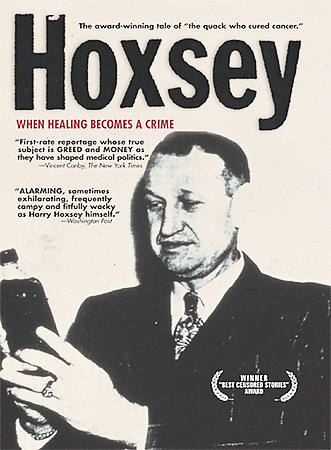 Hoxsey: The Quack Who Cured Cancer?