Sense about Science
[back] quackery [back] Allopathic industry
'Sense About Science is an independent charitable trust.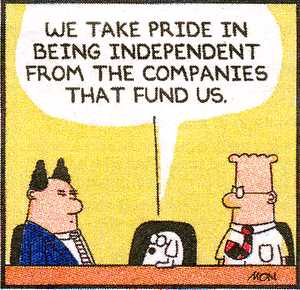 '
[A pharma (Allopathic) shill. They never stop dreaming up new ways and outfits to suppress the competition. A classic pseudo-Independent and pseudo-Charity. Likewise Safe (as in vaccines) to them means Benefits Outweigh the Risks]
Website http://www.senseaboutscience.org.uk/
See: Unhealthy Charities Independent
Award winner
Grimes, David Robert
[2015 Dec] Coca-Cola's spin doctor quits after emails leaked
Pharmaceutical Industry Funding of Anti-homeopathy Skeptic Groups Uncovered we have found that our original claim about Sense About Science's funding was too conservative. In fact Sense About Science appears to have received an average of 42.3% of its total income between 2004 and 2010 from pharmaceutical companies or organisations clearly linked to the pharmaceutical industry. In 2006, the year [the anti-homeopathy] 'Sense About Homeopathy' was published, there was a huge leap in such funding, from £37,300 (36.9% of total income) to £102,165 (51.2% of total income). Full details are included in Appendix 1.....
The Canadian skeptic organization called Centre for Inquiry, which is another anti-homeopathy skeptic group, is almost entirely funded by a director of a pharmaceutical company. They have initiated a law suit against a homeopathic manufacturer and retail pharmacy selling homeopathic remedies. Both groups are attempting to stop consumers' choice of alternative health modalities and stop the sale of homeopathic remedies.
[2010 Feb] Patients' Voice Excluded From Homeopathy Investigation
This says it all: "In May 2006, Professor Michael Baum and a number of other scientists wrote to the chief executives of the NHS and Primary Care Trusts to raise their concerns about the campaigns to increase NHS spending on 'alternative' medicine per se."
Alternative medicine is non-Allopathic medicine.
"Dr Fitzpatrick is a Trustee of Sense About Science which is funded by a number of the major pharmaceutical and biotech companies. Sense About Science has shared its telephone number with Global Futures, of which he has been a Trustee, and in which Sense About Science workers Tracey BNrown and Ellen Raphael have also played a part. Spiked on line is supported by Hill and Knowlton, which handles the accounts of a number of pharmaceutical companies, including the three main vaccine producers. He has spoken at events organised by both Spiked and the Pfizer funded Institute of Ideas." --Brave New World of Zero Risk http://www.theoneclickgroup.co.uk/
[Jan 2007] Article by Zac Goldsmith
Trustees: Michael Fitzpatrick....Taverne, Lord Dick
Advisory Council: Professor Colin Blakemore ....
Dr Andrew Cockburn
This is what they mean by Independent (See: Independent/'Non-Profit')
Donors & Funding Policy
Sense About Science is an independent charitable trust funded by donations from trusts and foundations (over 50%), science bodies, industry and individuals. Since 2002, financial contributions, for both core and project-related costs, have been received from:
the ABPI, AstraZeneca plc, BBSRC, The Biochemical Society, Blackwell Publishing, BP plc, British Institute of Radiology, Dixons Group plc, Elsevier, Engineering and Physical Sciences Research Council, The Esmee Fairbairn Foundation, Garfield Weston, GE Healthcare, GlaxoSmithKline, Halifax Bank of Scotland, Health and Science Communication Trust, Institute of Physics, Institute of Physics and Engineering in Medicine, John Innes Centre, John Innes Trust, Medical Research Council, NESTA, New Scientist, Oxford GlycoSciences plc, Pfizer plc, The Physiological Society, Royal Academy of Engineering, Royal Astronomical Society, Royal College of Radiology, Royal Pharmaceutical Society of Great Britain, Royal Society of Chemistry, Science Careers.org, Social Issues Research Centre, The Society for Applied Microbiology, The Society for Endocrinology, The Society for General Microbiology, Unilever plc. Help with equipment, facilities and services has been received from: AXA Investment Management, Horticultural Research International, Institute of Biology, The Natural History Museum, Lord Stevenson of Coddenham, and WPP.
Funds have also been donated by individuals and small charitable trusts.