"There could be as many as 1,668,960 victims of child molestation by Catholic priests in the United States." Edward Hendrie p.159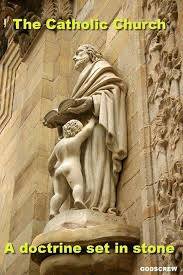 [Estimates vary from 25-50% of Catholic Priests being homosexual1.]
See: Pedophilia Religion The Canadian Holocaust Judaism child abuse Survivors Network of Those Abused by Priests (SNAP)
Jesuits
Pedophilia and Satanism in the Vatican
[2014 June] Archbishop: 'I didn't know sex with kids was a crime'
http://www.priestsofdarkness.com/martin.html
Make no mistake about it, the behavior of the Roman Catholic Church in transferring confirmed criminal sexual pedophile priests to new unsuspecting churches, knowing full well that they would continue their criminal abominations against other children, is criminal. The pervasive and continual pattern of such aiding and abetting of criminal pedophiles compounded by extraordinary efforts to conceal records and other evidence of their criminality can only be properly described as organized crime. Edward Hendrie
[2011 Aug] Ken Bear Chief Reaches Out to Boarding-School Survivors Five hundred of the firm's Native plaintiffs recently participated in a historic $166-million-dollar payment from the Jesuit order. "When Brother Charley (the late René Gallant) began repeatedly raping one girl at St. Ignatius, nuns targeted her for beatings and eventually ran her arm through a washing-machine mangle, crippling her, according to the affidavit of another of our clients."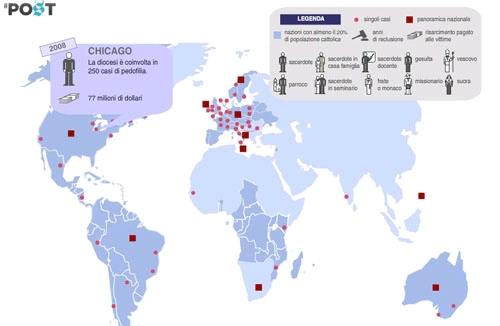 [2011 July] South Dakota Boarding School Survivors Detail Sexual Abuse They charge that priests, brothers, nuns and lay employees at these institutions raped, sodomized and molested them, often for years.
[vid] Ex-Communicated Priest Exposes The New World Order in 1986 Listen to this riveting 1986 sermon given by now deceased Priest John O'Conner exposing Benjamin Creme, Maitreya, Freemasonry, the Anti-Christ communist movement, new age occult practices, church infiltration of the homosexual movement, the Federal Reserve and more.
O'Connor was ordered to be examined by a psychologist following a talk in which he named his Superior Cardinal Joseph Louis Bernardin, his Dominican brothers Benedict Ashley, William Bernacki, Peter Witchousky and his Dominican Superior Donald Goergen as members of the Gay Rights Movement. His Superior barred young men from joining the Dominicans if they refused to accept sodomy and homosexuality as a viable life style alternative. He had been informed of this by several young males who had sought ordination.
O'Connor sought the advice of a Canon Lawyer, Fr Alfred Kunz. Fr. Kunz was brutally murdered in a ritualistic fashion after assisting in the investigation of a satanic pedophile cult connected to the priesthood. In the summer of 1991, Rome informed O'Connor that he was dismissed from the Dominicans. O'Connor packed his bags and left the River Forest Priory forever. He lived with his widowed sister until his death of natural causes on Dec 7th 2006.
[2009 may] The Never-Ending State and Church Crime Story Like a little boy caught with a rock in his hand, Pope Joseph is in serious trouble, now that Canada has had to admit that thousands of native kids died at the hands of the Catholic church, which established and ran most of the Indian residential schools. But to make things worse, Joe himself is personally implicated in the whole mess, since in writing he ordered Bishops and priests to suppress evidence of the violence done against not only native children, but any victim of priestly sexual assault, on pain of excommunication. Covering up a crime is itself a crime, under any law, and Joe knows it. And so does the Oregon circuit court judge who ruled recently that survivors of any assault by a Catholic priest could sue the Vatican itself for damages.
[2007] Catholic church in LA to pay £325m compensation to child abuse victims Each of the 508 claimants will receive about $1.3 million if a judge in Los Angeles this morning approves a deal that will also halt legal proceedings against 15 accused priests and spare senior church officials from taking the stand. ....The case is among the most prominent of several around the US that have cost the Catholic church more than $2 billion (£983 million) in compensation payments. The previous biggest pay-out to victims was $157 million by the Boston archdiocese in 2003. A year later, a report commissioned by the church revealed more than 4,000 of its priests had faced sexual abuse allegations in the last 50 years and that there were more than 10,000 victims, mostly boys. ....Steve Sanchez, who was abused by a Los Angeles priest when he was a boy, said: "Hundreds of hurting men and women desperately need intense therapy, addiction counselling, drug rehab, in-patient treatment and medical help."
[2006] Pope 'led cover-up of child abuse by priests' The Pope played a leading role in a systematic cover-up of child sex abuse by Roman Catholic priests,.....In 2001, while he was a cardinal, he issued a secret Vatican edict to Catholic bishops all over the world, instructing them to put the Church's interests ahead of child safety. The programme also accuses the Catholic Church of knowingly harbouring paedophile clergymen. It reveals that priests accused of child abuse are generally not struck off or arrested but simply moved to another parish, often to reoffend. It gives examples of hush funds being used to silence the victims.