Lockerbie (December 21, 1988 Pan Am Flight 103)
[back] Plane crashes
"The covert operators that I ran with would blow up a 747 with 300 people to kill one person. They are total sociopaths with no conscience whatsoever." -- Former Pentagon CID Investigator Gene Wheaton
[CIA hit to kill numerous witnesses. 'Lockerbie was a false flag operation to hide rogue CIA involvement in heroin trafficking out of the Bekaa Valley in Lebanon, during the Terry Anderson hostage crisis. A joint team of CIA, FBI and Defense Intelligence investigators were flying on Pan Am 103 that day, heading for Washington to expose the heroin ring, when the plane exploded over Lockerbie, Scotland.' 1]
See: Libya Yvonne Fletcher
Noriega, Pan Am 103 & the Lizard Kings Another group of CIA agents working to free the five CIA hostages held by William Buckley's Hezbollah murderers, discovered that al-Kassar was allowed to continue smuggling heroin despite high-level CIA knowledge of his activities. The Beirut hostage team had written and called CIA headquarters in Langley to file complaints about the al-Kassar ring. They got no response, so they decided to fly back to the US and inform their CIA bosses in person. All six agents were on Pan Am 103 when it blew up. [15]
Within an hour of the bombing CIA operatives arrived at the crash site wearing Pan Am uniforms. The agents removed a suitcase that belonged to one of the agents who died along with 269 others. The suitcase most likely contained incriminating evidence regarding the involvement of both al-Kassar and the CIA's COREA unit in the Syrian heroin smuggling ring. It may also have contained a videotape of CIA Beirut Station Chief William Buckley's confessions to his Hezbollah torturers, which could have further revealed CIA involvement in the Middle East drug trade.
Interfor, a New York City-based corporate intelligence firm hired by Pan Am's insurance company found that a CIA cell in Frankfurt, Germany was protecting a Middle Eastern heroin smuggling operation which used Pan Am's Frankfurt baggage service as a trans shipment point for its smack.....Retired Air Force investigator Gene Wheaton thinks Colonel Charles McKee and the five other honorable CIA agents were the bomber's primary targets. Wheaton stated, "A couple of my old buddies in the Pentagon believe the Pan Am bombers were gunning for McKee's hostage rescue team".
CNN: DID SOMEONE ELSE DO LOCKERBIE? Ashton claims that Iran is the likely suspect and that they used The Popular Front for the Liberation of Palestine-General Command (PFLP-GC) to carry out the attack. There is a problem here. The Ayatollahs were put into power by the CIA. And the PFLP-GC was run by the CIA and its friends.
LOCKERBIE: BOLLIER TO SUE POLICE
[2012 March] Lockerbie witness to sue
[2011 June] The Ugly Truth: Video of Libyan Rebel Beheading Gadhaffi Soldier and other NATO War Crimes by Susan Lindauer Lockerbie was a false flag operation to hide rogue CIA involvement in heroin trafficking out of the Bekaa Valley in Lebanon, during the Terry Anderson hostage crisis. A joint team of CIA, FBI and Defense Intelligence investigators were flying on Pan Am 103 that day, heading for Washington to expose the heroin ring, when the plane exploded over Lockerbie, Scotland. Libya got tagged as the fall guy, but like 9/11, the truth refused to die. And Gadhaffi refused to back down. He stood by his people, despite punishing international pressures. Gadhaffi's guess proved correct, by the way. In one of the most shameful episodes of corruption ever at the International Courts, the U.S. bribed two witnesses at the Lockerbie Trial with $4 million pay offs. After both witnesses recanted and confessed to the payments, the only Libyan convicted in the Pan Am 103 bombing, Abdelbasset Megrahi, won a "compassionate release" from Scottish prison in August, 2009, ostensibly so he could go home to die of cancer.
[2011 July] New doubts over crucial evidence in Lockerbie trial
[2011 March] Libya's Blood for Oil: The "Vampire" War by Susan Lindauer On the day it was blown out of the sky, Pan Am 103 was carrying that team of CIA and FBI investigators, the CIA's Deputy Chief assigned to Beirut, and three Defense Intelligence officers, including McKee and Gannon, on their way to Washington to deliver a report on the CIA's role in heroin trafficking, and the impact on terrorist financing and the hostage crisis. In short, everyone with direct knowledge of CIA kickbacks from heroin trafficking died on Pan Am 103. A suitcase packed with $500,000 worth of heroin was found in the wreckage. It belonged to investigators, as proof of the corruption.
LOCKERBIE - THE SYRIAN CONNECTION By David Guyatt The narcotics trafficking, gun-running and money-laundering cover-up of Pan Am flight 103
[2001] The Bombing of PanAm Flight 103. Case Not Closed by William Blum
[Media may 2000] Lockerbie: CIA witness gagged by US government One month before a court order was served on him by the US government gagging him from speaking on the grounds of national security, he spoke to US congressional aide Susan Lindauer, telling her he knew the identities of the Lockerbie bombers and claiming they were not Libyan.
[2008] Lockerbie Evidence Called into Question
This serves as an alternative to some of the recent elaborate plane crashes, involving the deaths of hundreds of innocent people, which have been arranged to disguise the murder of the one or more people aboard who were the real targets. Mae Brussell INSIDE THE HEARST KIDNAPPING
Dean Warwick (R.I.P.) on 9/11 demolition, Bobby Kennedy assassination, abduction and ritual murder of children, and the shoot-down of Pan Am Flight 103 over Lockerbie (about 45 mins in. "That plane was shot down."), Tsunami (52 mins), Whales beaching (53 mins).
In the taped interview with Dave Starbuck, he also revealed how and why seven survivors at Lockerbie were allowed to die from hypothermia. The reason, he said, was that the survivors knew that a terrorist bombing did not bring down Pam Am Flight 103, which went down in 1988 killing 270 passengers and crew. They were allowed to die, said Dean, because they knew that a missile not a bomb brought down the Jumbo jet and had they lived, would have been able to testify to this.
The Zionist Lockerbie Scam

by Joe Vialls
[1999] Lockerbie: Megrahi was framed by John Pilger
External
Jim Swire http://www.lockerbietruth.com/
Trail of the Octopus: From Beirut to Lockerbie--Inside the DIA, by Donald Goddard with Lester K. Coleman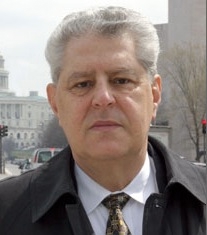 Reptile eyes The CIA's Vincent Cannistraro - deeply involved in Lockerbie.