Psychiatry video
See video: Vaccination Non-medical Medical Mind control Natural healing and Alt Med AIDS Homeopathy Cancer Psychiatry
[vid 2015] Meth & Adderall are the same drug & other drug facts [2015 Nov] Big Pharma's Adderall Is Basically Crystal Meth, Says Dr. Carl Hart
[2012 Vid] Child Protective Services made her a zombie In Houston, Child Protective Services tried for years to get their hands on a particular little girl and when they finally did they put the 3 year old on excessive doses of multiple psychotropic 'medications', which caused the girl unimaginable harm.
[vid] Everything is a disorder. The American Psychiatric Association's new diagnostic manual Millions of healthy people - including shy or defiant children, grieving relatives and people with fetishes - may be wrongly labeled mentally ill by a new international diagnostic manual, specialists said on Thursday. In a damning analysis of an upcoming revision of the influential Diagnostic and Statistical Manual of Mental Disorders (DSM), psychologists, psychiatrists and other experts said new categories of mental illness identified in the book were at best "silly" and at worst "worrying and dangerous."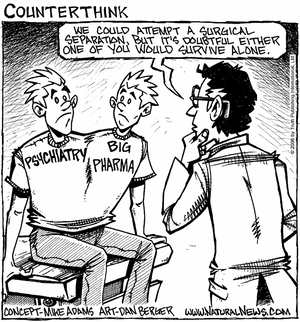 [vid] Making A Killing: The Untold Story of Psychotropic Drugging It's the story of big money-drugs that fuel a $330 billion psychiatric industry, without a single cure. The cost in human terms is even greater-these drugs now kill an estimated 42,000 people every year. And the death count keeps rising. Containing more than 175 interviews with lawyers, mental health experts, the families of victims and the survivors themselves, this riveting documentary rips the mask off psychotropic drugging and exposes a brutal but well-entrenched money-making machine. Before these drugs were introduced in the market, people who had these conditions would not have been given any drugs at all. So it is the branding of a disease and it is the branding of a drug for a treatment of a disease that did not exist before the industry made the disease.
[Video] Making a Killing. Evil run rampant. The Psychotropic Drug Scam
[DVD] Psychiatry; An Industry of Death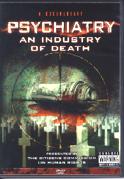 Psychiatry: No Science No Cures


Psychiatry


Dr Thomas Szasz on Psychiatry


Peter Breggin - Antidepressants (O'Reilly Factor - 9 Jan 02)


Peter Breggin on ECT