Plane crash
Rwanda Assassinations
[The airplane carrying Rwandan president Juvénal Habyarimana and Burundian president Cyprien Ntaryamira was shot down as it prepared to land in Kigali, Rwanda.]
[1997] Hourigan Report
Jean-Louis Bruguiere report
[2011] Rwanda: Current President Kagame confessed ordering predecessor's plane shot down
[2006] Who Killed Agathe? The Death of a Prime Minister by Christopher Black It is now known that the missiles used to shoot down the aircraft came from stockpiles the Americans had seized in their first war against Iraq. It was in a warehouse at Kigali airport, rented by a CIA Swiss front company, that the missiles were assembled. In fact, the French anti-terrorist judge Jean-Louis Bruguiere, who has spent several years investigating the shoot down on behalf of the families of the French flight-crew, told Boutros-Boutros Ghali, the Secretary-General of the UN in 1994, that the CIA was involved in the shoot down, adding strength to Boutros-Ghali's earlier statement that the Americans are 100% responsible for what happened in Rwanda.
There is strong direct and circumstantial evidence that the Belgian and Canadian contingents of the UN peacekeeping force in Rwanda in 1993-94, known as UNAMIR, were involved in the shoot down and assisted the RPF in their final offensive launched with the decapitation strike on the President and the Army Chief of Staff.
'The United States invaded Rwanda, it began in October 1990, culminated in 1994, in a coup d' etat, we assassinated two Presidents. This was CIA work and Paul Kagame. And this led to the invasion of the Congo and the current state of affairs there now.' ---[2009 Interview] US Role In Rwandan Genocide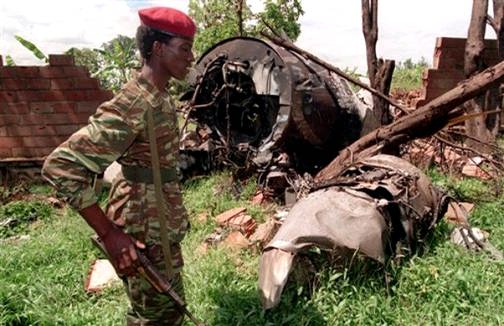 Perished in the plane:
Juvénal HABYARIMANA, Head of State of Rwanda;
Cyprien NTARYAMIRA, Head of State of Burundi;
Déogratias NSABIMANA, Chief of Staff of Rwandan Armed Forces (R.A.F.);
Elie SAGATWA, Colonel and Chief of the Military Cabinet of the Rwandan president;
Thaddée BAGARAGAZA, Major and executive officer in the 'maison militaire' of the Rwandan president;
Juvénal RENZAHO, foreign affairs adviser to the Rwandan president;
Emmanuel AKINGENEYE, personal physician to the Rwandan president;
Bernard CIZA, Minister of Planning in the government of Burundi;
Cyriaque SIMBIZI, Communications Minister of Burundi;
and members of the French flight crew:
Jacky HERAUD, pilot;
Jean-Pierre MINABERRY, co-pilot; and ,
Jean-Michel PERRINE, flight engineer.
Quotes
In fact, it is known that Museveni's half-brother, Salim Saleh, was at the final RPF meeting in Mulindi where the date for the shoot-down was set. The attack on the plane killed the Rwandan president, Juvénal Habyarimana, a Hutu, the Burundian president, Cyprien Ntaryamira, a Hutu, the Rwandan Army chief of staff, Deogratias Nsabimana, a Hutu, and everyone else on-board.
It was the first massacre of 1994, and it was a massacre of Hutus by the RPF. The RPF then immediately launched attacks across Kigali and throughout the north of the country. In the sector of Kigali known as Remera, they killed everyone living there on the night of the 6th/7th, wiped out the Gendarme camp there, wiped out the military police camp at Kami, and launched a major attack against Camp Kanombe, Camp Kigali and the main Gendarme camp at Kacyiru. They slaughtered everyone in their path. [2010] THE TRUTH ABOUT RWANDA by Christopher Black
1) In his book, Abdul Ruzibiza states that he was one of the men involved in the shootdown as part of the shootdown team. He was an officer in the RPF. He is dues to testify at the ICTR in the coming weeks if his security can be assured. He is presently in hiding in Norway.
2) Hourigan Report.
3. Jean Piere Mugabe the former head of RPF intelligence who also fled the regime also stated in 2001 that Kagame and the RPF shot down the plane.
4. French investigative judge Brugiere investigating the shootdown on behalf of the families of the French crew leaked (or someone in his office did) a copy of the report to a French journalist with the English name Steven Smith last year who published its findings in Le Monde that it was the RPF who shot it down with the assistance of others.
5. Former Secratery General Boutros-Boutros Ghali stated this year that he had met Brugiere at a conference and was told by the French judge that the CIA was "heavily implicated" in the shootdown.
6. The RPF was the only force in Rwanda which had anti-aircraft missiles to the knowledge of the Force Commander Dallaire. Dallaire arranged for the closure of the western approach to the runway at the request of the RPF. This made it easier for the RPF and others to track the plane as it came in from the east. The Belgian contingent of the UN force was in control of the airport area and the area from which the missiles were fired. A Belgian unit (later killed at Camp Kigali) were the only people caught by the army coming out of the firing area after the shootdown when the army threw up a cordon to try to catch the culprits.
7. Wayne Madsen a former US intel officer who wrote, CIA Covert Operations in the Great Lakes Area, 1990-93, states that (and testified to this before the US Congress in 2001 when hearings were held by Cynthia McKinney into the Rwanda and Congo wars) that the CIA, using a Swiss front company used that company to rent a hangar at the Kigali airport in which they assembled the missiles. He also states that the US hoped to kill at the same time Mobutu of Zaire and Daniel Arap Moi of Kenya all in in one fell swoop (they were supposed to attend the same meeting and be on the same flight) in order to seize control of all central and east Africa. At that time the US 6th fleet was cruising off Mombasa and there were 600 US Rangers on stand-by to assist the RPF in Burundi.
8. Charles Onana a well-know journalist writing on this subject wrote about his investigations and that it was the RPF, as did Canadian author Robin Philpot in his book It Didn't Happen That Way In Kigali (loose translation of the French title).
7. Honore Ngambo, Mobutu's former chief of security published a book earlier this year in France in which he recounts the last meeting between Mobut and the Hutu president two days before he was killed in which the President stated that he was told by Herman Cohen he was basically a dead man and that he heard from his agents in the RPF camp that they were going to shootdown the plane. He confronted Dallaire with this and that he knew Dallaire was involved and Dallaire just replied "No one will believe you".
8. The author possesses a radio intercept of a message sent by Kagame to his forces in the field the night of the shootdown stating that the "Target is hit" and encouraging his forces to take to the field and that they would be in Kigali and were receiving support from their friends in the south, that is from Burundi—US and Burundian forces the latter of which actually invaded Rwanda in May to link up with the RPF coming form the north. Other radio messages were intercepted referring to the fact the RPF had the assistance of the Belgians in the UN forces who were fighting alongside them. The Belgians deny this of course. [2009] The Dallaire Genocide Fax by Christopher Black
As we have already suggested, the established perpetrator-victim line requires suppression of the crucial fact that the April 6 shooting-down of the government jet returning Rwanda President Juvénal Habyarimana and Burundi President Cyprian Ntaryamira to Kigali, that killed everyone onboard, was carried out by RPF commandos (as discussed below), and had been regarded by RPF planners as an essential first strike in its final assault on the government. Although the mass killings followed this assassination, with the RPF rapidly defeating any military resistance by the successor to Habyarimana's coalition government and establishing its rule in Rwanda, these prime génocidaires were, and still are today, portrayed as heroic defenders of Rwanda's national unity against Hutu "extremists" and the Interahamwe militia, who were the RPF's actual victims.
.......We also know a lot more about "who assassinated Habyarimana." In one of the most important, and also suppressed, stories about "The Genocide," former ICTR investigator Michael Hourigan developed evidence as far back as 1996-1997, based on the testimony of three RPF informants who claimed "direct involvement in the 1994 fatal rocket attack upon the President's aircraft," and "specifically implicated the direct involvement of [Kagame]" and other members of the RPF. But in early 1997, when Hourigan hand-delivered his evidence to the ICTR's chief prosecutor Louise Arbour, the latter was "aggressive" and "hostile," Hourigan recounts in a 2006 affidavit, and advised him that the "investigation was at an end because in her view it was not in [the ICTR's] mandate." This decision, which "astounded" Hourigan, was rejected by former ICTR chief prosecutor Richard Goldstone, who told a Danish newspaper that the assassination was "clearly related to the genocide," as it was the "trigger that started the genocide."
Suppressing evidence of the assassination's perpetrator has been crucial in the West, as it seems awkward that the "trigger" for "The Genocide" was ultimately pulled, not by the officially designated Hutu villains, but by the Tutsi victors in this conflict, the RPF, long-supported by the United States and by its close allies (who very possibly aided the assassins in the shoot-down). It has also been important to suppress the fact that the first Hutu president of Burundi, Melchior Ndadaye, had been assassinated by Tutsi officers in his army in October 1993, an action celebrated by the RPF and arousing fears among Rwanda's Hutu.
A far more comprehensive eight-year investigation by the French magistrate Jean-Louis Bruguière, who had been asked to rule on the deaths of the three French nationals operating the government jet that was shot down in April 1994, concluded that the assassination followed from Kagame's rejection of the Arusha power-sharing accords of August 1993, and that for Kagame, the "physical elimination" of Habyarimana was therefore essential to achieving the goal of an RPF-takeover in Rwanda. Bruguière issued nine arrest warrants for high-ranking RPF members close to Kagame, and requested that the ICTR itself take up Kagame's prosecution, as under French law, Bruguière could not issue an arrest warrant for a head of state.
As best we can tell, the existence of Hourigan's evidence has been reported only once in two U.S. newspapers (the Los Angeles Times and Seattle Times), and never in the New York Times, Washington Post, or Wall Street Journal; Bruguière's findings were mentioned in several U.S. newspapers (sixteen that we have found), including three short items in the Washington Post, a major report in the Los Angeles Times (reprinted in the Seattle Times), and one blurb apiece in the New York Times and Wall Street Journal, which totaled ninety-four words. Interestingly, the U.S. media have reported fairly often on Bruguière's work as a "counterterrorism" specialist in France, including several dozen items in the New York Times, Washington Post, and Wall Street Journal. But when we checked the U.S. media for Bruguière's eight-year inquiry into mass killings in Rwanda—a case where his focus was on a U.S. client-agent as the primary villain—their interest declines to almost zero. The propaganda system works. [2009] Rwanda and the Democratic Republic of Congo in the Propaganda System by Edward S. Herman and David Peterson