MMR/MR Bowel disease Vaccine autism
[Read this book and remove any doubt about MMR being a cause of autism AND bowel disease, as well as the shocking way the parents and children have been treated by the NHS and the medical profession in their effort to deny any connection, part of which is the persecution of Dr Wakefield by the GMC kangaroo court.]
Silenced Witnesses Volume II: The Parents' Story
The denial of vaccine damage by government, corporations and the media.
a book written by the parents and edited by Martin J. Walker
23rd. January 2010
[2010 March] Silenced Witnesses: UK Autism Parents Speak Out
[2010 Jan] The Launch of Silenced Witnesses Volume II: The UK GMC Hearings by Martin Walker "Anyone could see clearly that if they had a genuine case, to show that the children were not ill and that they were subjected to aggressive procedures without ethical approval and without parental consent, they were bound to call the parents to give evidence. They didn't because the parents would have told the hearing that most of the children suffered the most terrible bowel disease followed by regressive autism. So had the prosecution called the parents from day one the GMC case would have collapsed."
....Dr Wakefield, attending the launch with his wife Carmel, gave an impromptu and modest speech in which he repeated a number of times, the fact that whatever the verdict of the GMC, this battle was not about him but about science and the terrible plight of the parents and their children. Everyone was, however, aware that this is only half true, without Andrew Wakefield, the science, the data, the information about MMR, Inflammatory Bowel Disease and regressive autism, would have been buried by governments and drug companies, perhaps for ever.
---
See: Silenced Witnesses 1: The Parents' Story
Purchase
http://www.slingshotpublications.com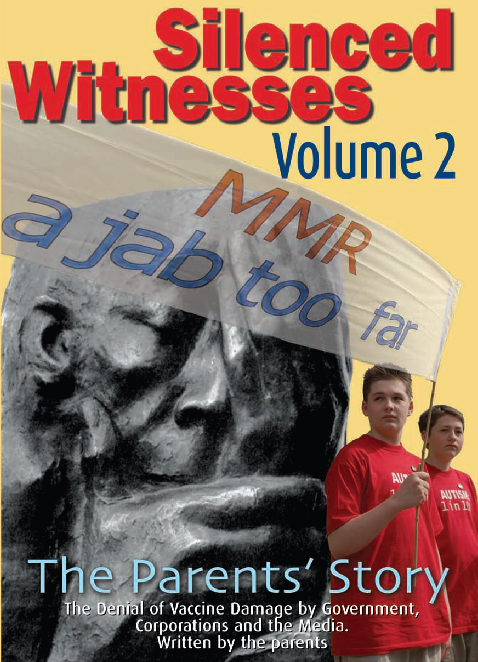 Purchase now with PayPal or Credit Card.
£10 plus £2.50 post and packing (UK)
---
Silenced
WitnessesVolume 2
More Parents' Stories
Silenced Witnesses Vol II: The Parents' Story,
The denial of vaccine damage by government, corporations and the media.
Written by the parents, and published by Slingshot Publications.
With a complimentary copy of Alan Golding's hour long DVD:
Selective Hearing: Brian Deer and the GMC.
ISBN 978 0 951 9646 6 8
Ed. Martin J Walker, 300 Pages, full index.
£10 per copy plus postage & packing.
Volumes I and II together: £20, no British postage or packing.
All cheques made payable to Cry Shame and sent with clearly stated order and address to either:
Ynoddfa Marketing, 13 Phoenix Avenue, Port Talbot, Wales SA13 2LS
Slingshot Publications, BM BOX 8314, London, England WC1 3XX
The Thomas Centre, Westfield House, Covenham St Bartholomew,
Louth, Lincs, England LN11 0PB
Enquiries about bulk orders to Cry Shame 01359 232772