UNICEF
[back] Allopathic Inc Africa

[UNICEF is one of the main vaccine pushers, supplying 40%, and Lanctot came up with the figure of vaccination being 45% of its budget. Covert Genocide.]
Web: http://www.unicef.org/index.php
See: Africa GAVI UN WHO GAVI International Rescue Committee (IRC)
Over $100,000 donators include: Glaxo SmithKline, Coca Cola, Pfizer Inc (see)
[2017 July] UNICEF Vaccinates African Refugee Children with Combination OPV/IPV Vaccines as Part of Vaccination Experiment
[2015 June vid] "Gavi And Unicef Force Africa To Pay For Mass Vaccination Then Use Vaccines Rejected by CDC"
[2013 Jan] Video Footage Shows Prime Minister Visits Paralyzed Children, Powerful Groups Involved in Vaccine Campaign By Christina England
[2013 Jan] Minimum of 40 Children Paralyzed After New Meningitis Vaccine By Christina England
[2011 Nov] The truth of what lay behind the attempted assassination of Lisa Blakemore-Brown's career by Christina England Dr David Southall is also heavily linked to UNICEF. Details of the links between the organizations can be found in a manual for health workers called 'Child Friendly Healthcare'.
The manual says: 'The Initiative his been funded by the Community Fund (National Lotteries Board, UK) and is implemented by Child Advocacy International with the technical support of the Department of Child and Adolescent Health and Development of the World Health Organisation (WHO), the support of the Royal College of Nursing (UK) and the Royal College of Paediatrics and Child Health (UK), and in collaboration with the United Nations Children's Fund (UNICEF).'
The manual also states:- "Dr. David Southall OBE MBBS MD FRCPCH. David Southall is honorary medical director of Childhealth Advocacy International. He is the chair of the working party for CFHI (Child Friendly Healthcare Initiative). His main interests are the safe and effective management of emergencies in pregnancy, infancy and childhood. He has published many papers concerning the protection of children from abuse and is active in developing child protection systems for poorly resourced countries. He is particularly worried about the concept of suffering and how little attention is drawn to this in current international programs for mothers and children. He is also active in developing palliative care systems for disadvantaged countries. He has directed the development"
Between 1993 and 1995 Southall was consultant health advisor to UNICEF in the former Yugoslavia. In 1995 he was involved in the setting up of a charity, 'Child Advocacy International', which is involved in international child health issues. (9) Does this mean that Dr Southall was actually employed by UNICEF? If so, then as an employee this would mean that he would be on their payroll. Interestingly this was just two years after the DPT was changed to the DTaP due to the vast numbers of adverse reactions which included seizures and cot death.
[2009 Nov] The amazing story of UNICEF, the struck off paediatrician Professor David Southall OBE and vaccines by Christina England
[2006] Lies, Damn Lies, and Statistics at UNICEF by Carey Roberts
[2003] UNICEF's One-Sided Pursuit of Gender Equality by Carey Roberts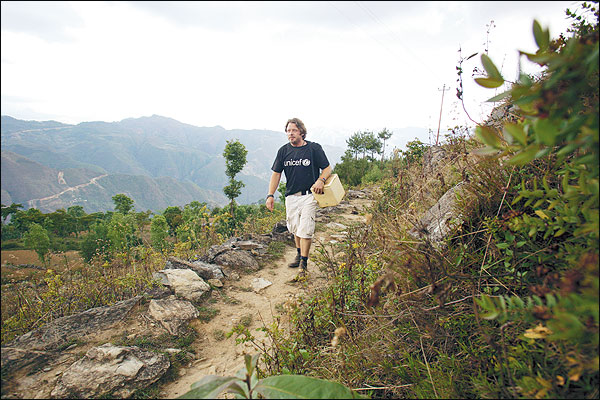 Boorman, Charley Delivering covert-Genocide
Quotes
In June of 1987, Jozeph Verbeeck, head of the Belgian national office of UNICEF, was arrested for his involvement in a large-scale child pornography and pedophile ring. Jozeph Verbeeck abused his influential position in UNICEF in order to procure children for wealthy clients across Europe. Some of the children exploited by Verbeeck were as young as eight-months old.
Next day we set off in a white Land Cruiser which has UN written in blue letters on its bonnet and side. As well as the two-man film crew there are half a dozen Unicef workers and an official sent by the Nepalese government to keep an eye on us (he looks like Captain Mainwaring and snores like a chainsaw). Not everyone can fit in, so a minibus with inadequate suspension is also found.
There is inhospitable terrain to cross, steep ravines, rackety bridges and terraced paddy fields carved into the hillside. We are to follow what is known as the 'cold chain' up into the foothills and stay in a remote village, in order to get a sense of the authentic journey, as taken each month by the Unicef workers. They use the public buses as far as they will go and then complete the journey on foot. It's heroic stuff, actually. Unsung and humbling. The 'cold' refers to the cool boxes full of vaccines they carry from medical post to medical post.
The 'chain' begins at a depot housing 10 freezers. Boorman does a piece to camera about the vaccines. Though he may not have read his brief, he does prove himself adept at assimilating the information that is fed to him off camera. This cold box, he explains, contains enough vaccine for a 1,000 children and costs just £12. Unicef provides 40 per cent of the world's vaccines for children and relies on donations. The pitch done, they cover the cool box in By Any Means stickers. There is nothing you can teach these men about branding. Charley Boorman: the star trekker
"forced me to look into the question of vaccination further, and the further I looked the more shocked I became. I found that the whole vaccine business was indeed a gigantic hoax. Most doctors are convinced that they are useful, but if you look at the proper statistics and study the instances of these diseases you will realize that this is not so . . .
My final conclusion after forty years or more in this business [medicine] is that the unofficial policy of the World Health Organization and the unoffical policy of the 'Save the Children's Fund' and ... [other vaccine promoting] organizations is one of murder and genocide. . . . I cannot see any other possible explanation. . . . You cannot immunize sick children, malnourished children, and expect to get away with it. You'll kill far more children than would have died from natural infection."---Dr Kalokerinos