Merck
http://www.merck.com/ http://www.merckvaccines.com/
[Leading Psychopathic bandit. Criminal fine = criminal. Vioxx, Gardasil, Statins, & MMR, are just some of it's death and injury dealing drugs.]
Quotes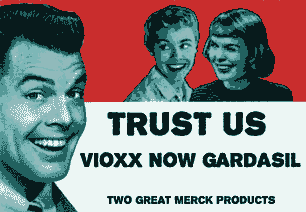 Hilleman Ph.D, Maurice R.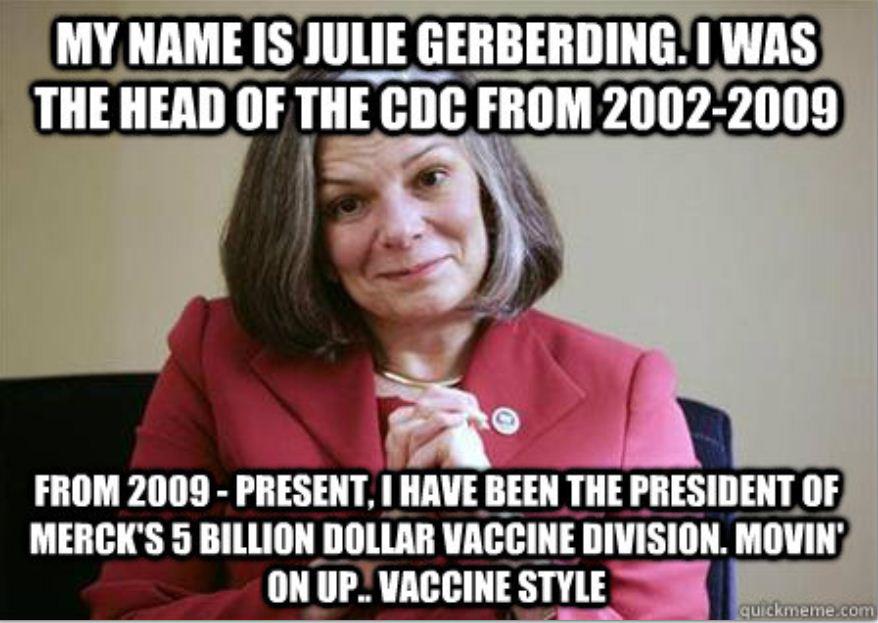 Gerberding, Julie
[2012 July] Big Pharma criminality no longer a conspiracy theory: Bribery, fraud, price fixing now a matter of public record
Merck MMR mumps component fraud
Read the Complaint Against Merck Claiming Mumps Vaccine Defrauded US Government
Lawsuit Claims Merck Overstated Mumps Vaccine Effectiveness
[2012 April] Merck ordered to pay $321 mln in criminal Vioxx probe
[2011 Sept] Merck Bankrolled Anti-Parent Bill
Merck's Medical Media Empire by Martin J Walker
[2011 Aug] Holier than Thou BMJ Editor Godlee Fails to Acknowledge Merck MMR Conflict By John Stone
[2011 July] FDA Faults Merck Plant For Charred Shrink Wrap In Vaccine Vials
[2011 Feb] BMJ & Lancet Wedded to Merck CME Partnership Why did the BMJ fail to disclose its partnership agreement with Merck, major vaccine manufacturer--13 vaccines, including the controversial MMR vaccine ? Is it just conceivably possible, that the BMJ's decision to commission and publish Brian Deer's series of articles attacking Dr. Andrew Wakefield's personal and scientific integrity--and lend its unwavering editorial endorsement--without giving him an opportunity to defend himself--might be influenced by a SIGNIFICANT financial conflict of interest?
[2011 March] Closing arguments set in Merck contamination case
[2010 April] St. Louis doctors get $2.5 million from Pfizer, Lilly, Glaxo, Merck Dr. Robert Belshe traveled throughout rural Missouri and Illinois last year to discuss flu vaccines during the H1N1 scare. Drug companies Merck & Co. Inc. and GlaxoSmithKline helped pick up the tab.
Merck, other Pharma Companies Funding Activist Groups behind the EPA Petition to Regulate Silver by Tony Isaacs
[2009 Oct] Merck reveals which docs/nurses/etc it paid to speak
Drug Giant Merck – "Destroy" Critical Doctors "Where They Live"
[2009 June] Publisher consulted drug firm on journal content THE world's largest medical publisher (Elsevier, which produces The Lancet) asked the manufacturers of anti-inflammatory drug Vioxx which articles they wanted to include in a so-called medical journal on bone health.....The plaintiff in the class action has alleged the journal was fake and it was simply a marketing exercise designed to promote Vioxx. The court has also heard Merck put the names of high-profile arthritis experts on the editorial board of the phoney journal without telling them they had done so.
[2009 April] Merck published fake journal Merck paid an undisclosed sum to Elsevier to produce several volumes of a publication that had the look of a peer-reviewed medical journal, but contained only reprinted or summarized articles--most of which presented data favorable to Merck products--that appeared to act solely as marketing tools with no disclosure of company sponsorship.
[2009 April] Vioxx maker Merck and Co drew up doctor hit list "We may need to seek them out and destroy them where they live," a Merck employee wrote, according to an email excerpt read to the court by Julian Burnside QC, acting for the plaintiff.
[Media US, Merck vaccine sales] "Vaccines should deliver solid growth over their 2000 performance."
M-M-R II---Merck Sharp & Dohme (Aust.) Pty Ltd(Distrib. CSL)
Parenting with Deadly Timely Propaganda --Dr. Len Horowitz
[2005] '91 Memo Warned of Mercury in Shots
Poisons:
Vioxx
Gardasil
Statins
Merck & Co. derives $900 million per annum from vaccine sales.
Media: New Jersey-based pharmaceutical giant Merck & Co. Inc. gave $10,000 to Assembly Republicans and $6,000 to Assembly Democrats ( Saturday, July 17, 1999 By BRUNO TEDESCHI, Trenton Bureau )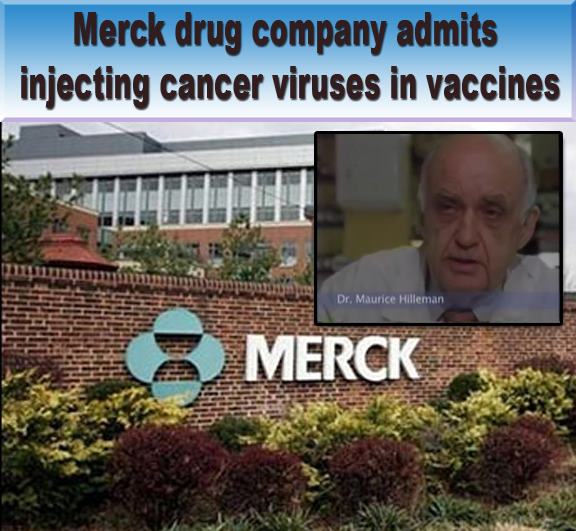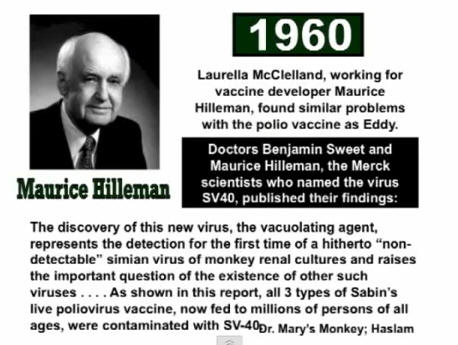 SV40 Hilleman Ph.D, Maurice R. [vid] The Exploding Autoimmune Epidemic - Dr. Tent - It's Not Autoimmune, you have Viruses