CIA (The Central Intelligence Agency)
[back] Big Brother
"Coming to grips with these U.S./CIA activities in broad numbers and figuring out how many people have been killed in the jungles of Laos or the hills of Nicaragua is very difficult. But, adding them up as best we can, we come up with a figure of six million people killed-and this is a minimum figure."---John Stockwell
[The CIA's main purpose is media control, Mind Control, running the narcotics trade, and carrying out covert operations involving economic warfare, false flags such as GLADIO, rigged elections, Assassinations 1 and Genocide (6 million bare minimum). Guantanamo is a torture research centre.]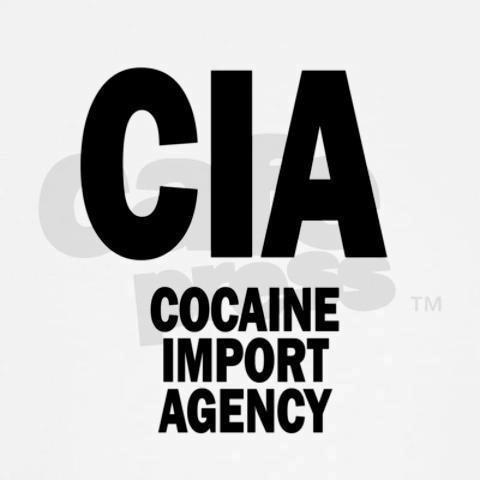 See: Communism Torture Cocaine COINTELPRO The Office of Strategic Services (OSS)
See: MI6 MI5 NSA FBI Mossad Ministry of Truth
CIA Nazi connections
Nazi killing of civilians
William Casey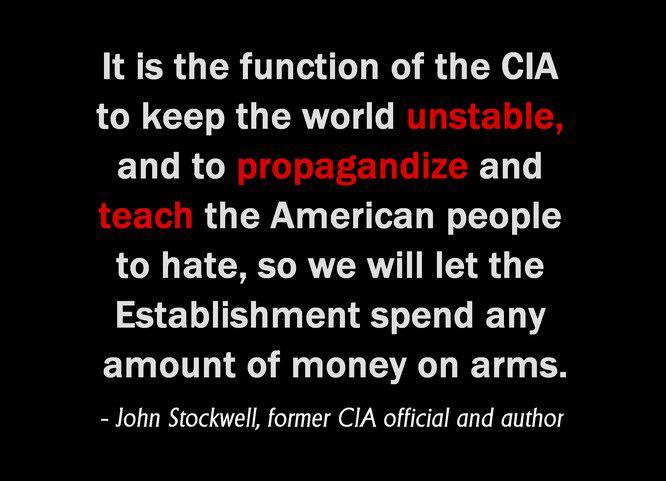 William Colby
Bush Snr
Clarridge, Duane
[vid] Ted Gunderson Former FBI Chief - Most Terror Attacks Are Committed By Our CIA And FBI
Internet presence:
AboveTopSecret.com
Godlike Productions
Jeff Rense
Art Bell
NESARA
ZetaTalk
Symbols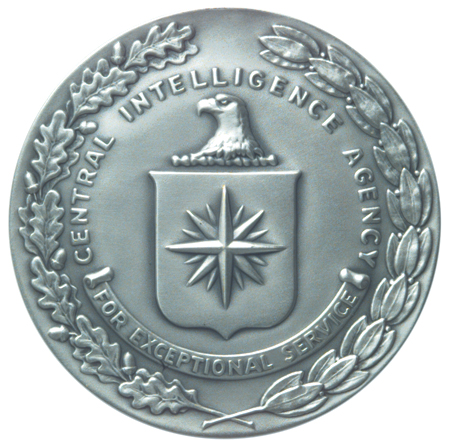 Oak leaves

Articles

CIA whistleblower John Kiriakou speaks out The goal really of the Justice Department is to ruin the whistleblower personally, professionally, and financially. I hadn't thought that through, and that's exactly what happened to me. But again, it's opened up a whole new world for me in the realm of human right and civil liberties.

[2014 July] CIA Bonded With Nazis To Sex Traffic, Kill Naked Children At Human Hunting Parties?

[2014] THE CIA RUNS THE PEDOPHILE RINGS

[2012 July] CIA "Manages" Drug Trade, Mexican Official Says

[2012 July] Syrian Opposition's Amazing CIA Credentials

[2012 March] African ping pong: US plays both sides in Uganda By Richard Cottrell The Lord's Resistance Army (LRA) rampaging around Uganda is nothing more than a US and Mossad-backed guerilla force. Its task is to destabilize wide areas of Africa rich in minerals like Uganda, ex-French and Belgian Congo, and Sudan. Joseph Kony.....the new US terrorist poster boy, has been on the CIA's books for years. The LRA's mass abductions, industrial scale rape and pillage, and kidnapping of children who are turned into monster killers, bear every sign of a CIA MK-Ultra derived programmer to create robotic "no questions asked" terrorists. Hundreds if not thousands of these ghastly indoctrinated children, trained to kill and maim without pity, have been sent north to stiffen anti-government guerilla forces in Sudan and Somalia.

[2012 Feb] 'CIA death squads behind Syria bloodbath'

[2012 Jan] Israeli Agents, Phony Credentials, Terrorist Recruiters? by Gordon Duff When Mark Perry, writing for the CFR, considered the most conservative and certainly the largest American think tank accused Israel of using CIA credentials for recruiting terrorists, particularly against Iran, I nearly fell of my chair. I had known about this all along. The operations, based in Balochistan, were done by the Mossad with support from Britain's MI 6 and operational support supplied by Blackwater. Israel, among other states, has supplied and trained Taliban and led attacks against American forces in Afghanistan and to a greater degree Iraq. The US military is aware of it but considers itself powerless to complain because of the power of the AIPAC/Israeli lobby in Washington...........Thus, we have an ally killing American troops and getting away with it just as they had in 1967 with the USS Liberty? Never heard of it? Look it up............The most obvious is that war and terrorism are a business, always has been, always will be. Hiding behind "poor Israel" and holocaust stories, the Mossad and other groups tied to Israel are involved in terror networks around the world, now very publicly "outed" for pretending to be the CIA. They also claim to be the FBI and Homeland Security. They carry FBI credentials and, in some cases, are backed up when caught. There may actually be no real Department of Homeland Security. It is said, by reliable sources, to be entirely under foreign control and working directly against the United States in a tireless manner. For those of you working for this organization, remember this when you receive your next assignment
.....The majority of terror organizations in the world are intelligence agencies.
....So, what can we know for sure. If the FBI comes to your door, it is like as not an Israeli agent or member of the ADL or some other group, unless you happen to be a real criminal. If you are an activist or member of the press, chances are you have a phony to deal with. They are quite brazen......If approached by the "CIA" or "FBI" or "Homeland Security" at any facility other than an office in a Federal Building, don't believe them. I am not saying don't help the government but never talk to a law enforcement official without bringing an attorney and without a promise of immunity.......99.99% of terror threats against the United States are groups recruited by phony FBI or CIA officials who are employees of a foreign power, that country we have been discussing. If you play along, you are likely to wake up in hotel room with a rifle, one round fired and a dead federal judge, senator or even a president to answer for.
....Iraq? The almost daily explosions there are not being done by rival factions. Kurdistan invited Israel in to help them break away from Baghdad. Israel sees this as a way of flanking Turkey, this and their secret alliance with Syria......When you hear of 50 or 60 dead in Iraq, the plot started in Tel Aviv. Ever note that you never get an real explanation for anything just "rival faction" baloney? I don't respect any news organization that doesn't at least try to make up a decent lie. They owe us that...........
Pakistan? Pakistan is slated for destruction. India is the primary enemy along with Afghanistan, the United States and Israel. Why does Pakistan allow this? Think "totally corrupt civil government." This is an understatement.
India? Last week a child was sacrificed to the "crops god" so a good harvest would be guaranteed. India, with its space program and nuclear submarines has the lowest standard of living in the world. The British set the whole thing up in 1947, and earlier on in 1903, eternal war between India, Pakistan and Afghanistan. Britain calls it "the great game." America (under Israeli guidance) is now responsible for stirring the pot.
...I would predict that there are Israeli organizations carrying CIA credentials operating in 15 countries. I also imagine that 1 in 4 FBI agents is a phony. As for US Attorney's and Federal Judges, no worries there. The real ones were bought long ago.

[2011] Mossad/CIA murdered U.S. troops in Iraq Richard Wilson's hypothesis: Israeli soldiers and/or Mossad/CIA agents are killing our soldiers in Iraq in order to enrage American troops so that the slaughter continues.....For example, on July 23, 2005, a detachment of 19 female US Marines was sent to Fallujah to check Iraqi women for bombs. An IED blew up their truck. Two of the young American women were killed, five were critically wounded, and four were captured. The bodies of the four captured women turned up later in a garbage dump with their throats cut. Americans were outraged. Islamic clerics insisted that only Israelis could be so cold-blooded. And who was in charge of US forces in Fallujah at the time? None other than Major General Natonski, the Mossad liaison.....Americans are supposed to believe that rag-tag "insurgents" use IEDs powerful enough to kill three US troops per day, on average and flip over up-armored vehicles. An American soldier even set up a blog on how "Intel" is betraying and targeting US troops. The blog has long since been taken down, one can only assume by the Pentagon. According to Richard Wilson, Israeli sniping and IEDs are false flag operations.

[2011 Sept] Court Pleadings Point to CIA Role in Alleged "Cartel" Immunity Deal Mexican Narco-Trafficker's Revelations in Criminal Case Force US Government to Invoke National Security Claims. The fingerprints of the CIA have surfaced in a controversial federal criminal case pending in Chicago against Jesus Vicente Zambada Niebla, an alleged kingpin in the Sinaloa "drug cartel."

[2011 March] Arrest of CIA Agent Confirms Illuminati Behind Terror

Lords of the Revolution: Timothy Leary and the CIA,. . .The Spy Who Came In From the (Ergot) Mold By W.H. Bowart

[2010 Sept] The Imperial Anatomy of Al-Qaeda. The CIA's Drug-Running Terrorists and the "Arc of Crisis" Part I By Andrew Gavin Marshall

[2010 March] French bread spiked with LSD in CIA experiment

[2010 Jan] General Ivashov: "International terrorism does not exist" Only secret services and their current chiefs – or those retired but still having influence inside the state organizations – have the ability to plan, organize and conduct an operation of such magnitude. Generally, secret services create, finance and control extremist organizations. Without the support of secret services, these organizations cannot exist – let alone carry out operations of such magnitude inside countries so well protected. Planning and carrying out an operation on this scale is extremely complex.

[2006] Global drug trade is controlled and run by the intelligence agencies by James Casbolt

[1995] C.I.A. DEATH SQUADS by Allan Nairn
An International Guide to CIA Death Squads by RALPH MCGEHEE

MIND CONTROL IN AMERIKA Five Easy Steps To Create A Manchurian Candidate

18,000 PAGES OF CIA MIND CONTROL DOCUMENTS RELEASED

[1997] Torture was taught by CIA; Declassified manual details the methods used in Honduras; Agency denials refuted

[1997] How the CIA Got Away With Domestic Spying

[2004] Roots of Abu Ghraib in CIA techniques Last April when Americans found themselves looking at photographs of U.S. soldiers abusing naked and hooded Iraqis at Abu Ghraib prison, it's a safe bet that most didn't realize they were looking at torture techniques refined by the Central Intelligence Agency over the last half century.

[1976] Indonesia 1958: Nixon, the CIA, and the Secret War By L. Fletcher Prouty

[1975] AN INTRODUCTION TO THE ASSASSINATION BUSINESS By L. Fletcher Prouty

[2000] DR. JAMES TYHURST, CIA PSYCHIATRIST (B.C.), CIVIL SUIT SEX SLAVE

Radio Free Europe, Radio Liberty, the CIA and the News Media by S Cone

Operations [See: Operations.]
Dope Inc
Guantanamo
Mockingbird
Operation CHAOS
Operation GLADIO
Jonestown
Phoenix programme

The roots of the CIA--the Nazis [See CIA Phoenix]
[2009] Notorious SS unit 'traced' British historian Norman Davies estimates that on just August 5 alone some 35,000 men, women and children were killed in cold blood. Given a free rein by SS commander-in-chief Heinrich Himmler, Dirlewanger's men also participated in gang rape, torture and the practice of bayoneting babies as a way of striking terror into Poles.

Manuals
CIA, KUBARK Counterintelligence Interrogation

CIA Psychological Operations in Guerrilla Warfare A tactical manual for the revolutionary. First published by the Central Intelligence Agency and distributed to the Contras in Central America

Human Resource Exploitation Training Manual -- 1983

NERVE WAR AGAINST INDIVIDUALS

This CIA guide to conducting "nerve war against individuals" was prepared in the summer of 1954, as the agency was preparing to overthrow the government of Guatemalan President Jacobo Arbenz. Harassment operations such as these were added to the CIA's huge, and ultimately successful, psychological warfare campaign against Arbenz. The document is undated, but a cover note indicates it was forwarded to the CIA station in Guatemala City on June 9, 1954.

External
Gloria Steinem: How the CIA Used Feminism to Destabilize Society By Henry Makow Ph.D.

List of Records from the Rockefeller Commission's Investigation of the CIA
A rarely seen catalog of documents acquired or created by the 1975 presidential commission that examined the CIA's domestic misdeeds

CIA and Operation Phoenix in Vietnam — Information about the CIA's assassination program in Vietnam.

CIA Support of Death Squads William E. Colby on July 19, 1971, before Senate Subcommittee testified that CIA's Operation Phoenix had killed 21,587 Vietnamese citizens between January 1968 and May 1971.