Birth trauma racket articles

Birth trauma
Articles
See articles: Cord Clamping
[2017 June] ROUTINE BIRTH PRACTICES EXPOSED AS MEDICAL ABUSE - MDs TRAINED TO PERFORM FELONIES
Pitocin (Oxytocin), Hypoxic-Ischemic Encephalopathy, Cerebral Palsy and Birth Injuries
[2017 March] VACCINES AND THE DARK UNDERWORLD OF OBSTETRICS AND PEDIATRICS Jeanice Barcelo interviews April Boden, the mother of a vaccine injured child. April describes her journey to motherhood as one of trauma and abuse at the hands of a psychopathic obstetrician who never even bothered to make eye contact with her during labor or childbirth. Numerous unnecessary ultrasounds during pregnancy, combined with a forced induction that was halted due to a nurse's intervention, as well as amniotomy, pitocin, and 25 failed epidural attempts, made her birthing experience absurdly traumatic both for herself and her son, Aydan.
[2016 Dec] NICU Nurse with 30 Years Experience Quits Over Premature Infants Being Harmed by Vaccines https://youtu.be/84f5VEkMiYw The VAXXED/ Vaxxed film crew recently interviewed a nurse in California who has worked as a NICU nurse for nearly 30 years. She states in the interview that she is retiring early, because she can "no longer do what we were taught to do." She goes on to state that her philosophy on vaccines has changed, because she does not believe they are safe. She explains how it is routine to vaccinate premature infants, and that even though she brought in documentation, including medical journal studies, explaining that they should not be vaccinating these premature infants, that doctors will not change the procedure. So she decided to retire early, rather than continue harming these vulnerable babies.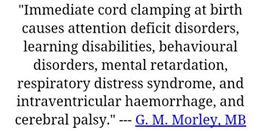 [2015 Oct] THE DARK SIDE OF PRENATAL ULTRASOUND Jeanice Barcelo, author of "Birth Trauma and the Dark Side of Modern Medicine," interviewed on the Crazz files about her forthcoming book -- "The Truth About Ultrasound." Adam and Garth Crabb do an excellent job of asking questions and providing their own insights into this dangerous technology now being used as a weapon against Mankind to attack and alter incoming children while they are still in the womb.
[2016 Aug] More and more women are now dying in childbirth, but only in America
[2016 Aug] VITAMIN K SHOT AFTER BIRTH LINKED TO EARLY CHILDHOOD LEUKEMIA
[2010] Death From Circumcision By Danelle Frisbie studies have found approximately 230 baby boys die each year in the U.S. as a result of circumcision surgery. Another study published last week found at least 117 boys die annually from circumcision surgery as it is reported by hospitals. We're not alone in our estimation that there are likely at least twice as many deaths due to circumcision, because of our non-structured and easy-to-cover-up means of infant mortality reporting. But if we are only looking at research-based documentation, we find an average 174 boys die each year with the documented cause being circumcision surgery. Especially disturbing in these statistics is that the AAP (American Academy of Pediatrics) continues to issue widespread warnings about choking as one of the highest causes of death among children, despite the fact that a greater number of infants die from circumcision than from choking.
[2016 May] Light therapy used to fight jaundice in newborn babies 'is a leukaemia and kidney cancer risk'
[2015 Oct] Is Your Unborn Baby Part of a Vaccine Experiment? by Christina England [Christina England] "...despite recommending these vaccinations to all pregnant women, the CDC readily admits in their own documentation that neither vaccine has ever been tested during pregnancy for vaccine safety and that they have no idea whether the vaccines could harm a growing fetus." Conclusion: CDC Cannot Be Trusted for Vaccine Safety of Unborn Children
[2016 April] BEWARE of "Standard of Care" By Laura Hayes
[2015 June] NEW JAMA STUDY CONFIRMS NURSE WHISTLEBLOWING: ROUTINE HOSPITAL VACCINE DAMAGE HAPPENING TO INFANTS
[2015 June] The Tiniest Ones: Doctors Ignore Data on Premies BY KELLY BROGAN MD
[2015 May] 7 Huge Benefits of An Undisturbed First Hour After Birth
[2015 April] NURSING STUDENT EXPELLED FOR QUESTIONING DIRECTIVES TO LIE ABOUT VACCINES
[2015 Jan] Why are Medical Professionals who Deliver Babies in Hospitals Choosing to have their Own Babies at Home?